Hi....
I'm Indra. Nice to meet you on the band. Thank you for a fb qso. Hope to see you soon.
73 de 9M6ISO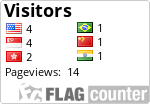 it is a light weight antenna but think of it's size...
9M6RHM and 9M6ZAE putting the ant on the mast... thank much pak rahim and pak zai....
everything is done.... tnx again
beautiful 'umbrella'....
References and special thanks....
G3TXQ- the inventor,K4KIO- The reference for builders,DL7IO- some good design tips
PG3N & ON7RU - good ideas andPA2JJB-some good ideas as well.