After being away from radio due to work commitments etc for many years I came back, with the help of a Yaesu FT-817, & got into the new (& not so new) digital modes, everything from Feld-Hell to Olivia.
A shot of Feld-Hell from a couple of years ago. An interesting mode used by the Nazi's as a battlefield command system using "portable" machines like big teleprinters that some poor devil had to carry on his back as seen below.
An original "Mobile" Hellschreiber machine...now of course all done via a soundcard and a pc's wizardry, not sure if it is still in use but there was one working at Bletchley park up to 2010.
I love collecting awards, usually for digi-modes like psk, I don't go out of my way to get them but every few months I run the EPC software & it usually tells me I've qualified for one or two if I'm lucky.
One of my other loves if motorcycling, this is my Honda VFR-800, I don't get out often enough on it, & when I do I ache for days after, I must be getting old-er, but it blows the cobwebs away & scares me half to death sometimes, but you can't measure life by the amount of breaths you take, but by the times you get you breath taken away.
Back on the radio front.. antennas are a big problem for me as i have no garden, but thanks to a generous neighbour I now run a "New" Carolina Windom, home made by yours truly, its approx 130 feet long and will load quite happily on 80, 40, 20, 15 and 10m without ATU, and all other bands with the atu, quite impressed with it so far for a multiband antenna.
This diagram is for the more compact 40m version, you simply double the dimensions for the version I am using, although in my case I found keeping the vertical element to 10 feet worked much better than doubling it to 20.
Thoroughly enjoyed working most of Europe QRP, but l purchased a Kenwood TS-480-SAT which now gives me the option of higher power & also interfaces suberbly with the PC via Ham Radio De-Luxe & DM780, excellent software.
I do still use the 817 for QRP work though, I recently put up a Tri-Band vetical for 2m, 70cms & 6m (thanks Karl G1YPQ) & am enjoying playing on 6m when sporadic-E allows...which isn't very often sadly!
Edit to add: Summer 2010 has been pretty good actually on the sporadic front, great to work most of Europe on 6m with just 5 watts & a vertical!
I am active on most bands & modes, just finished a conversion of a Philips FM1000 to 4m , a band I have not tried before,also recently finished converting some Philips LM-40 sets for 4m, these are cracking, simple sets ideal for the car, I just wish a few more people out there would try 4m.
Now to be found on 4m 70mhz SSB for the first time. (2012)
Many thanks to Peter G4IZH for doing all the hard work in modding a Trio TS-700 from 2m to 4m multimode, it works a treat and is a joy to use, if you want any info on the conversion it should be on Peter's web site. http://www.g4izh.co.uk/
?Check out his FT-290 DUAL BAND 2M & 4M CONVERSION TOO!!!
My first bit of 4m FM dx the other week, S56KZ, from the car too!
Isn't Sporadic-E Brilliant!?
I've recently been "fettling" some old military gear, namely some Racal Clansman RT-351 sets,they cover 30-79mhz so are great for 4m & 6m portable, like all things military they are built like tanks & great fun to use.
Recently added more ex-military sets, some from the Clansman range such as the PRC-320 all the way up to the more recent Bowman PRR range
(Left) Racal Clansman PRC-351. 30 to 79mhz with hand generator and "SURF" (Selective Unit RF) on the top
Middle my Clansman PRC-320 manpack 2 to 30mhz (also with SURF unit)
And Latest Bowman 2.4Ghz Personal Role Radio's
And a VRC-353 30-79mhz 50w+set
Just the thing to tuck away in a shirt pocket eh?
New and unusual addition to the ex military range picked up at the Blackpool NARSA rally...
An Israeli Tadiran PRC-614 Hand Held 60 to 79mhz, circa 1980, the photo above shows what they look like, this one has been modified to a vehicle mounted version with the addition of a Thales12v psu, a pa/speaker and a 7 watt linear and has been modded to accept a Clansman handset...so i suspect it was a british mod perhaps?? It does seem an unusual rig to vehicle mount though, especially when there must've been thousands of Clansman 351's to use, but i'm sure someone thought it was a great idea at the time.
If you have any further info on this old beastie please drop me a line.
Also joined (& left) the ever shrinking band of D-Star Digital users thanks to an Icom IC92D,although after 18 months of battling with a repeater group that were charging to register on the network, who want to close down all analogue repeaters, thereby excluding all SWL's & anyone not wealthy enough to buy into D-Star, who create an internet linked system, open to the world....then whine & moan about "Foreigners using their repeaters!", or people who believe they can verbally abuse other amateurs simply because they have put a lot of money into the system, (I've spent £25,000 on this network, I'll speak to people any way I please! I OWN this reflector!" Quote from the RSGB's G0RDI Grand Pooh-Bah of Reflector 5A) or people that believe they own the network as some kind of private pmr system for them & their buddies only, or these same people that when challenged will block/ban users from "their" network. etc etc etc..well suffice it to say, I seldom use D-Star these days...a good idea let down by some bad, very un-amateur people, practices & politics especially amongst the larger groups, it seems bigger isn't always better, the smaller, almost one man groups seem to be doing a great job, perhaps it is time for the big groups to stop trying to make money from the hobby & get back to simply provinding a service for all hams, not just their buddies?
Sadly it seems D-Star is going the way of packet of yesteryear, at least here in the UK, the network is used less & less, although hardly surprising as anyone who dares to use it "too much" or trangresses some imaginary rule is hounded off or even banned/blocked, all very sad.
Moving on......
Also having fun playing with Echolink & IRLP & trying to revive my CW skills rather than let it fade away whilst the pc does all the work.
Also dipping my toe into the water of satellites & have worked the ISS amongst others.
QSL cards are ALWAYS welcome especially from Short Wave Listeners, I prefer to use eQSL, but I can use the bureau or direct if required.
Apologies if you are waiting for a paper QSL card, new batch now printed.
New addition to the rig family :- I have just finished modifying some Philips FM1000 for 4m, seems to be working well, using a homemade "HenTenna" antenna, possibly the oddest antenna i have ever made, but also seems to be working well, considering it is indoors anyway
!
The "Shack"!
Full instructions for building a very easy version of the Hen-Tenna can be found here http://www.70mhz.org/forum/viewtopic.php?f=6&t=2
The picture above is the Hentenna, as shown it is actually horizontally polarised even though it looks vertical, Turns out "Hen" is Japanese for strange...so I built me a strange antenna, an apt name.
Also to be found on Skype, my username is "gavin-g0lgb", it is usually on 24/7 & should patch you through to my mobile, for free, if anyone fancies a chat!
Recently recieved my nice shiny new N.O.V allowing me to experiment on 60m, yay! More than likely I'll be on data modes, but I may be tempted to pick up a mic for some SSB every once in a while, if I can get up to speed you might even hear me on CW.
I have been having great fun on 6m ssb working lots of sporadic-e this summer (2012), although I have the TS-480 that covers 6m, I don't get much of a challenge from that so if you hear me on 6m I will be operating QRP using the FT-817, 5 Watts into my tri-band vertical (yes vertical), average distances are 1,200kms but best this summer has been 2,855kms to Ukraine...not bad for 5w!
Most enjoyabe was working Germany though...5/5....on 0.5watts!!!!
December 2011, new rig to the stable, I'm now QRV on 23cms for the first time.
Using a Kenwood TH-59 handie, quite a rare rig apparently they were only available in Japan & not for export, but I stumbled across one a couple of weeks ago on ebay, looked a bit rough, missing parts etc, but its cleaned up like new and works 100% yay!
As the set arrived, it was "Spares or Repair" all the way from Israel, parts missing, badly scratched display, but on opening it up discovered it was brand new, not a mark inside from any battery pack, so it was time to polish the scratches out & get shopping for parts...
So there we are after months (ok YEARS) of scrounging for parts, a Kenwood TH-59 23cms like new, I would still love the original antenna, if you have one get in touch.
After deciding D-Star was a total dead end, and that some of the people using it left a lot to be desired (see above) I haven't forgotten about digital voice.
This past few months a small band of us has been experimenting with some ex PMR Motorola digital TDMA sets, I use one of these Mototrbo DP-3600 sets.
http://www.youtube.com/watch?v=7Epzo-_7R5Q
Of course being ex pmr the rigs are a fraction of what you would pay for the likes of an Icom, and are packed with features that we hams can use.
They will run both analogue and TDMA digital, you can call individual stations, page them, send them text messages, and if connected to a digital repeater you can have TWO totally separate QSO's going on, on the same frequency at the same time, how cool is that?
Now who knows? TDMA may go the way of D-Star and grind to a halt, but i suspect digital will be the future, in what format only time will tell.
For more info on the WorldWide network see here http://www.dmr-marc.net/
One repeater Two channels, working really well, well done Michael G1XCC
Just a quick update due to questions ....TDMA is totally different to D-Star, you cannot use D-Star sets to chat with TDMA sets....or any other digital format, its like VHS and Beta, who will win? who knows? Maybe there will be an as yet unheard of digital mode that will really take off, but Motorola's TDMA has a lot of advantages over other formats....?
A quick weather update, we've had quite a bit of snow recently (March 2013), here are a couple of photo's of the local roads.... and this was after quite a bit of thaw too...it's been many years since I've seen snow that deep around here!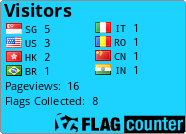 <script type="text/javascript" src="http://jf.revolvermaps.com/2/1.js?i=5zjm8q7xsi1&amp;s=220&amp;m=3&amp;v=true&amp;r=false&amp;b=000000&amp;n=true&amp;c=ff0000" async="async"></script>