This is Conwy Castle near my Home Station in North Wales
This is a photo of Conwy Castle and river from Conwy Marine Walk
I was Created in Liverpool 1960 and still Follow the Best Football Team in the World YNWA
I am back to bands dec 2010 after 16 years due to health issues and need of hobby since returning and being Lucky enough to be granted HF, I now love working Dx and inter G & Digimodes am considering returning to VHF in the near future So thats about it all QSL welcome SWL etc just send any old equipment & I will send Card HI
This is Pics of old shack And

New and Small Setup due to cut backs
Station Details
Main Radio Kenwood TS570D 100w SSB, 40w on digimodes AM308 & Shure 444D for DX
Antennas: I am still experimenting for best results
not in use Cobwebb Antenna 30/20/17/15/12/10
2. Homebrew 155ft DELTA LOOP ALL HF BANDS
Me in shack Grandad its that JA guy again Hurry up Grandad hes going QRT
QSL Info:.
I'm EQSL (ag) and automatically upload my logs.
Grid IO83DG WAB= SH83 EPC # 13983 UK.WA.CO 30m Digi # 4782
Picture of me with the Cups after Liverpool FC won the Treble
Above another shack pic and the Trusty Cobwebb
IN The Mid 80s I Worked on the North Sea as Various things Radio OP but mainly as Steel Erector/Rigger Here Are some pics of my Days and Nights offshore Hope you like them I Wish I was back out There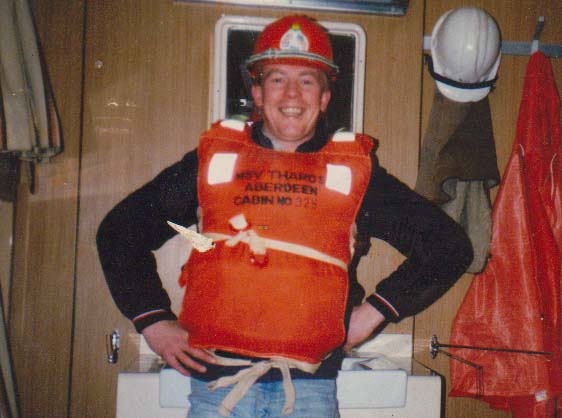 Above is pic off the 30m Digi mode & Myself in Shack
Any Friends who need hand setting up QRZ page just ask I enjoy doing it
I am a supporter of the DX Code of Conduct:
I will listen, and listen, and then listen again before calling.
I will only call if I can copy the DX station properly.
I will not trust the DX cluster and will be sure of the DX station's call sign before calling.
I will not interfere with the DX station nor anyone calling and will never tune up on the DX frequency or in the QSX slot.
I will wait for the DX station to end a contact before I call.
I will always send my full call sign.
I will call and then listen for a reasonable interval. I will not call continuously.
I will not transmit when the DX operator calls another call sign, not mine.
I will not transmit when the DX operator queries a call sign not like mine.
I will not transmit when the DX station requests geographic areas other than mine.
When the DX operator calls me, I will not repeat my call sign unless I think he has copied it incorrectly.
I will be thankful if and when I do make a contact.
I will respect my fellow hams and conduct myself so as to earn their respect.
Good operating tip:
Give your full callsign once, then listen 4-5 seconds to see if I have heard you or I'm replying to someone else before you make a second call.
I consider stations who call - call - call repeatedly without pausing to listen to be QRMers and they run the risk of being ignored.
HOPE YOU ENJOYED MY QRZ PAGE I HAVE ENJOYED MAKING IT AND
SHARING SOME OF MY LIFE THANKS ALL 73s GOOD DX