First of all thanks for coming here!
Born in 1950 in the small village of Cottanello, Lazio region in the central part of Italy. Licensed in 1977. First call was IW0AUK. In 1981 I moved to Trieste (north-east Italy) cause working reasons: I started to work as technician in the seismological department of a research national institute so I got my second call: IW3QQW. I left my strong radio passion for many years and started again few years ago. In 2011 I got my last call IV3CJR. For all my life I loved radio and electronics very much, better ...... electronics for radio. Once building on my own my rigs, now only everything around and outside the transceivers. At moment I'm playing with a Kenwood TS-590S for HF and 6 meters and an old and faithful Yaesu FT-736R for satellite and in general VHF-UHF communications. Rarely I use my legal italian limit homemade linear amplifier.
QSL:
QSL via www.eqsl.cc, lotw. I will reply to all QSL sent directly, no IRC needed.No via bureau, please.
My antennas:
windom for 10-14-24-28 MHz (it works for 18 and 50 MHz too), morgain for 3.5, 7, 21 MHz, Yagis with a Yaesu G-5500 for VHF and UHF. All of them homemade as my microphones, interfaces etc etc.
All the best and good luck !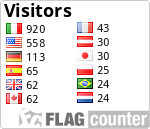 170430 Last modified: 2013-10-24 16:36:24, 3766 bytes
Login Required

Login is required for additional detail.
You must be logged in to file a report on this page
Currently updating logbook display.
Grid Squared Award

#2587


Granted: 2015-02-13 12:00:02



Endorsements:

World Continents Award

#2866


Granted: 2015-02-13 11:55:04



Endorsements:

15 Meters Mixed

10 Meters Mixed

20 Meters Mixed