Emergency

Radio
Certificate of Attendance

Earthquake

in

Abruzzo
Propagation...!!!
Visited By May 10 2010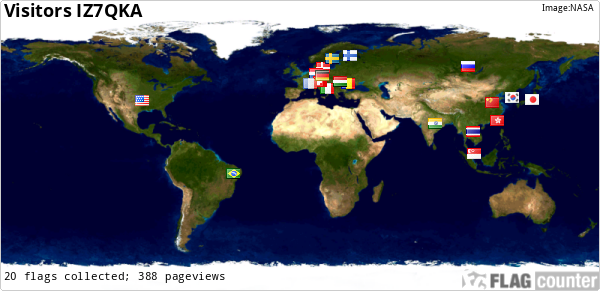 My Site :http://www.iz7qka.tk/
Thanks of the QSL, and the eQsl. I accept the Qsl? The Eqsl is secondary, thanks account on your good Heart.
Nunzio
Amateur Radio Operator

Thanks for visited on QRZ. They are a new amateur radio operator patented from little,30 March 2009

Class A. I have of humble apparates IC the E92D biband D-Star and Icom2820 biband D-Star is a Yaesu FT 897 four band Kenwood TS 930 S HF

TL 922 amplifier,

for being able to me to amuse and to experience some longlive,Morgan Vertical (Fisher Road). ( Beautiful HF for which I am equipping myself for being able to make some local and international Qso......
My Qsl/Eqsl

My Qsl/P
DX' PEDITION 2009
IL7G
Tremiti Isl. IOTA EU-050 C/0
We will be active since 30 May to 2 June 2009 particularly on lasting May 31 for the 13°Contest Gargano organized by >>A.R.I. San Severo
Qsl.....
Last release: Dx operations ending at 12:00z 02/06/2009 score aroud 6.200 qso's, with 111 countries dxcc, 32 zone WAZ, 827 wpx, 66 square in 6 meter operastions for Gargano Contest http://www.arisansevero.it/Classifica_Gargano_2009.htm where will made over 250 contacts with qrb of 271.000 km. Tnx to everyone work us during IL7G operations
160mt/10m HF bands and VHF/UHF and 6mt all mode maybe.

Grazie anticipatamente per evermi visitato su QRZ .Sono un nuovo radioamatore patentato da poco, 30 Marzo 2009 Classe A . Ho degli umili apparatI IC E92D bibanda D-Star
e
Icom2820 bibanda D-Star è un Yeaesu FT 897quadribanda
Kenwood TS 930S
TL 922 Amplificatore HF
Accordatore MFJ-989C 3 kw
per potermi sbizzarrire e sperimentare qualche antenne filari. ( Λ) Mi piacciono molto le HF per cui mi sto
attrezzando alla meglio per poter fare qualche Qso locale, ed internazionale.
P.S.
Buon Qso.......

.
Materiali OM Costruzioni Balun Unun Canne da Pesche ed altro

http://www.podelettronica.com/