HOWDY from western Colorado!
Formerly K0BAM
Wanting to be a ham since high school in the 60's, but career and life got in the way but since I retired, I passed my Tech on December 9, 2009 and my General on February 6, 2010 after driving an hour in a snowstorm. Passed my Extra Class exam on June 8, 2013. Member Montrose Colorado Amateur Radio Club http://montrosehamradio.org/ and member of PODSX 070 Club# 1136 | EPC # 13543 | 30MDG #4354 | Feld Hell # FH2819 | AMSAT # 38424 | 10-10 #76005 | SKCC #8965 | ARRL
Bought a house in the country getting back on HF soon. Stay tuned!
I enjoy all forms of ham radio from SSB to AM to digital, psk, rtty, jt65, and cw. Everything to me is fun and a real treat. It's fascinating that with low power and a wire I can talk all over the world. I also enjoy working the FM Satellites with a Baofeng uv-5r ht and Arrow antenna. I run 1 watt for satellite modes and find that works just fine. Sadly the only fm satellite left is SO-50. I had a small article in the March 2013 issue of QST pg 20 which was a thrill for me. On September 5, 2010 I made a contact with Col. Doug Wheelock on the International Space Station using an ht standing on my patio.
I've managed to aquire the ARRL VUCC-Satellite Award for over 100 Maidenhead Grid Squares, AMSAT W4AMI Satellite Achievement Award for over 2,000 satellite contacts, ARRL DXCC (with 100 watts and a dipole), WAC, ARRL WAS basic, ARRL WAS phone, ARRL WAS digital, CQ Magazine WPX with 600 Honor Roll Endorsement, eQSL WAS, eQSL ePFX300.
I have a Yaesu FT-1900 2 meter radio in my Jeep Wrangler.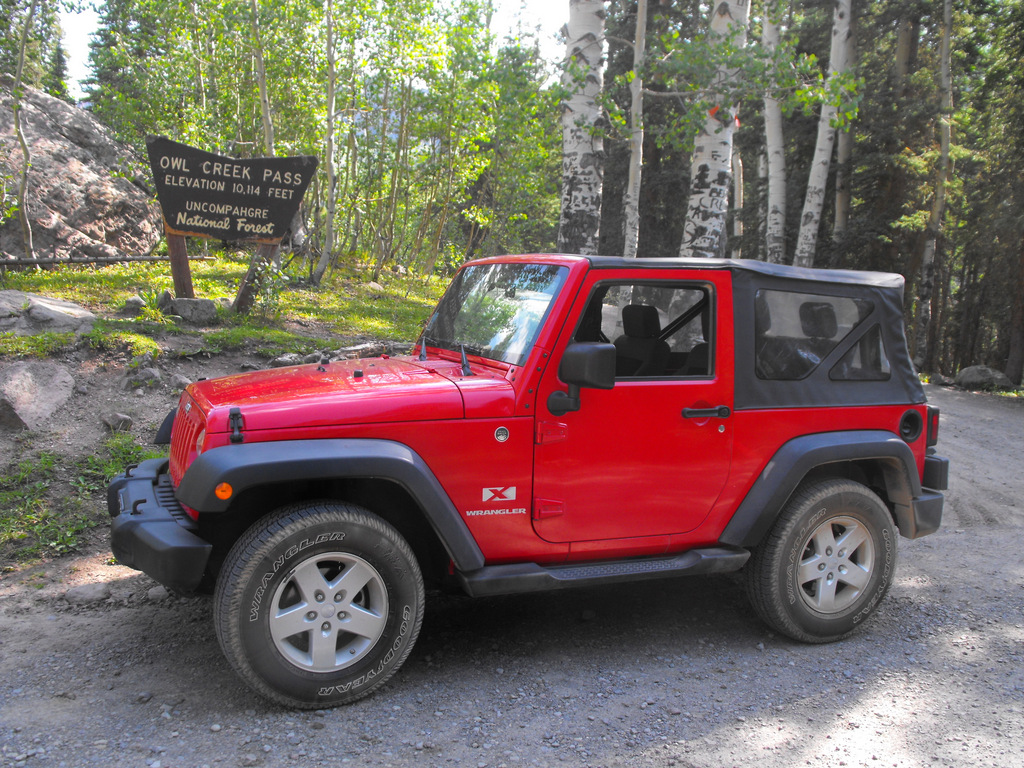 I retired from Arkansas law enforcement in 2009 after 35 years. Started as a city patrolman and worked my way to sergeant, then transferred to a sheriff's department as patrol sergeant, worked my way up to Chief Deputy, then transferred to the state and was assigned to a federal violent crime fugitive task force.
Then and now. I like now a whole lot better!
Ridgway, Colorado (pop 800) in Ouray County sits at 7,000 feet in the southwestern corner of Colorado in the heart of the San Juan range of Colorado's Rocky Mountains. Once home to the Ute Indians, the town was named for railroad superintendent Robert M. Ridgway who established the town in 1891. Ridgway's landscape is dominated by mountain peaks with 12 peaks 13,000 ft or higher including Mt. Sneffles at 14,150 feet. The movies "True Grit" starring John Wayne, and "How The West Was Won" were filmed in Ridgway. The Grammy Awards are made here in town by a local artist and several well known people live here including designer Ralph Lauren, actress Daryl Hannah, and the late actor Dennis Weaver.