All QSL requests honored. Send direct with SASE or via bureau.

Certificates held: DXCC, WAS, WAC, WAZ, WPX
Memberships: American Radio Relay League (#2000337110), Collins Collectors Association (#AC08-12133),
Quarter Century Wireless Association (#35791)
QTH: Houston (K5WDW) or Hilton Head Island (K5WDW/4)

Biographical data:

Educated at the University of Texas in Austin, Texas; graduated with BS in Chemical Engineering & PhD in Inorganic Chemistry.

Pursued postgraduate research in Inorganic Chemistry at the University of Illinois and Masters of Chemical Engineering degree at Texas A&M University.

Worked 31 years in Research and Development at the Dow Chemical Company, retiring in 2001 as a research manager in Polyethylene Research.
As a career change, I decided to become a stock broker.  I studied and passed Series 7 and Series 66 licenses given by FINRA in 2002.

Have now worked 12 years as a financial advisor, first at A. G. Edwards & Sons then at Merrill Lynch, Pierce, Fenner & Smith.
Present position is Vice President of Investments at Merrill Lynch with a title of Senior Financial Advisor.

Amateur history:
I was originally licensed as a Novice class operator (WN5AKK) in the summer of 1962 while in college.  My brother, K5JAJ (now W5RDW), had become a General via a radio operators club at our local high school.   The exam was administered by our family friend, K5DNF.   The Novice license expired in 1963 and was not upgraded because of other interests (graduate school, marriage, children, etc).    Forty five years later, I became interested in ham radio again after my brother had notified me of the changes in Amateur Radio.   I was relicensed in May of 2007 as KE5OQV after completing an exam for Technician class.

The license was upgraded via exam at HamCom to General class in June of 2007 and the callsign exchanged for a vanity call sign having my initials as the suffix (K5WDW).   After a crash study program, the General class license was upgraded via exam to Extra class in July of 2007.   

I've never been sorry that I got back into Ham Radio.   I'm an avid DX'er, a collector of Collins Radios and an antenna experimeter.  My favorite antenna is the Delta Loop.

Equipment Used:
The units shown in the photos below form my personal Collins S-Line collection.  The collection is virtually complete with both Round Emblem and Winged Emblem type units are represented. Also represented in the collection are different types of microphones as well as various accessories such as dummy loads, novice adaptors, dipole antennas and noise blankers (both WE and RE). The collection has been maintained in excellent cosmetic, electrical and mechanical condition thanks to the efforts of Dutch Maurer, WB7DYW, now a silent key.






32S-1, 32S-2, 32S-3, 32S-3 and 32S-3A Transmitters ( on left side of shelf)
75S-1, 75S-2, 75S-3, 75S-3B and 75S-3C Receivers (on right side of shelf)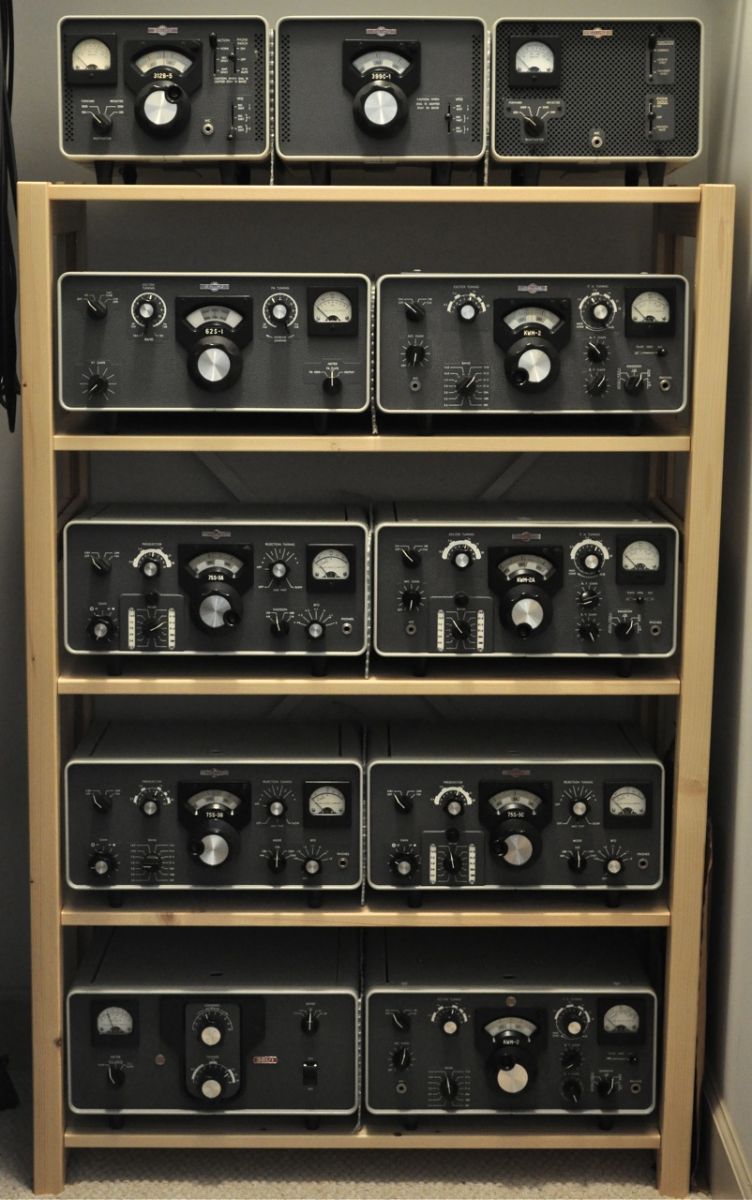 312B-5, 399C-1, 312B-4 (Top)
62S-1 and KWM-2
75S-3A and KWM-2A
75S-3B and 75S-3C
30L-1 and KWM-2


SM-2, SM-3, SM-3, SM-3, SM-3 and SM-2
302C-3, MM-1, SM-1, DL-1, SM-1, MM-1 and 302C-3
51S-1, 312B-3, 312B-5 and KWM-2
RE 180S-1 Antenna Tuner
RE 637T-1 Dipole Antenna
RE 30S-1 Linear amplifier
WE 30S-1 Linear amplifier and RE PM-2 power suply (top)

+++++++++++++++++++++++++++++++++++++++++++++++++++++++++++++++++++++
 
The Collins station in Houston, TX consists of a KWM-2A transceiver, 75S-3C receiver, 30S-1 linear amplifier, 312B-4 control station, SB-610C-3 scope, 516F-2 power supply (on the floor) and a SM-3 microphone.  The scope and receiver are from the estate of WB7DYW.   The RF signal is continuously monitored by a WaveNode RF sensor.   The RF signal goes thru a PalStar AT2KD tuner before going outside to the antenna, a Mosley MP-33.
Operating position at Houston, TX QTH.

The antenna at Houston, TX, a Mosley MP-33-N Trapmaster HF beam, covering 10, 15 and 20 meters.  It is mounted on the roof using a GlenMartin RT-424 tower.  The rotator is a Hy-gain AR-40.  The mast is composed of two telescoping 5' sections of aluminum alloy tubing, held in place with stainless steel bolts..

The height of the Mosley antenna above ground is ~40 feet.  The antenna is very efficient with a forward gain ranging from 6 to 8 db, a front/back gain averaging 20 db, and a SWR ranging from 1.08 to 1.85 throughout the 10m, 15m and 20m bands. The maximum power output permitted is 2500 watts PEP on all bands; using the Collins 30S-1, the power output averages 1200 to 1500 watts PEP.
Mosley MP-33 Yagi beam at Houston
 
The 40 meter antenna in Houston, Texas is a Delta Loop, designed using EZNEC antenna modeling software.  The estimated gain over a dipole is approximately 2 db.  The major lobe of raiation is an an angle of approximately 30 degrees perpendicular to the plane of the delta loop.  Since the antena is orientated North and South, the maximum radiation is to the East and West.

The Delta Loop is approximately 143 feet in length with 55 foot sides and a 30 foot base.  It was built using #14 vinyl covered, stranded wire.  The antenna is configured such that the feed point is at the apex with the loop laying on its side.   It is fed thru a 1:1 Balun using 52 ohm coax via a dipole fixture.  Using the 30S-1 amplifier, the output is 1000 wattts into a 1:1 SWR at 7.150 MHz.
Wire antenna for 40 meters, configured as an elongated Delta Loop.
Feed point detail showing coax feed via a 1:1 Balun (W2AU).


+++++++++++++++++++++++++++++++++++++++++++++++++++++++++++++++++++++++++
+++++++++++++++++++++++++++++++++++++++++++++++++++++++++++++++++++++++++

The Ham Shack on Hilton Head Island overlooks Port Royal Sound. 
View of Port Royal sound and the beach in front of the house on Hilton Head Island.  The ham shack and loop antenna look NE toward Europe.
Closeup of operating position at Hilton Head showing the Collins S-Line (KWM-2 Transceiver, 312B-5 VFO, 312B-3 Speaker, 516F-2 Power Supply, two 30S-1 Linear Amps and a SM-3 desk microphone.   Power output and SWR are continously monitored by a WaveNode WN-2d RF sensor.   Signal quality is monitored by the Heathkit SB-614 hamscope (not visiblt).  A Heathkit Cantenna (barely visible) is used for tuneup.  DX-Engineering low-loss coaxial cable is used throughout the shack for all cabling.

Part of the Collins S-line collection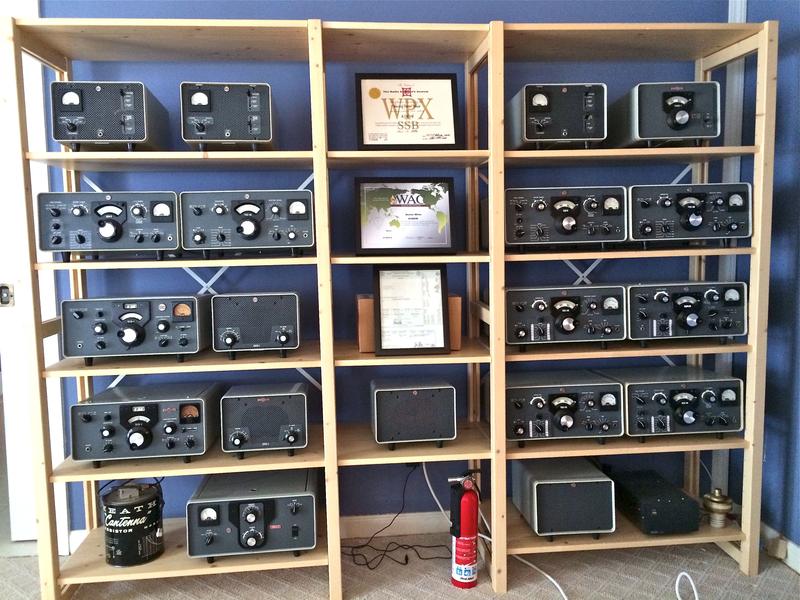 Top Row -  312B-4,  312B-4                312B-4,  399C-1 
2nd Row -  32S-3,  75S-3B                    32S-3,  75S-3B
3rd Row -  51S-1,  55G-1                       75S-3C,  KWM-2A
4th Row -  51S-1,  55G-1     312B-3      75S-3C,  32S-3A
5th Row -  30L-1                                          516F-2
 
RE 51S-1 Receiver and 55G-1 Tuner
WE 51S-1 Receiver and 55G-1 Tuner
. 
Low loss 52 ohm coax from DX Engineering is used to transmit the RF signal from inside the shack to the Delta Loop antenna. The wires from the Delta Loop terminate at a 4:1 current Balun from DX-Engineering.   A set of bungee cords attached to a dipole fixture provides a point of flex to the antenna system. 
The Delta Loop antanna (or more correctly, a pentagonal loop) was designed using the EZNEC modeling software.  The final model called for 141 feet of #14 stranded wire configured as a horizontal loop.
(The photo is outlined in black ink so as to better visualize the arrangement of the wire).
The Delta Loop antenna is suspended parallel to the ground using the existing trees on the lot.  It's approximately 30 yards from the water and stands 35 feet above sea level.  It resonates at 10, 15, 20 and 40 meters with an SWR varying from 1:1 to 1.4 on all ham bands.  
.

This plot shows the measured SWR versus frequency for the Delta Loop antenna.  It was produced by an AIM 4198 instrument from Array Solutions.   The colored stripes in the plot represent the range of frequencies for the HF ham bands