Present Call Signs: KN4KL(US) and KG4KL (GUANTANAMO BAY, CUBA & W1AW/KG4 IN 2014)
I have been an amateur for 29years and earned my Novice when tested by WD8QFC (my elmer). One week later, I upgraded to the Technician license. I passed the General & Advanced Class in 1990 and the Extra class licensed in 2000.
I retired from the US Navy Reserves with 24+ years (1965-1989) with 2 years (1966-1968) active duty.
I retired with 36+ years from the US Army Corps Of Engineers. The first 25 years as a Hydrographer mapping the navigatable waters of Virginia and the last 11+ years as an Electronics Technician.
I work part-time (2003-2012)as a bench & field service technician with a local Motorola Service Center.
The Station:
Rig: Icom IC-7800 & Icom IC-756Pro3
Amp: Alpha 87A, SB220, Drake L75, SB220-6
Computer: 2 Homebuilt 3.0GHz Dual-Core
Interface: microHam microKeyer
Software: N3FJP, MMSSTV, EasyPal, MMTTY, Fldigi, VE7CC Cluster Software, HRD
The Antenna Farm consists of the following:
TOWER: US Tower TX-489 89'
7el - 10-30MHz 30' BOOM LPDA by KLM
2el - 40 Meter Discovery Yagi by Hygain
160m Special - Carolina Windom by Radio Works
SHACK 2015
SHACK 2005-2012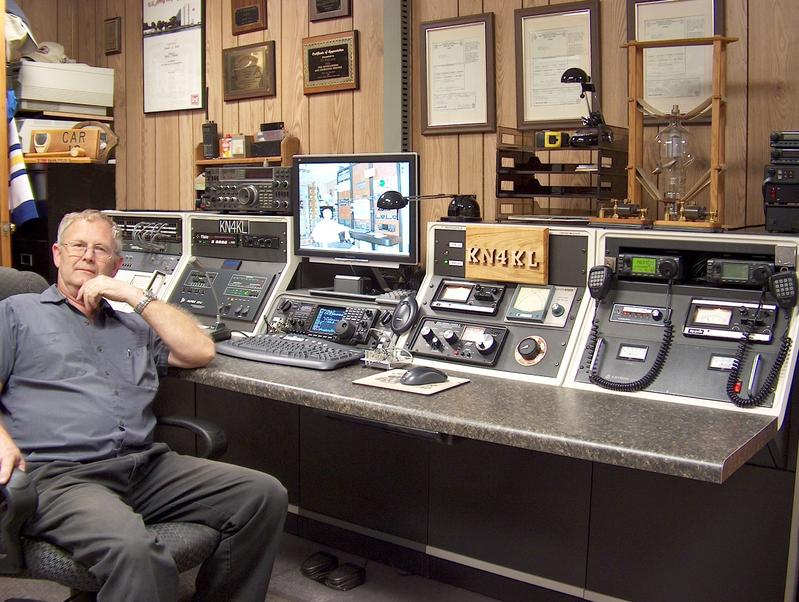 INSTALLING THE KLM 10-30MHz LPDA (2003)
LOG @ 90' AND 40M YAGI @ 100' (2003)