Thanks for looking me up, My interest in radio began at school in 1970 when my metal work teacher Gordon Day (G3ZWX) gave me the opportunity to build a crystal set. I remember being amazed that I could hear radio stations using no batteries or power at all. I've been hooked ever since. I'm not too interested in communicating via the internet, and the various digital modes seem to be a solution looking for a problem, so not for me! I prefer just one aerial communicating with another!
My current station includes a Kenwood TS480HX, Kenwood TS2000, 2 x Yaesu FT857D's, and an Acom 1000 amplifier. Aerials are a Cushcraft MA5B & HB9CV for 2m on a 10 metre high galvanised tower, Homebrew loop at approx. 10m, and a X200 vertical for 2m and 70cms. Also not forgetting my Wireless set No.19 Mk3. I enjoy operating portable, and particularly the Lighthouses and Cashota programmes. My other interests are petrol powered Bikes, Karts, Cars, and anything as fast as possible. My WAB square is SE31.
  Thank you to everyone who called GB1WH from December to January ;)
Below various pictures :-
If you hear me operating portable, then I'll probably be using this setup :-
FT857D, LDG Z-100 plus ATU, & BHI Speaker.
Or Mobile using this :-
My mobile shack, VHF portable at Woolley edge IO93fo
My Kenwood TS2000
Portable at Heath Common IO93gq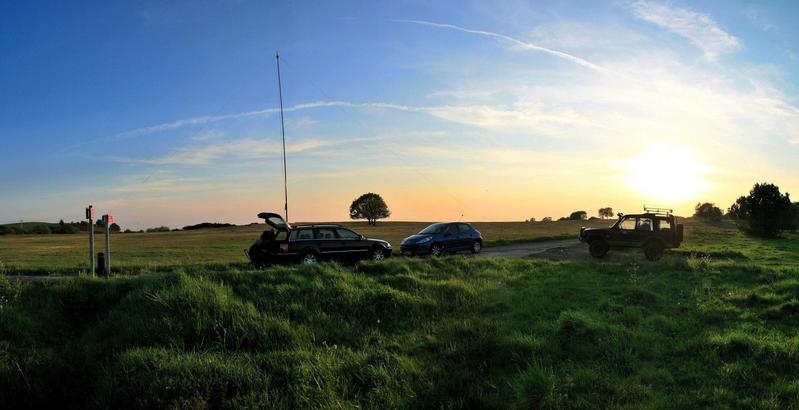 Comet H422 in the trailer
My Wireless No.19 set Mk3
Trying out the new TS590s while operating GX6LD
QRV from Yorkshire Dales, Gordale Scar (GFF-020)
Below: Andy (M0GGR) & Me at Fairburn Ings (GFF214) 17th December 2010 ( -5 degrees )
GB2NSF L-R Nigel (M0MQV), Me & Andy (M0GGR) another great weekend!
World Flora Fauna programme in the Peak District (GFF-014)
Setting up the station at Whitby High Light (GB2WHL UK0062)
My Best mate John (G8GOT) & me enjoying a tinny at Flambourough 2009 (GB2FCL GB2FL)
Another photo from Flamborough
Left to right is John, Robin, George, Me, & Andy
My Shack picture taken July 2013
My outside shack
Electric winch to make raising and lowering the tower much easier
Andy (M0GGR) and Me at the Temple Newsham steam fair (GB2TER)
Finally, Worlds best ever bike, My Fazer 1000