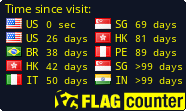 IMPORTANT NOTICE!!!
Somebody is using existing callsigns from radio amateurs AND also the fake callsigns TS4ALL-@, DL3B-@ to put messages in the DX-cluster with and to my call accusing other amateurs and calling them names, also saying I'm jamming other stations and DX'peditions on several HF frequencies. It's not true, it's not me. I have put up a complaint about this call abuse and as I'm sure myself who is doing it, I will leave this to the appropiate authorities to investigate this case. A trace back to their (his) IP adress(es) gave me a 99,9% centainty who this (these) person(s) is (are). Also the callsigns of PA4ARP, PD2GT, PD2RD, PD9AVB and PA1PVH are abused for these messages. The person(s) using his and the other (fake) callsigns listed as above are followed by the "-@" sign! Since I'm a member of the DX-cluster, my messages will be only with my callsign without the -@ sign.
UPDATE: Now he is using the (existing) callsign of LB8TG to drop messages in the cluster and the callsign of my XYL, PB8YL !

It keeps going on, but I think he's finding my life more interesting then his own, maybe crappy, life :)
 
For Bureau cards: Attention, I'm ONLY member of the regular DQB (Dutch Qsl Buro), NOT of the new Euroqsl buro. Only sent cards to the DQB or in case of no membership, send the card(s) direct!

New QSL policy: Callsign not found on QRZ or any other database means NO QSL CARD! As I found out this is especially for SES or clubstations, vanity callsigns etc. I shall always upload my logs to LoTW and E-QSL/HRD?QRZ log, but for those QSO's, since there is no info on where to sent a card, there is only a digital confirmation. Last time I got back a number of cards stamped with: No Member and/or Callsign not known!
Again I'm running behind with qsl mail, because of lack of time for the hobby. Also I'm running out of cards, so I have to order new ones. For now I'm not sure if I should order a new batch printed or use Global QSL for the next period of time. Maybe that is easier and with a few hundred cards at home for direct mail, I should be able to get my log finished soon on cards sent direct. Direct received cards will be send back direct.
If you send a QSL card direct for a QSO with me (PA9RD or one of my special callsigns), DO NOT include any green stamps, IRC's or money. Just send an envelope with the QSL card to me and (preferred) a SAE, for the right adress, and I will send my card back to you. You pay your postage and I'll pay mine. I just want (need) your card as much as you want (need) mine.
As per 07-10-2009 I'm using digi-modes again. Hope to meet you somewhere on any band in DIGIMODE.
73 de Ruud PA9RD.


Hi there, my name is Ruud (Rudy) and born in 1960. As son of a radio/television electronics repairman I grew up as a young boy with a fascination for electronics and equipment. As my father had a hobby as shortwave listening amateur and later as licensed radioamateur (PA0ALD, Silent Key 2005) it was certain that I should walk in the same direction. However I wasn't fond of graphics and mathematics etc, so I dropped that in the third grade of high school and took up my languages. At 17 I left school with a diploma and worked for a few years in several jobs. I got my drivers licence for trucks and my freedom started. I drove around Europe from Scandinavia to Spain and from Great Britain to Poland. By this time I also had the same hobby and interests as my dad and whenever I was home I spend my time behind my radio equipment on the FM and CB frequencies, in those days forbidden and illegal and once I tried to get my radiolicense, but failed the test due to lack of time in my job, and I left it for what it was. However, in November 2003, I succeeded in my wish to follow in my fathers footsteps. I was the proud owner of a Novice License. I know now he was very proud at me.
In november 2005 however my father died of cancer. The need for my upgrade to F(ull) license was gone and also my interest in the hobby was slightly fading away, because the loss of my dad touched me more then the hobby could ever do. But after a period of time I picked up study again to get it. But time was short to the exam, so I pushed myself to go through with it and I applied for the next exam in April 2006. I was sure he was looking over my shoulder from above on that day and "helped" me through the exam. Anyway I passed this time and got my F(ull) licence. Before he died I asked my father what my callsign should become in case I should have succeeded in last November. Simple he said: "they know you as PD9RD, yes...? Or 9RD as you allways say...yes? (He hated that, as he told me more then once). And you are from Holland, you are a real Dutchman. In the whole world they know Holland as PA land, so keep it simple and change it into PA9RD!". And so I did!! In September 2007 I married my girlfriend, also a licensed radioamateur, PB7(X)YL.
In August 2012 I was forced to stop working (for a certain time) due to a small brain attack which kept me at home for, what I thought only a few months, in which I was struck by two other minor attacks. I'm still at home and still not much time for the hobby. (also the household is done by me).
Several years ago I bought a new transceiver, the Yaesu FT-2000 and a 3 element Tri-bander beam from Fritzel, the FB-33. In October 2007 we moved to our new home town, Heinenoord, not far from our last one. Lots of things have changed in these last years, especially in the antenna situation. My old square tower with antennas came down with a light storm/windforce and is already replaced by a better, more sturdier one. I now have a 2x18ft tower from a Dutch brand called `BIJZEN´. The antenna now is a SteppIR for 6 to 40 meters. For 80/160 I have a Alpha-Delta DX dipole from the chimney through the garden and to one side of the house. This is to be changed later in another wire with open line feeder. But for now it´s working. The Yaesu FT-897 is used for VHF/UHF and for /P portable/holiday use, also I can do digital modes with this rig, since I have a new Microham USBII interface for the FT-2000.
Also I changed the set-up in my shack as I now use three monitors to get full benefit of the Internet, HamRadio Deluxe and digital modes. See the pictures below. Please visit my (old) website which has to be updated soon with a new story and pictures of the new situation.
I hope to meet you sometime on the air. 73


The "old" HF workspot
73 de Ruud PA9RD
Heinenoord
HOLLAND / THE NETHERLANDS.