Olá Meus amigos, meu nome é Fabiano , nascido na cidade de Santo André - SP.Tive a primeira iniciativa em ingressar-me no mundo das comunicções no ano de 2003 como PX2M4628, na faixa do cidadãoonde conquistei diversos contatos e amigos. No ano 2007 migrei para o radioamadorismoonde estou obtendo vários amigos e conquistando contato que jamais imaginaria queconseguisse chegar através da fonia.
Essa é uma resenha de como iniciei na faixa. Grande 73 a todos e vamos aos DX'S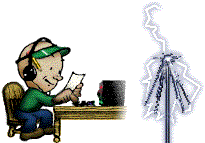 Hello My friends, my name is Fabian, born in the city of Santo André - SP.Tive the first initiative in joining me in the world of comunicções in 2003 as PX2M4628, where the citizens band won many contacts and friends. In 2007 I migrated to ham radio where I am getting several friends and conquering contact that would never imagine that could get through phony.



This is a review of how the band started. Big 73 to all and let the DX'S
70356 Last modified: 2013-02-11 20:59:19, 5561 bytes
Login Required

Login is required for additional detail.
You must be logged in to file a report on this page
Currently updating logbook display.