KEEP  YOUR SOX ON  !!
Where I live :
Cape Carteret, Carteret County, North Carolina -- FM14lq
Where the White Oak River (upper center of picture) flows into Bogue Inlet (lower center of picture) and out to the Atlantic Ocean past Bogue Banks IOTA NA-112 (the Island on right).......I live on the mainland directly opposite/behind Bogue Banks, which is a barrier island in the Southern Outer Banks chain off the North Carolina coast.
I love HF DX'ing.....CW.....RTTY.....6M propagation and SWL'ing  all services from DC to Daylight .
All operations are done  "BAREFOOTDIPOLE" . I've never run over 100 watts and only used a Dipole or Sloper Dipole or Inverted Vee UNDER 30 Feet High....Most of my NINE resonant Slopers/Dipoles for each band 80M - 6M are about 20 FEET High at the top....even my 6M sloper @ 15 feet, where I let the magic band do all the work HI HI !  I've still managed about 330 DXCC countries as a mere "BAREFOOTDIPOLE" station........I also worked QRP years ago. I want to THANK YOU for pulling my weak signal out of your pileup !  I hope I can look forward to the honor of your QSL CARD confirming our QSO.     73     Denny    WB4HDC
Some of my best friends........
 Bencher Iambic dual paddle:
Kent Single Lever paddle: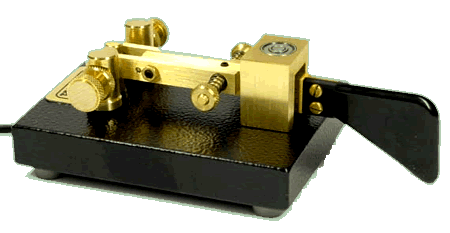 Japanese Ball Bearing straight key:
CJB 26003A  Flame Proof straight key: