LJ-105CA 5 Element 10 M Long John on a 24' (7.3M) Boom.
LJ-155CA 5 Element 15 M Long John on a 26' (7.9 M) Boom.
LJ-205CA 5 Element 20 M Long John on a 34' (10.4M) Boom
Antennas: Model DX-CC Parallel Dipole (80-40-20-15-10).
Comet GP9 VHF/UHF
US Tower HDX 555
Rotator AlfaSpid RAK.
Base Station.
Radio Icom IC-7600
Mic Icom SM-50 Desktop Microphone
Palstar HF-AUTO 1800 watt automatic .
Linear Ameritron AL-1200
Power supply Anstron 70A.
Software Ham Radio deluxe.
QSL: I reply 100%. Send me your card I send you my card at no cost. QSL via bureau is 100%.
HF Mobil station IC-7000 and al-500 ameritron , D-star ID-5100. Antenna Scorpion SA-680 and VHF antenna SBB-25.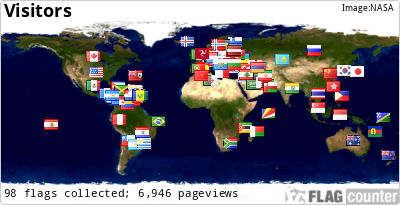 Large Visitor Globe