Confirm our two-way QSO by eQSL and / or LoTW and/or QRZ.com logbook, please. I will upload my log records on eQSL and LoTW and QRZ.com logbook everytime.
I also will send paper QSL card, especially for the request or as response to paper QSL card from you.
Thank you very much & 73!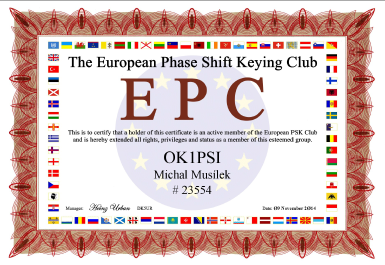 I am member of the EPC ... #23554, CZ-EPC ... #331,
DMC ... #07590 and FH ... #5479.
I am also SWL  ...  OK1-30786.
You can visit my personal web page musilek.eu/OK1PSI