During October 2016, Poole Radio Society celebrated its 40th Anniversary.
As part of our celebrations, we operated GB40PR during October from a variety of locations in Poole and the surrounding area of South-East Dorset.
For more information about Poole Radio Society, please visit our web site at www.g4prs.org.uk
Logs have been loaded to LoTW, eQSL and Clublog.  QSL cards were posted on Monday 5th December to the QSL bureau for stations that QSL through the bureau (not to Direct Only or eQSL Only  or No QSL).  
The Venues
Kingston Lacey
We were at Kingston Lacey on the 1st, 2nd and 3rd of October (Saturday, Sunday, Monday).
Kingston Lacey is a National Trust Property to the West of Wimborne off the road to Blandford Forum. 
Lake Pier, Hamworthy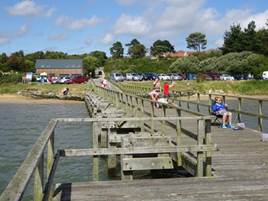 We were at Lake Pier on Tuesday 4th, Friday 7th and Monday 17th October.
Worth Matravers – Car Park
We were at Worth Matravers Car Park on Wednesday 5th and Thursday 6th October.
Norden Station
We were at Norden Station on Saturday 8th, Sunday 9th and Monday 10th October.
Norden Station is on the Swanage Railway just to the North of Corfe Castle.  Trains were running each day. 
Poole Museum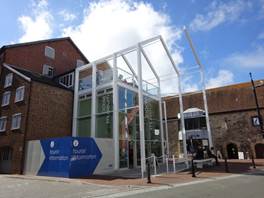 We were at Poole Museum on Tuesday 11th and Thursday 13th October.
Poole Museum is located near Poole Quay at the bottom of Poole High Street.  
Beach Hut, Studland
We were operating from a beach hut in Studland on Wednesday 12th October.
.  
St Dunstan's Church Hall
We were at St Dunstan's Church Hall on Friday 14th October and Friday 28th October.  This is our normal meeting venue St. Osmund's Hall, in Florence Road, Poole, BH14 9JF at the rear of St. Dunstan of Canterbury Orthodox Church, Bournemouth Road, Lower Parkstone.
Butchers Coppice
We were at Butchers Coppice for the Scouts Jamboree on the Air (JOTA) over the weekend of Saturday 15th and Sunday 16th October. 
Hamworthy Park
We were at Hamworthy Park on Tuesday 18th, Monday 24th, Tuesday 25th, Wednesday 26th and Thursday 27th October.
Haven Hotel, Sandbanks
We were at the Haven Hotel in Sandbanks on Wednesday 19th October.
The Haven Hotel faces the entrance to Poole Harbour, immediately to the left of the Chain Ferry (looking from the Poole side).  We were in the Marconi Room. 
The Haven Hotel was used by Marconi for many of his radio experiments over 100 years ago. 
Poole Yacht Club
We were at Poole Yacht Club on Thursday 20th and Friday 21st October.
Poole Yacht Club is located in New Harbour Road, Hamworthy. 
Povington Hill / Whiteways
We were at Povington Hill (also known as Whiteways) on Saturday 22nd and Sunday 23rd October.