Please add your Call sign" WEB Contact " just click on Web Above  
                         Thanks 73's                            
haz click donde dice WEB y pon tu indicativo de llamada
clicca su WEB sopra e aggiungere
Klik dan op bovenstaande WEB en voeg
cliquez sur WEB ci-dessus et ajoutez
Нажмите на WEB выше, чтобы добавить
         クリックしてください追加上記の WEB  あなたのコールサイン                                                                  多くのおかげで                                                           
Thanks For visiting my home page - A61Q
THIS IS ME 1960s

I

was first licensed in 1960, holding the Extra class A, callsign (2AL) Then MP4AL at the age of 13, I'm a Telecommunications Engineer Col From Armed Forces Signals Corps. I'm active on Multi Bands, my both three base stations Abu Dhabi, Ajman and U.A.E Manama working Rig Is Kenwood TS-990, FT-1000MP mark-V, FT-2000D and FTDX-5000 the Antenna OptiBeam OB18-6, OB17-5 The Power, Always I'm Bare foot if need it Power Amplifier, from 50w to 800W. I'm Very fest straight Keyer CW/QRQ and sometime QRS with My Night straight key 1960s. also part taken in SSB, RTTY, PSK31 & EME. EME antenna Is 4X15H/1KW also I'm on Echo link sometime and on mobile A61Q/M and almost East coast close to the Sea, the mobile Rig is TS-480HX 200w, mobile using five types of antennas Scorpion, Little Tarheel, YAESU Atas-120, portable antenna TW2010 and home made Dipole 160-6m It's all works perfect. and I am Also Operating QRP HF CW QRP SOTA Rig FT-817, tuner Z817 LDG I am Active only in winter. and my favorite bands are 30,40,80,and 160m.
 

  Thanks Guys, usually I work my way simplex, to avoid confusion, a few hints to make our life Easier and our hobby or we called it Obsession More fun and effortless (i.e. some DX rules according to DX Code of Conduct):
to know what is "QRX" means! before asking "?" iMi or" call ?" LISTEN, LISTEN. I send my call after Each QSO. If your PC cannot read my call turn off your PC, learn CW and use ears and hand. So I Can't heard you when I am transmitting wait the end of QSO before calling please Avoid Dupes (i.e. same hour/QRG/mode), I repeat your Call and mine to confirm at the end of each QSO. So you can correct an error before logging QSO. I Update the log on line almost every 2 days, check your QSOs.
If a specific country or continent is called, don't call if you are not there! for those who Have trouble Understanding it,

DON'T CALL FROM EUROPE

if I Call JA or NA or USA And Asia etc. MORE DISCIPLINE=MORE STATIONS WORKED.
In fine you like DX, me too. so let me Enjoy DXing. to all my friends a greeting from United Arab Emirates. De A61Q M.H.Abdullah.
you can call me abu Mousa. 
HELLO GUYS, WE ALL AMATEUR RADIO OPERATORS IN THIS PAGE WE DO RESPECT EACH OTHER!.
Exactly as the rules of the radio-hams, in here I should insist that it would not be allowed to discuss
themes on politics, religion, nor business.

I have nothing against either one, but I do think that the my page of the project should prohibit that type
of talk in here. Sorry for those that do not agree with it.
Please Visit this page and Read it many thanks Abu Mousa.
 
http://handiham.blogspot.ae/2010_04_01_archive.html
Locator A61Q
  1,"Abu Dhabi". LAT-24.425873 LON-54,723241 Grid-    LL74IK EME.
       2,"Ajman". LAT-25.400563 LON-55.5081 Grid-                    LL75SJ EME.           
3,"Manama". LAT-25.331296 LON-56.016918 Grid-
      LL85Ah EME.  
UAE MANAMA. Way to East Coast.
 Dear OM / YL / XYL,
I Will be Very Glad to have Ham Friends Visitors! Also I am Very Easy to find.
if you are in or near United Arab Emirates please visit me here in My QTH Abu Dhabi Near AirPort "AL FALAH City MAP Locator Is 24.425912. 542323 Grid LL74ik and to "AJMAN" MAP Locator Is 25.400563.  55.5081. Grid- LL75sj Close To AJMAN City Centre.
25.331296.  56.016918. Grid- LL85ah. MANAMA Ajman. way to EAST Coast.
"Equipments"
ABU DHABI Station Old ALFALAH City.:- Radio ICOM IC-7700 and YAESU FT-2000D and 1000MP Mark-V  Power ACOM 2500A and TL-922 KENWOOD. the Antenna OptiBeam 15-7 + Backg-Up CushCraft R8 40M to 6M + Home Made Dipole 80M to 10M.Very soon will be Moon Band LL74IK getting Work on Antenna.
AJMAN Station.:- Radio KENWOOD TS-990S,ICOM IC-756 PROIII and YAESU FT-2000D. The Antenna Yagi OptiBeam OB18-6 + CushCraft R8 10-40M to 6M + Home Made Dipole 160M to 10M. and MOON Band.
MANAMA AJMAN U.A.E Station.:- Radio YAESU FTDX 5000, FT-1000MP FT-1000D and The Antenna OptiBeam 15-7 + CushCraft R9  10-80m and Home Made Dipole. 
The ham spirit by A61Q M.H.Abdullah.Many thanks!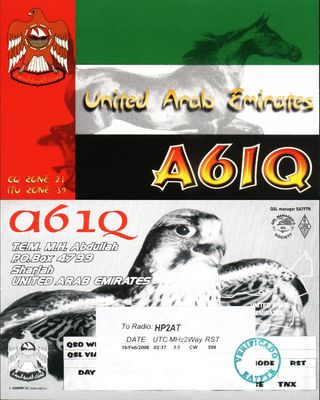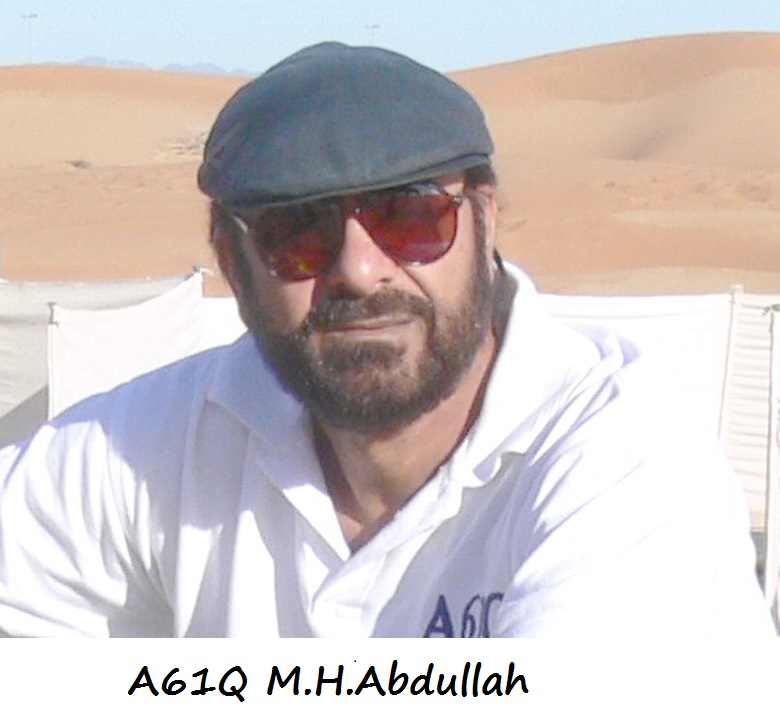 http://www.facebook.com/A61Q.Ae
http://ears.ae/site/member.php
(( Wx Weather ))
please Visit our sites http://
http://www.dubaitourism.ae/DubaiMap/tabid/189/language/en-US/default.aspx