Hi. My name is Joe Fischer. I was first licensed in the tail end of 1974.  I wish that could narrow that down further, but after much digging I cannot find my Novice license.  There were some similar call signs to mine listed in the 1975 QST Novice Roundup listing which was held in February, 1975, so I know that I was licensed in the few months prior to that.
I was interested in radios, TVs and antennas as a young kid and soon got into shortware radio listening. I accumulated a big pile of QSL cards from many broadcasters all over the world. That fueled my eventual studies in electrical engineering, culminating in a masters degree from Ohio University (go Bobcats!).
I don't remember if I was with my family or not, but one time I was at the Allen County Fair in Lima, Ohio, and came up to a booth set up by some hams from the local club. After a bit of talking I was enrolled in a class and became WN8TDO. In short order I upgraded to the Technician license, and became WB8TDO.
I've had a complicated relationship with Morse code and CW.  After getting my Novice license, I attempted to make a CW contact but got so flustered that I didn't copy a single letter of the person who responded to my CQ.  I didn't attempt another CW contact after that, and in fact, didn't make any HF contacts after that.
I did continue to study Morse code and twice took the 13 WPM test at FCC field offices and ended up with an Advanced class license.  I was pretty happy to stick with an advanced license and with voice and digital modes and stay away from that silly CW stuff.
But, Triple Play came around and got me into CW a year after finally getting on HF.  Only 40 years, but I got my first CW contact in February, 2015.  Since then, the contacts have been piling up and I now have more contacts on CW than all other modes combined.
I'm still far from proficient on CW but want to keep trying.  One thing that really helped was the CW Academy put on by CWOps.  I highly recommend them for learning Morse code or improving Morse code proficiency.
Currently, I concentrate mostly on contests, primarily CW contests, and state QSO Parties with special event stations and DX as they come along.
Equipment: Kenwood TS-590S, Bencher BY-1, Bencher RJ-1, Kenwood TM-V71A, Kenwood TH-F6A, GAP Titan antenna at 16 feet above ground level, homemade 6-meter halo 15 feet above ground and a Diamond X50A.  Shack computer is an Apple Mac Mini.  Primary logger is Aether.  For contesting I use N1MM running on a Windows 7 VM which runs on a VirtualBox virtual monitor on my Mac.  CW keying is accomplished with a K1EL WinKeyer.
The picture in the upper right is yours truly operating at my club's - DELARA - new station.  We have a tower with a beam on top, a horizontal loop that works on 160m and an inverted-V antenna for HF.  There are also stations and antennas for VHF and UHF.  Quite an up-grade over my home station.
QSLs
I am registered on Logbook of the World; sorry, no eQSL.  Logs are uploaded to LoTW every day or immediately after a contest. Occassionally, I operate from my club's station in Delaware County, Ohio; those contacts will show the actual county and grid in LoTW.
Paper QSLs; U.S.-based amateur operators:
I will gladly exchange QSL cards with you; no SASE, stamps or money required.  You send me a QSL card, I will send one back to you - simple as that.
Paper QSLs; non-U.S. amateur operators:
I use the ARRL buro.  Since the ARRL raised their outgoing buro costs, I will be sending this way less frequently.  It will not be cost effective to use the outgoing buro until I have a decent number of cards to send out.  If you want a card faster, send me an e-mail at the address above and I'll try to work something out with you.  Foreign postage is approximately three times domestic so that can get expensive.  I'm also set up with OQRS through Clublog:
Shortware listeners:
I will QSL shortwave listeners subject to the above.  In addition, please provide some details of what you heard: date/time (in UTC; make sure the date is correct), frequency, mode and who I was communicating with.  Please note that I log a QSO only if the other station has acknowledged me.  If I send a CQ and nobody comes back or if I respond to a CQ and the other station does not respond, I do not log that so I will not be able to verify that.  Also, it would be nice to know what kind of antenna and receiver you are using.
Some of the "paper" that I have accumulated: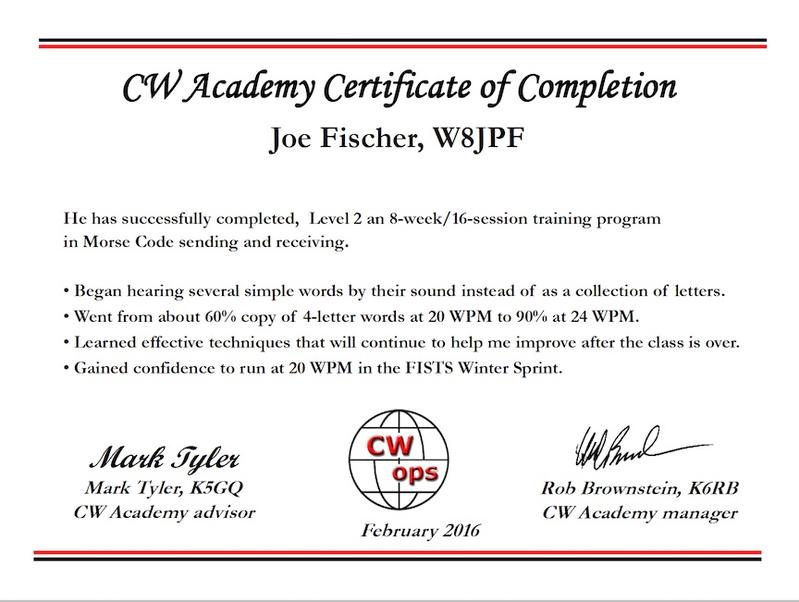 I'm also eligible for (but have not applied for) DXCC CW, DXCC Phone and DXCC 20 meters.
My other interest is amateur astronomy.  Space and astronomy is another interest from long ago. I can well remember taking home lots of books on astronomy topics from the library as a kid.  Although I don't observe anymore, I'm still very interested in the physics and science of astronomy.
I am a member of the Delaware Amateur Radio Association (current president), the Central Ohio Radio Club, the ARRL, CWOps #1821, FISTS #17164, SKCC #13604, OMISS #9654 and the Second Class Operators' Club #1139.  I am a volunteer examiner with the ARRL VEC.  I am a Level 1 advisor for the CW Academy.  Professionally, I am a software engineer for a company that provides services to libraries.
73
dit dit