Please add your callsign to my

 Web Visitors Contact Log.

 

Thank you...
Saludos del Sur del Mundo---Regards of the south of the world
 Chiloe Is. (SA-018)
*Chilean Patagonia*
My QTH locator FE36fu
Large Visitor Globe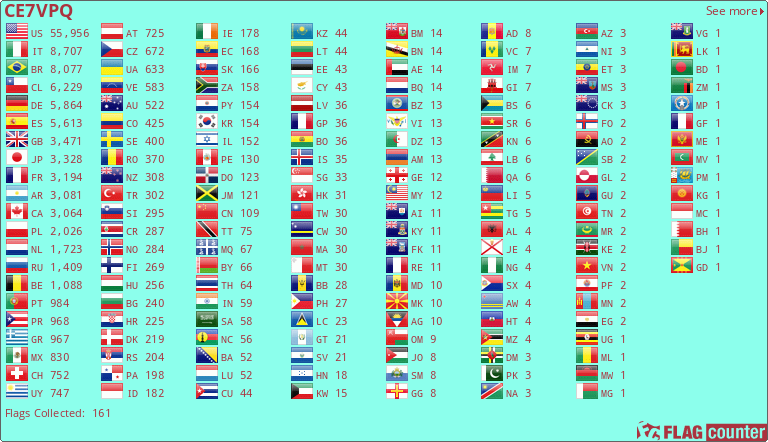 8383503 Last modified: 2017-10-12 01:20:26, 5877 bytes
Login Required

Login is required for additional detail.
You must be logged in to file a report on this page
Public Logbook data is temporarily not available for this user
DX World Award

#5932


Granted: 2017-09-23 23:56:02 (CE7VPQ)



Grid Squared Award

#14806


Granted: 2016-12-30 13:56:02 (CE7VPQ)



Endorsements:

15 Meters Mixed

20 Meters Mixed

40 Meters Mixed

15 Meters Phone

20 Meters Phone

40 Meters Phone

Mixed Phone

20 Meters Digital

Mixed Digital

United States Counties Award

#5525


Granted: 2016-12-20 01:48:02 (CE7VPQ)



Endorsements:

100 Counties Digital

100 Counties Mixed

250 Counties Mixed

100 Counties Phone

250 Counties Phone

World Continents Award

#15947


Granted: 2016-11-27 18:46:04 (CE7VPQ)



Endorsements:

10 Meters Mixed

15 Meters Mixed

20 Meters Mixed

40 Meters Mixed

10 Meters Phone

20 Meters Phone

40 Meters Phone

20 Meters Digital