Thanks for visiting my qrz.com website...
I started 1984 as SWL and s
ince the age of 15 I am licensed Radio Amateur and got my first callsign Y34XB in 1988. After the German reunification I was active as DL3SXB, DL5SXB and DL5SZB.
In December 2010 I changed my callsign to DM2RM.
---
---
QSL - Info



Direct-QSL: SASE + 1€, 2$ or 1IRC (valid and stamped!) 





All QSO's will be confirmed by QSL Card and additionally by eQSL.cc (AG), LoTW + HRDlog.net. 





Please send me your QSL Card (paper) for my collection! 

TNX!!!   SWL-Reports are very welcome!
---
DM2RM´s HAM-Radio Station
TRX: ICOM IC-7600 - ICOM IC-7300 - Kenwood TM-G 707 - YAESU VX-8E
ANT: Fritzel FB-33 3-Element Beam - Fritzel FD-4 Window - Diamond 50MHz HB9CV - Diamond X-200
SW: Logging program HRD Logbook + HAM Office by ARcom - Contest logging program N1MM, Wintest, UCX-Log or RCK-Log
---
Club Memberships
DARC - DOK: E28 (Deutscher Amateur Radio Club)
RRDXA (Rhein Ruhr DX Association)
IG-RY (Interest Group RTTY)
DIG # 6381 (Diploma Interests Group Germany)
EPC # 13767 (European PSK Club)
DMC # 2042 (Digital Modes Club)
30MDG # 4327 (30 Meter Digital Group)
UKSMG # 3100 (UK Six Meter Group)
FH # 2348 (Feld Hell Club)
WCC # 643 (WARC Century Club)
BDM # 0271 (Belgium Digital Modes Club)
FIRAC / EFA-DL (International Association of Railway Radio Amateurs)
---
My QSO Map (HRDLog.net)
---
Latest Ionogram of Leibniz-Institute for Atmospheric Physics e.V. at the University Rostock
(international URSI-Code JR055)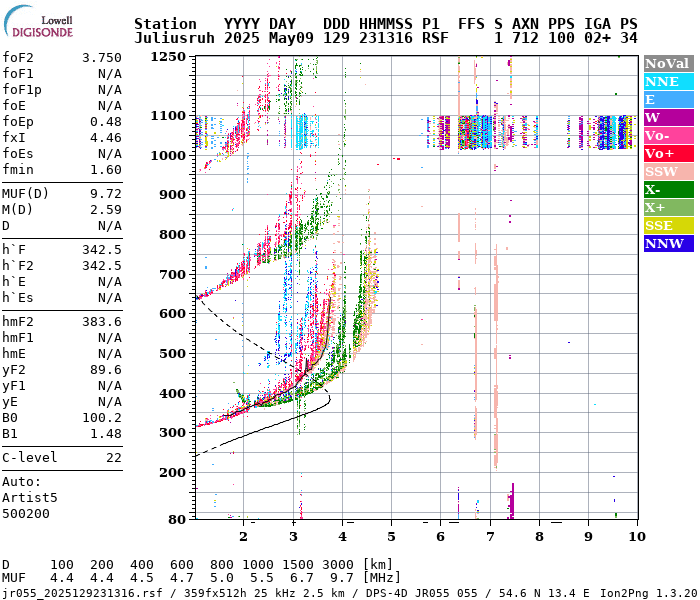 This Ionogram shows the currently MUF for North-East Germany [MUF (D)]. QTH is on Ruegen Island (IOTA EU-057) in JO64QO.
---
vy 73 de Ron DM2RM
---