Has made up to 2015--------- Hasta 2015
Project even since 2016-------- Desde 2016

;
 ;
BOTON DE ORO --- GOLD BOTON
Hola, soy Juan, "Johnny" para los colegas, EA3NJ en Radio Ham desde 1959. Estando activo practicamente siempre,  en el 2016 he renovado un poco mis equipos . Me gusta siempre probar los modos que han ido saliendo, tales como trabajar via sat (1976) siendo de los primeros EA,s con el Oscar-7, RTTY, SSTV, PSK, JT65, EME, etc. , En estos momentos prefiero la calidad y comodidad que la actividad HI .
Equipos actuales: YAESU FTdx9000D,  KENWOOD TS-2000,  KENWOOD TS-790A (144/432/1200) y AMPLIF. VHF Discovery  KW GS35B(144 Mhz), TUNER HF  PALSTAR AT- AUTO, WINDOM OCF HF, 4X13 el. enfasadas para 144 (EME) , Logperiodic de 50 Mhz a 1200,  MANIPULADOR-CW: ... IAMBIC
Hi, I'm Juan, "Johnny" to colleagues, EA3NJ in Ham Radio since 1959. Almost always be active  and this year 2016 I have renewed my season a bit . I always liked to test modes that were emerging, such as working via satellite (1976) being the first EA,s with the Oscar-7, RTTY, SSTV, PSK, JT65, EME and so on.  We are currently looking for more quality and comfort that the activity.. HI ....
Current teams: YAESU FTdx-9000D , KENWOOD TS-2000,  KENWOOD TS-790A (144/432/1200) & VHF Discovery KW GS35B (144 Mhz),  TUNER  PALSTAR AT -AUTO, WINDOM OCF HF, 4X13 el. enphased for 144 (EME), Logperiodic for 50 Mhz to 1200, CW-KEYER: ... IAMBIC
I working  SSB -  DIGI & CW 
and
CUADRO DE HONOR  LOCATORS EN  ** EME **
HONOR ROLL  LOCATORS IN ** EME **
Classic  Awards------ Diplomas Clásicos
Digital  Awards------ Diplomas - Digitales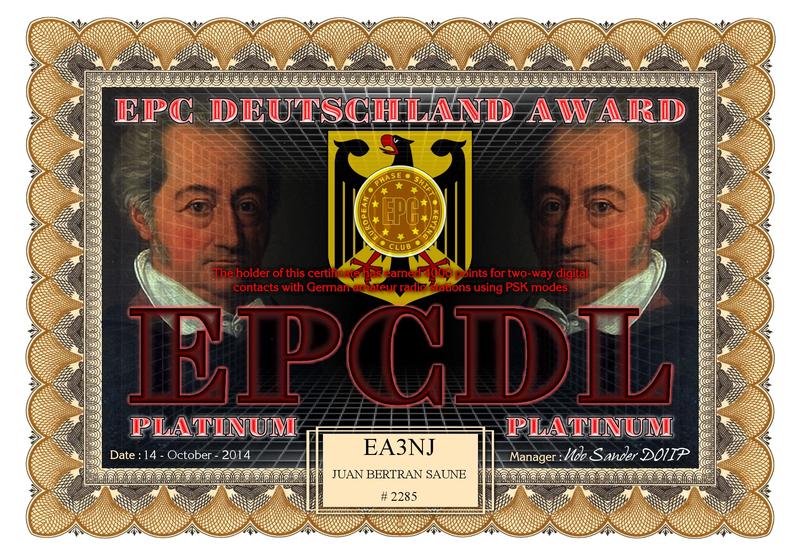 eQSL  Awards------ Diplomas eQSL
 Awards- Diplomas concedidos por URE--Granted URE Awards-
 SEVERAL Awards-- Diplomas VARIOS
 -1000- VERTICES GEODESICOS (DVGE) --EA--   (Actual 1.891)                 500-  CASTILLOS DE ESPAÑA    (Actual  1.179)              
 -1000- SPANISH GEODESIC VERTEX     (Nowadays 1.891)                         500- SPANISH  CASTELS   (Nowadays  1.179)                       
TODAS LAS 34 COMUNIDADES VALENCIANAS
-3.000- MUNICIPIOS DE ESPAÑA (DME)  (Actual 3.066)        1040-  ERMITAS DE ESPAÑA (Actual 1.392)
-3.000- SPANISH MUNICIPALITY TOWN (Nowadays 3.066)       1040- SPANISH HERMITAGE,s (Nowadays 1.392)
 SPANISH   Railway stations   (Nowadays 304)                                                          Monuments and Vestiges of Spain (Nowadays 736) 
 Estaciones de Ferrocarril Españoñas (Actual 304)                                                    Monumentos y Vestigios de España     (Actual 736) 

Locators confirmados------Confirmed Locators
Actualizado 18/09/2017 
50 Mhz................... 247
144 Mhz................. 234
Sat...........................116
EME........................207   (WKD: 244)
Paises confirmados------Confirmed Countries
Actualizado 11/12/2017 
50 Mhz..................... 55
Sat.............................38
EME..........................49    (WKD: 53)
EME Stations worked------EME Estaciones trabajadas ... 342
EME Total QSO,s ----------EME Total de QSO,s ................. 685
EME Total PREFIX,s ---------WKD: 232
Counter date from August-01-2009************ Visitantes desde 01-Agosto-2009 :
---
I like paper QSL, 
To: ea3nj@ure. es  
&