At the age of 12 I built my first Radio using the ladybird book "Making a Transistor Radio".  A variable capacitor, an inductor which I wound on a ferrite rod, a long piece of wire as high as I could reach using a chair, a short piece of wire pushed into the soil, a germanium diode and a crystal earpiece was all that was needed. I plugged the earpiece into my ear and heard Radio 4 coming for the first time, and it didn't need any batteries!
After that success I never looked back, what a hobby I got myself into. Thanks to my father who encouraged me further by giving me the funds needed to buy the components for the projects that I built. My first ever transmitter I built was an AM transmitter using a handful of components which were mounted on cardboard from a corn flakes box, I had to be careful not to burn the cardboard whilst soldering, there were a few black marks due to heat. The transmitter was very low power and was tuned on the MW band, I used my transistor radio as the receiver, its range was about 20 foot, but it worked.
After obtaining a degree in Electronics in 1983 I started working for the BBC as a Broadcast Engineer.
Feb 1991 I passed my City and Guild RAE exam and obtained my class "B" license.  A few years later and many months of listening and practicing Morse code I passed my practical Morse test and obtained my Class "A" license.
Due to pressure of work and lack of time I took a 20 year break in this hobby. Now I am back and enjoying every minute of it.
Below is a photo of the family during my son's graduation outside Leeds University.
Recently purchased the Icom 7300:
This is now my main radio for all HF can be seen in the setup below. The 7300 is coupled to the Ranger 811H amplifier and then to a FD4 OCF antenna otherwise know as the Windom, the antenna is tuned to 40m, 20m, 17m, and use the LDG 600ProII ATU for to tune the top-end of 80m and the 15m band. The 2nd antenns is the full size G5RV and is running from North to South is mainly used as a standby antenna.  
I have retained the ICOM 7000 which is now my primary radio for 2m and 70cms. This radio is connected to the 1/2 size G5RV with the LDG Z100plus ATU coupled through a 4in1 Balun.
Current Setup:
Jan 2017
The old setup setup:
Nov 2015 Icom 7000, Z-100plus, AV1000 SWR meter and Sharman Multicom SM30 Power Supply
Jan 2016 added Yaesu FT857D Alesis audio mixer and Canford Loudspeaker.
March 2016 added Yaesu FL2100B linear amplifier, and CNA-2002 ATU.
July 2016 added Icom 7300, Ranger 811H linear amplifier, LDG AT-600 ProII autotuner and M-600 meter. I had to sell the Yaesu 857D to raise funds for ICOM 7300.
I have the following antenna's:
1. FD4 OCF antenna full size
1. Added a 20m dipole using two 7m long fishing rods. Sadly had to take the FD4 down to allow me to rotate the dipole.
2. 80M dipole.
3. Full size G5RV.
4. Half size G5RV
5. 6m dipole when required is erected on the pump up mast during the 6m RSGB contests.
The 80m Dipole can been running East West seen as the taller pole, the pole is constructed using 3x2, 2x2, and 2x1 timber to give an overall height of 10.4m
The FD4 windom (OCF) antenna can be seen on the pump up mast currently at 9m (30 feet) high.
20m Dipole can be seen below, home brew using 2 x 7m fishing poles. Currently at a height of around 8m (27 feet).
The 1/2 size G5RV is running from East to West and is configured as an Inverted "V". 2nd G5RV is the full size and is running North to South over the apex of the house. Both G5RV Antennas can be seen in the photo above and below.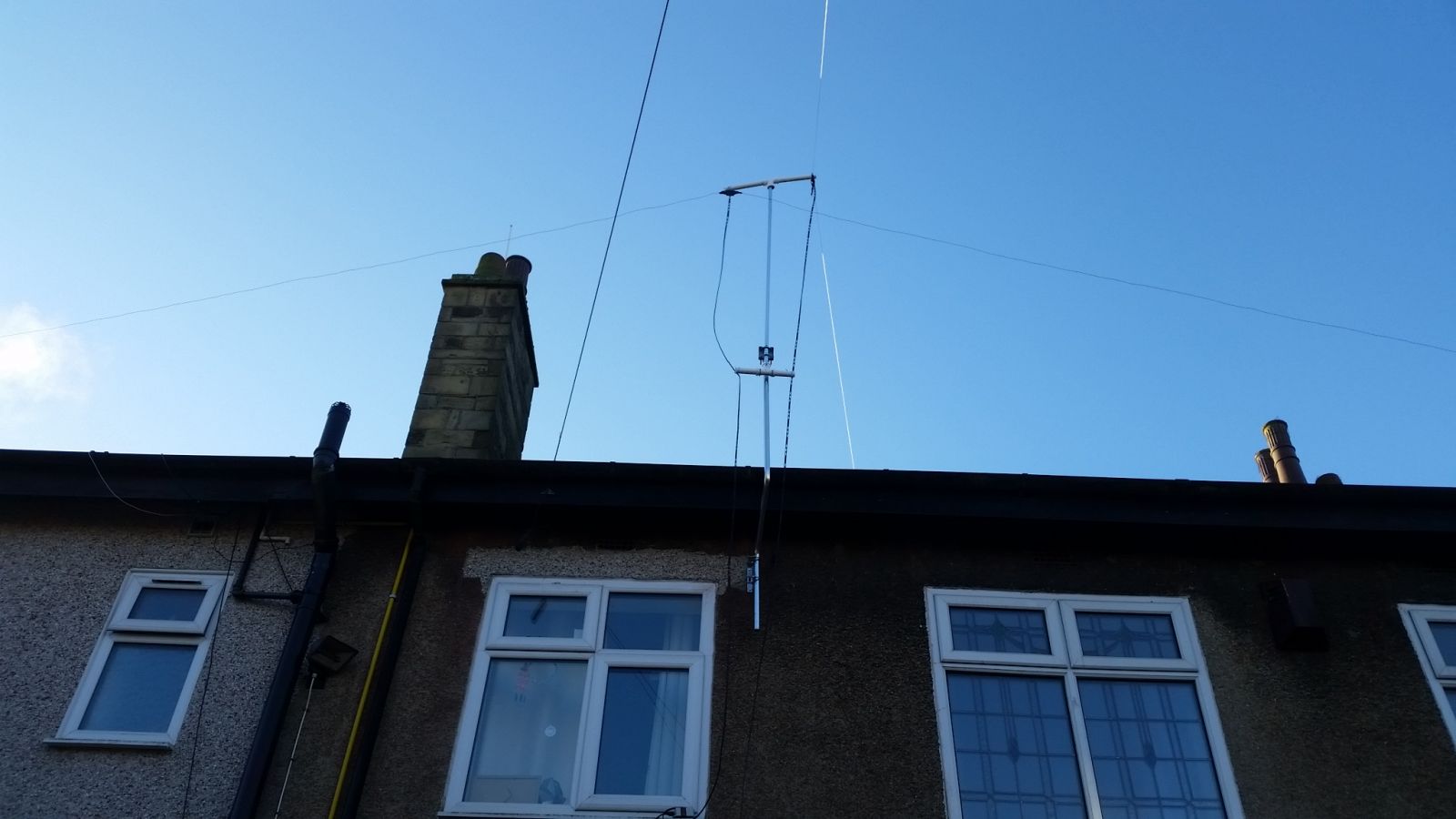 Below My 6m antenna can be seen, its made out of 12mm copper pipe, and a broom stick handel to give it a bit of strenght. Only goes up when needed.
Old 40m Dipole antenna can be seen below at 9m high, this has been taken down for maintenance and will be up later with hopefully a 20m dipole on the same feeder, making it into a 2 band fan dipole.
My 2nd linear Amp is the Yaesu FL2100b, this has a max power of approx 800 watts into a dummy load with 100 watts drive, of course we can only use 400 watts max in the uk so it doesn't have to work very hard. Note the cooling fan.
Thanks for looking
Abdul G0TVM