CORNISH FLAG OF ST PIRIN
cornish coat of arms
WIRES X COVERAGE ON MB6INY
DV GATEWAY ON 70CMS 
FREQUENCY IS 431.112.50---- DIGITAL NARROW
LINKED TO CQ-UK ROOM #27793
this is area of coverage within the Newquay area I cover
I RUN A WIRES X GATEWAY WITH THE CALLSIGN
MB6INY
FREQ 431.112.50 70CMS
LINKED TO CQ-UK ROOM #27793
MY DTMF  IS #41203 FOR NEWQUAY FUSION ROOM
SO GET AND PUSH THAT WIRES X BUTTON ON YOUR RIG WHEN YOUR IN
NEWQUAY CORNWALL
ALL QSO'S ADDED TO LOTW AND EQSL CLUB LOG, QRZ LOG, & HAMNET LOG, FOR YOUR AWARDS ,,GOOD LUCK GUYS AND THANKS FOR THE CONTACT 73'S
http://www.dxsummit.fi/#/?include_modes=DIGI
click link above for great dx cluster
http://www.newquayweather.com/index.php
HI GUYS,
ALL QSO'S ADDED TO L.O.T.W EQSL, QRZ, AND HAMLOG FOR YOUR AWARDS GOOD DX TO ALL
WORKED ALL BRITAIN SQUARE
***********SW86**************
THANKS FOR DROPPING BYE,
I HAVE NOW RETIRED FROM WORK AND HAVE MOVED QTH PERMANTLY TO CORNWALL SOUTHWEST ENGLAND, THE TOWN IS FAMOUSE WORLWIDE FOR SURFING WE HAVE SURFERS VISITING FROM ALL OVER THE WORLD, AND I ONLY LIVE 50 YARDS FROM A BEACH CALLED "LUSTY GLAZE "GREAT TO WALK THE DOG THERE AS WELL
I LIKE TO USE ALL THE DIGITAL MODES INCLUDING JT65 & JT9 THE SOFTWARE BY JOE TAYLOR WSJT-W  WITH THE JT ALERTS AS WELL ON HF, I ALSO LIKE TO WORK DX AS WELL,20 MTRS MY FAVOURITE BAND.
FACEBOOK PAGE 
https://www.facebook.com/pages/G1lqt-Amateur-Radio-Station/111730418982968
CURRENTLY USING AN ELECTRONIC WINCH SYSTEM FOR MY TOWER AND MAIN ANTENNA IS A CUSHCRAFT MB5 MINI BEAM TO USE ON ALL HF BANDS
IT EVEN TUNES ON 6 METERS
THANK YOU FOR LOOKING AT MY PAGE ,PLEASE ADD YOURSELF TO MY WEB CONTACT ,MANY THANKS HOPE TO CATCH YOU ON THE BANDS 73S AND GOOD DX..................

MY CAMERA IS A CANON 5DMARK IV VARIOUS LENSES MY OTHER HOBBY IS PHOTOGRAPHY
G1LQT WEB ........................    
PLEASE CLICK LINK BELOW THANK YOU
THESE IMAGES ARE A FEW YEARS OLD NOW
http://fineartengland.com/profiles/colin-matthews.html
NEW RADIO AND AMPLIFIER FOR THE SHACK BELOW
ICOM 7600
***ACOM 1010 SINGLE TUBE AMPLIFIER BELOW***
*** 800 WATTS ***

NEW ADDITION TO MY SHACK ICOM 7300
THE NEW LAYOUT SO FAR
DIGIKEYER FOR ALL DIGITAL MODES
AND ABOVE SOME OF THE MICROPHONES IN ACTION IN THE SHACK 
BEHRINGER MIXING BOARD  FOR THE MIKE RACK
SECONDARY PORT ON FRONT FOR HEIL HEADSET
OR ANY PLUG IN MICROPHONE
JUMPERS NEED TO BE SET IN MICROKEYER FOR THE MICROPHONE 
YOU USE
micro KEYER II™ is the most powerful single radio All-In-One USB interface and the only USB interface to fully support voice operation including microphone switching. With an single USB port, microKEYER II™ works with any Windows-based logging or control program for CW, voice, FSK and digital (RTTY, PSK31, SSTV, OLIVIA, MFSK, WSJT, etc.) operation. micro KEYER II™ includes a radio control interface that supports all standards (RS-232, CI-V, Kenwood and Yaesu TTL), a powerful CW memory keyer using K1EL's WinKey, a Digital Voice Keyer, two channel audio for transceivers with dual receivers, automatic microphone selection, and a buffer/sequencer for amplifier or LNA control
TOP RADIO ICOM 7300 AND BIG BROTHER BELOW ICOM 7600
ICOM 7600 AND SOUNDCARD
MATRIX ELAD SWITCHING SYSTEM FOR ANTENNAS
NEW ADDITION TO THE SHACK
FUSION RADIO YAESU
FTM 400 TOUCH SCREEN 
APRS ENABLED
AND ICOM 7300 BELOW
LAPTOP RUNNING THE ICOM AND DESKTOP RUNNING
NEW LAYOUT BELOW
HEIL MICROPHONE FOR THE YAESU RIG
YAESU FTM 100 DIGITAL RADIO FOR THE NODE
MB6INY & APRS
FREQ OF NODE 431.112.50
MICRO KEYER FOR DIGI MODES ON THE 7600 WITH SOUNDCARD FOR MICROPHONE RACK
THE 2 ICOMS TOGETHER
EVERYTHING AT HAND
MICROPHONE RACK WITH HEIL PR30 BEHRINGER C-3 & SM4S
THE OLD LAYOUT WITH THE YAESU FTDX1200
ONLY 3 ANTENNAS FOR THE STATION 
DIAMOND X50
AT THE TOP FOR 2 METER 70 CMS OPERATION
COBWEBB 7 BAND BELOWX
20,17, 15, 12, 10, 6, 4 
FULL SIZE G5RV IN LOOP CONFIGURATION
MY QTH IS 80 METERS FROM THE ATLANTIC OCEAN
THE LINK BELOW WILL TAKE YOU TO MY YOU TUBE CHANNEL
PLEASE ENJOY FOR MORE VIDEOS
https://www.youtube.com/channel/UCqLUKH4AoeeV1IlRi2PoIiw
THIS IS MY BUNGALOW IN PORTH NEWQUAY

WORLD HERITAGE SITE ST AGNES CORNWALL
WHEAL COATES ENGINE HOUSE
FROM THE LATE 1700S at ST AGNES
NORTH CORNISH COAST.
GODREVY POINT LIGHTHOUSE, GWITHIAN, NORTH CORNISH COAST
Porth Island Newquay Cornwall
LOOKING TOWARDS PADSTOW FROM PORTH ISLAND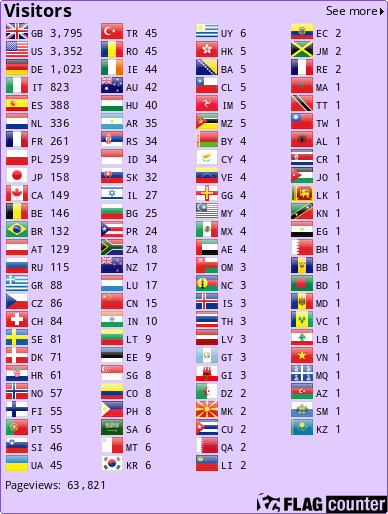 FOR QUALITY QSL CARDS click the link below
HI, I AM THE STATION MANAGER, I AM A STAFFORDSHIRE BULL TERRIER, MY NAME IS LUCKY, AND I AM 10 YEARS OLD ,AND I WAS RESCUED BY THE BOSS,AND HE IS MY BEST FRIEND 

IM ONLY LOOKIN BOSS




 

The QSL is the ultimate courtesy of a QSO"
 

CHECK MY LOG SEE IF YOUR IN THERE

QSL 100% direct only no buro , please do not send stamps or money

I HOPE TO GET YOUR CARD SOON BEST 73S THANKS FOR LOOKING AT MY PAGE

HOPE YOU HAVE ENJOYED MY PAGE,PLEASE COME BACK ANYTIME YOU LIKE