PLEASE NOTE!! All QSL confirmations to either the QRZ logbook or to www.eqsl.cc
I'm located on the beautiful archipelago of Shetland 28km south of the capital of Lerwick on the far south west side of the main island and just 300 metres from the Atlantic Ocean. The islands of Shetland are located 160km north of the mainland of Scotland with the North Sea to the east and the Atlantic Ocean to the west. At 60 degrees north, we are on the same latitude as Oslo, Stockholm, Anchorage and the southern tip of Greenland. In fact, we are closer to the Artic Circle than to London, England!
Being surrounded by saltwater I naturally enjoy working HF DX on all bands on my Yaesu FT-950, Acom 1010 & Palstar AT1KP.
For audio enhancement, I am working on a Heil PR-781 desk microphone connected to a Behringer Tube Ultragain Mic100 pre-amp into a Behringer Xenyx X1204USB 24-bit processor, into a Behringer MX2200 compressor limiter, and finally into an iBox by W2IHY connected to the front FT-950 mike input. I receive great audio reports! You can test your own audio 'live' here: http://hackgreensdr.org:8901 Do give a small donation to keep the station going.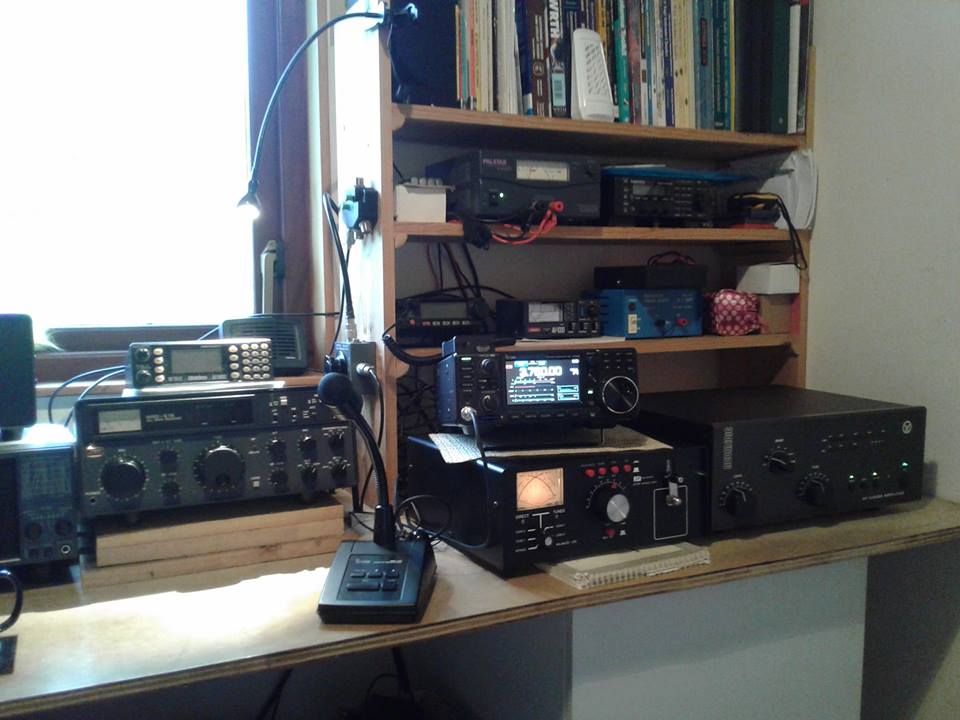 If you want to learn how get the best audio from your SSB transmission, click here: www.nu9n.com
I have a variety of antennas which includes a homebrew 42m (total length) Carolina Windom using a Kelemen 1kW 6:1 balun, and a homebrew choke, a Kelemen 160m/80m/40m trap antenna and an inexpensive Antron 99 (GRP three sectional vertical antenna) that works extremely well for long distance DX on 17/15/12/10. All my antennas are 10m high.
I dare not erect antennas any higher due to the extremely high and often ferocious winds, which can attain gusts of force 12+ during the winter months.
Shetland holds the unofficial British record for wind speed, which in 1962 was recorded at 177 mph (285 km/h).
FT8 data mode
I've recently got back into data mode on all HF bands with my new data link MiniProSC from ZLP Electronics. I'm using WSJT-X Latest Version 1.8.0-rc2 free software and am making tons of contacts on the new faster FT8 mode on 10 watts or less. You'll also need the following free software from HamApps plus Dimension 4 that synchronises your computer clock, which is crucial! Have fun with the new FT8 mode!!
Release notes, September 2, 2017:
WSJT-X Version 1.8.0-rc2
Other hobbies include history, gardening, web design, metal detecting, trout & sea fishing. I am currently doing research on 'Romans in Shetland'. I have good evidence that Agricola and other Romans made several expeditions to Shetland from (circa) AD70 to AD94.
Best 73
(More info on GM4JPI webpage)
Shetland Island Tour
The Spring and Summer in Shetland is a time of very great beauty and calm with long days stretching to 20 hours of daylight during midsummer. It will rarely exceed 21c - but because the ozone layer is thinner at this latitude one can get a nice suntan in 20 minutes!
During late Autumn and in Winter, storms on Shetland are severe. Strong winds may blow from any direction but gales from the west and south-west are dominant. December and January are the stormiest months, with 60% of the highest wind speeds recorded in these months between 1931 and 1994. Over this period, five storms were recorded at Lerwick in which gusts exceeded 90 knots (kph). Two of the most severe storms this century occurred in the early 1990's. During the storm of 1/1/1992, at Lerwick the highest gust was 90 knots and the highest hourly mean wind speed was 66 knots. In the north of Shetland wind speeds were greater, with a gust of >150 mph recorded from a dial at Muckle Flugga lighthouse on the northern tip of Unst. Yet another unofficial UK record! Wind speeds at Lerwick during the storm of 17/1/1993 matched those of the Hogmanay 1992 storm. This was a very stormy month, with gales on 25 days.
My Homebrew 80m - 10m (inc. 60m with ATU) Carolina Windom with 6:1 balun & homebrew RF choke
How to build a RF choke Click here
My Kellerman 160m/80m/40m trap dipole & my Antron99 vertical for 17m/15m/12m/10m
Our puffins are great characters that nest on Shetland each year
LIVE PUFFIN CAM: www.shetland.org/puffincam
The view we enjoy from our QTH