Ciao!
thank you for visiting my page...
I'm 44 years old, living 2Km from Assisi in a green valley in the center of Italy.
I'm coming back to ham radio on July 2014 after 25 years of QRT! I like DXing in SSB, but I'm challenging myself in a new step: CW. I've recently started with first attempts of QSO in CW and I really want thank all gentle and patience OM for assisting me and for encouraging me. I can't find enought words to explain how much I'm grateful to all of You!

    MDXC member #661
Home RIG:
Jan 2017 - now             Icom 7600, under study, first impression is very positive, second impression too !
Jun 2015  - Aug 2015   Kenwood TS590, fantastic rtx, it allowed me many dx in vy hard conditions
Acom 1010 (born on Jan 2015 at 194 DXCC worked, it's name is "little Tromellin" in memory of FT4TA I was not able to work even if it was S 9/9+ most ot the time), replaced with SPE Expert 1.3K-FA ( simply great, running at MID pwr ).
Home ANT (see picture below):
Nov 2017 - now          ​ Inv L, from vertical-array.com, with 3 radials and a bit of iron mosquito net.
                              ​       80mt / 160 mt
Jun 2017 - now          ​ RX loop, homebrew rx loop, mounted without rotor. waiting winter season for wider test.
                              ​       80mt
May 2017 - Aug 2017​ Half Sloper, promising well... broke E31A pileup easily... removed due to heavy RF return
                              ​       80mt
Aug 2015 - now           Ultrabeam 2el 6-40mt (Italy) => unbelivable, my one and only antenna on the roof today!
                              ​       2el for 6mt / 10tm / 12mt / 15mt / 17mt / 20mt, 1 el for 30mt / 40mt
Jun 2015  - Aug 2015  Temporary Vertical => hard tuning and 100w for few ATNO like Philippines and Singapore!
                                     6mt to 80mt
Aug 2014  - Mar 2015  Hexabeam from SP7IDX (Poland) => fantastic, generous 3.4 dB, 197 DXCC worl wide
                                      6mt / 10tm / 12mt / 15mt / 17mt / 20mt
Aug 2014  - Feb 2015  Vertical LZAV-5B from LZ Antenna (Bulgary) => great vertical, great support from LZ
                                      10tm / 12mt / 15mt / 17mt / 20mt
Aug 2014  - Aug 2015  Wired trapped dipole => not enogut high places, but good for EU local QSO
                                      40mt / 80mt (running on 15mt too, tuned on 6mt too)
Mobile RIG (always QRP):
Yaesu FT-857D (most of the time around standing as main VHF/UHF rx on my desk )
RS-918 SSB QRP SDR
Yaesu FT-817ND (most of the time around 2.5W with power source at 12V from car plug) => sold
Mobile ANT (always QRP, see picture below):
Vertical home made ( 1/4 wave lenght ) => ROS < 1.2 all bands (no need for tuner), 50 Ohm matching, just wire (one junction for each band and mosquito iron net as (fantastic) mass plane
10tm / 12mt / 15mt / 17mt / 20mt / 30mt / 40mt
Magetic Loop from Alpha Antenna => pratcical, silent, but tuning is a mess => gone
10 -> 40 mt
Here below my score and most recent QSO: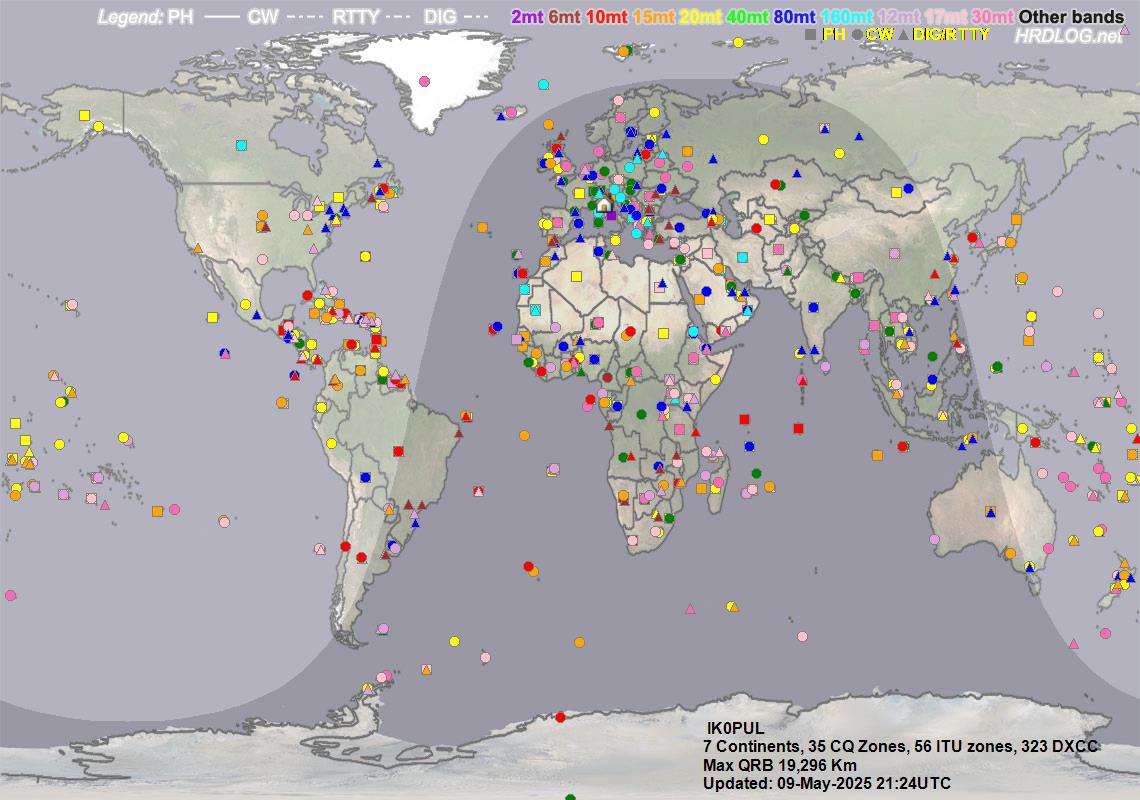 Here below some picture of my present and past antennas...
ULTRABEAM
TEMPORARY VERTICAL
HEXABEAM, VERTICAL from LZ and 40/80 mt DIPOLE
PORTABLE STUFF
73s de
IK0PUL / Andrea