Welcome to JE1LET Masa's Board.
2x6el phased triband Yagi side by side
JE1LET DX shack remote is now open.
Check RemoteHams station list.   Always welcome.
Scroll down for English info.
QSL info for CY0/VA1AXC.
The  QSL route is JE1LET  SASE +2US$.  Only Direct.
17th Feb 2018
SV2ASP/A アポロさんのステップIRの故障を直しに再びアトス山にアンテナチームが向かいます。それまでは7の2エレ八木と80、160のダイポールで​運用します。
​ZS8Z マリオン島は再QRVの可能性はなくなりました。
AE3RM   ラウル・ミドンさんが20mでアクティブです。
​有名なジャズアーティストで今年のグラミー候補にもあがりました。次の日本ツアーは9月になります。
​ 30th Dec 2017
VK3SS  Paul visiting my DX shack. 
QRZ DX??  this is JE1LET guest op.....
​​​​​SV2ASP/A   in the shack.
​​マリオン島 QRV情報
​​​​ZS8Z  Next Sked =>  QRT for a while.
​
​29th July 2017
N2QV Tariq is visiting my shack from NY.
He remotes his big station in NY from my shack.
22nd Apr 2017
​Monk Apollo in last week.
09th Apr 2017
​A sushi bar ???
everyone from children to the elderly headed for the Ipads.
​It was like a computer classroom.  Hi Hi !!! 
Look at Attached the photo.
20th Feb 2017
今日、ジョー・ウォルシュさんからギターのピックをいただきました。
Thanks, Joe.
19th Oct 2016
イーグルスのジョー・ウォルシュさんから自筆サインが届きました。
Special Thanks to Joe.
​Look at this huge 160m 4SQ by N2QV !!
​ZS8Z DAVID
​We open the Mount Athos net on 21.365 at 0900UTC every Sunday.
You are always welcome.  Give us a call !!
10th Feb 2017
今日のマウントアトスのアンテナの様子
先日、大雪と大風がありましたが無事でした。
Special Thanks to Fr. Paulos.
​​Wishing SV2ASP good recovery. Pray for him.
​​イタリアの友人がお見舞いに来てくれました。 many TNX  Veronica.
​​アポロさんの第2修道院のセカンドシャックの写真です。
ここはアトス山でないのでSV2ASPで運用します。
​アトス山から素敵なものが届きました。
手作り電鍵です。 
MNI TNX  Monk Apollo.
農場の様子です。
1月7日のクリスマスの様子です。
アトス山では徹夜のお祈りがありました。
アポロさんのアンテナの様子です。
Special Thanks to Fr. Paulos.
アトス山ネットは日曜日の夕方6時、21.365になります。
世界中から賞賛された盲目のシンガー・ギタリスト
AE3RM ,ラウル・ミドンさんがアクティブです。
​​Raul Midon is now active on 15m and 20m.
https://www.youtube.com/watch?v=4GxBdtwXZdk
http://video.search.yahoo.co.jp/search?p=%E3%83%A9%E3%82%A6%E3%83%AB%E3%83%9F%E3%83%89%E3%83%B3&tid=7d6e9b3b60d3dd11bb08f336ec26f43a&ei=UTF-8&rkf=2&st=youtube
https://www.youtube.com/watch?v=pDRuj5Od4y8&index=28&list=PL6ar74Z9ckXsHmTYgYUSpfLRcBESyirNU
ZS8M Pierre on the tablet.
元ZS8M ピエールさんが出ています。わかりましたか?
Do you remember your old good days?
 https://www.youtube.com/watch?v=hxU1ZhINaHk
My Ant.
A horizontal stack ,A pair of  6 ele Yagi, side by side on 2 towers.
A CV48  Ground mounted Vertical ant for 80 and 40m.
My Shack.
Main...IC756P3 and VL1000 , Back Up...TS870 and HL3KDX.
​July 31st 2016
Tariq N2QV visited me from NY.
Checking propagations.
Apr 25th 2016
Mount Athos and Sable Island made a good QSO
on 20m SSB yesterday. :)
Mar 30  2016
AE3RM Raul Midon had good QSOs in Japan
as JI1SEW first time QRV. We enjoyed very much
your wonderful shows. Thank you, Raul.
Oct 15th 2015
Monk Apollo A Broadcast again.
Sep.10th 2015
SV2ASP/A 
Aug.22nd 2015
Ken W3JK and I had a good time at Tokyo Ham
Fair 2015.
Calling DX from my shack.
Ken and Yuki JO1DZA in Cafe at Ham Fair .
A secret talk ???
Aug.3rd 2015
I had a Ham visitor from NY today.
N2QV Tariq is active from a big station in NY.
Jun.29th 2015
ZD9A  David (Ex ZS8Z) is now active.
He will be there until beginning of Sep. 
May.28th 2015
Say Hello to Aaron on Sable Island !!
https://www.youtube.com/watch?v=Vj3sPVKQ4eo
May.2nd.2015
Sable Island Airport.  Where is Aaron ???
It's a microscopic spot.
May.1st.2015
VP9ND  Delores and VP9KD  Walter had a short time stay in Ginza Tokyo.
Thank you for the good eyeball.
Have a nice trip.
Apr.22nd.2015
Welcome to Japan, Pedro HK3JJH.
Have a wonderful time with JA friends.
Mar.19th.2015
Raul Midon is amazing.
https://www.youtube.com/watch?v=UiXIQq5oL94&list=PL9B5F0DC6AC7FE920&index=26
He is an active amateur radio operator. I worked him on 21.365 several time. 
Mar.16th.2015
Monk Apollo is very busy at his work now.
He told me that he is very happy to work with Zorro team E30FB. so far, he worked them 2 bands include one CW on 17m in a big pileup. Good Luck!!
A special thanks to Fr. Paulos Nakanishi san.
Mar.05th.2015
A beautiful souvenir from Aaron.
Sable Island moon-snail. size of my fist.
Thank you , Aaron.
Jan.20th .2015
My good friend Carson ZS8C sent me a parcel.
Thank you, Carson.
Jan.04th.2015.
We had a good New Year DX net today on 21.365.
a lot of DX check inn include some Caribbean and Monk Apollo SV2ASP/A. The band condition was great so, many people came up. Thank you very much to all. We will have next net soon.
Dec.1st.
My long time friend W3JK  Ken sent me a photo of his new ant.
It is working very good and sending us very strong signals from NY.
Rick  W0RIC ,  His JK's are playing well.
Nov.30.
Dear Bill ,VK2XT.
Wishing you a Big Happy 102nd Birthday.
Send your message to Bill VK2XT on 21.290 around 0200UTC on his birthday 30th NOV.  Thank you.
A new steppIR in Mount Athos.
https://www.youtube.com/watch?v=_oWilNTQu1Y
July.27th.
Happy birthday, Zorro!!
Monk Apollo had the Ant test , It is working very good.
How is your DX ?
The Ant is barely visible.
Hope we can hear Mount Athos today.
A special Thanks to the Ant work party.  ARIGATOH !!
Safety to home.
July.25th.
On the tower.
The party is working in very HOT over 35DC. but they are close to the end.
New steppIR in Mount Athos.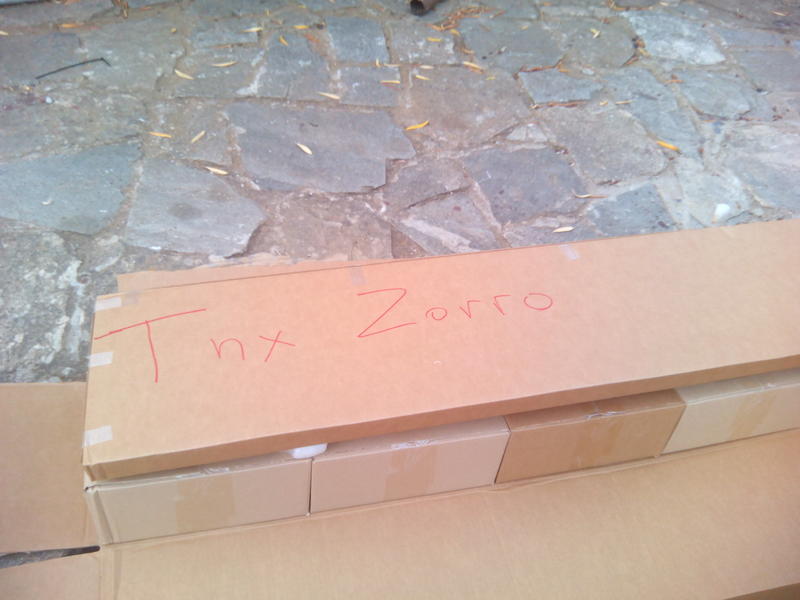 The 4 heroes are heading to Mount Athos now.
Monk Apollo will have a new steppIR Ant and his amp test soon.
Special Thanks to Zorro and steppIR.
Sunrise in Mount Athos.
July.06th.
ZD9M Pierre came up on 21.365 last night. He made 61 contacts.
Thank you, Pierre.
June.29th.
Last Monday, N2QV Tariq was in my shack.  Welcome to my shack!!
He made some QSOs as my guest operator.
June.22nd.
7J4AAL  Kan's New Antennas.  A 160m 3el Yagi on the Top.
It is not a 40m Yagi.  Call Kan and ask him more details.
Thank you, Kan san.
Who's Antennas?
マウント・アトス特集 Thanks,Mr.Sakurada.
QSL via JE1LET  SASE+2GS.
New photo from ZD9.
ZD9JG Julian and ZD9M Pierre.
Souvenir from Mt' Athos. Arigatou ! Apollo san.
Antenna team with Monk Apollo.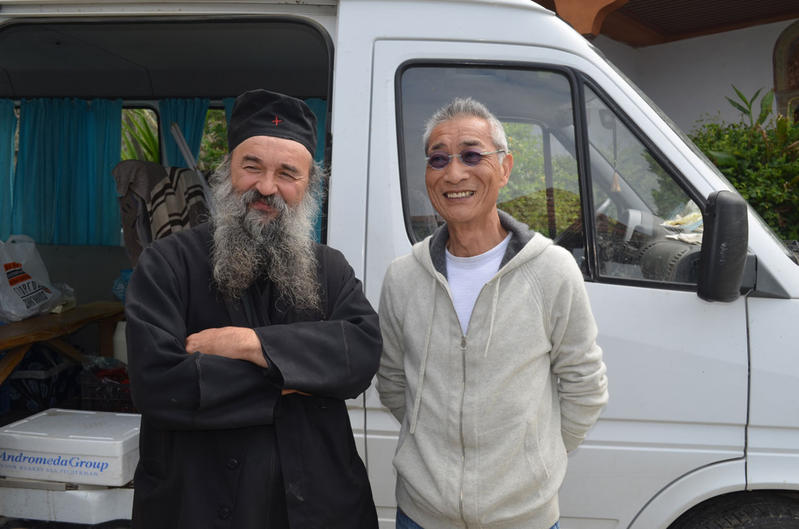 Apr.27.
SV2ASP/A  Monk Apollo and Zorro JH1AJT had a great first eyeball yesterday in Mount Athos.
Monk Apollo will come up on 21.365 today Sunday.
Zorro is still in Mt' Athos with him.
Hope Monk Apollo will enjoy big pile ups with his new Tower.
Apr.07.
I want to say Thank you to the operators who leave the Marion
Island today.
You guys were willing to work very well for us. Thank you very much for every thing. Arigatou!! David,Carson and Nadia.
Have a good trip to Home.
A new operator Gerhard from ZS8 Marion Island arrived on the Island today. Hope to catch up you on the air soon.
Mar.10.
The first YL op from Marion Island, Nadia ZS8A managed
a big pile up yesterday. Arigatoh !! Nadia.
ZS8C worked DX on 28.630 CW.
Mar.08th.
What a wonderfulday today is !
Heard Carson ZS8C,Pierre ZD9M and Abubaker 5A1AL on 12m today. We will try low bands tomorrow morning.
Mar.2nd.
The first QSL card went out today.
QSL manager. Masa JE1LET
Feb.3rd.
CQ ham radio Feb Just out.
ZS8C Carson on the magazine.
Special Thanks to Mr.Sakurada CQ Syuppansya
SV2ASP/A Monk Apollo on the video.
http://www.youtube.com/watch?v=skMllQjwtui&feature=em-share_video_in_list_user&list=PL_gSH-zrszd8gmTNCMtjVy2jVrde3t8-o
Nov.05th.
I talk to my long time friend Bill VK2XT yesterday.
He becomes 101 years old in this month.
He is active and manages radio on 21.290 every day at 0200UTC.
from ZS8Z David.
David sent me some beautiful photos from Marion Is.
He says, he will give many station a chance to work with ZS8 in the next week. I hope you make your good manners in his big pile ups. Don't panic.
ZS8 Hams have been quiet due to propagation problem. One more new YL Ham OP ZS8A Nadia will be active soon.
New operators on ZS8 Marion Island. ZS8Z David ,ZS8C Carson, two more future Ham and the support team. David is active on 28.443 around 0500UTC. My local friend had a test with David on 15m and 12m at 0900UTC few days ago. David was stronger on 12m than 15m from JA1 land.
New QSL card for VK0TH

CY0/VE1AWW went to QRT today 08 Dec.
We plan to run the Friendly Caribbean JA DX NET on 28.555 (depend on the prop... 21.365)start by 2100Z every day.
The main net controller is Zorro JH1AJT and I do support his job. Bring your Caribbean radio friends to this net. Looking forward to see many Caribbean operators.
In early morning on 17th of Apr,VK0TH went to QRT.....
Trevor, "ARIGATO"
Thank you for all your efforts during the last year with amateur radio around the globe from the rare and hard to get to MacQuarie Island.
You have made many people happy with your contacts.
I am very pleased and happy to be your QSL manager during your tour of duty on the Island.
I wish you and safe journey home and hope too see you soon.
QSL route for VK0KEV now goes to VK4KEV home address in QLD AUSTRALIA.
Thank you for visiting my QRZ.com.
I want to show you my friend's shack first.
Please enjoy your stay for a while.
Kevin sent me this photo. 1st Dec 2011.
Thank you, Kevin and Trevor.
Hi All. Thank you for the nice QSO with Kevin VK0KEV and Trevor VK0TH. QSL direct only SASE with sufficient return postage. (Need 1 New style IRC or 2 Green Stamps for all)
VK0TH Trevor at his shack and his QSL images.
QSL VIA JE1LET DIRECT ONLY.
VK0TH QSL MANAGER JE1LET
https://www.hrdlog.net/ViewLogbook.aspx?user=vk0th
Trevor is having a huge pileup.
A big Golf Ball on Macca. Look !! a ground mounted vertical on left side.

VK0KEV went to QRT!!
Kevin is now back home. Nov 08 2011.
http://www.dxcoffee.com/eng/2011/12/26/interview-kevin-white-operator-vk0kev-macquarie-island/
VK0KEV Kevin at his shack. QSL card. and his vertical ant.
QSL VIA JE1LET DIRECT ONLY.
VK0KEV QSL MANAGER JE1LET
Due to the sheer volume of requests received, I am unable to respond to emails. If you would like to check your entry in VK0KEV log please go to:-
https://www.hrdlog.net/ViewLogbook.aspx?user=vk0kev
Thank you Kevin for gave us many dreams.
Your activity last one year made many Hams very Happy.
Good bye Macca !! photo by Trevor VK0TH
Ground mounted vertical ant.
Hello from Sable Island, CY0/VE1AWW
My friend Al sent me a beautiful QSL card from Sable Island.
Al and I have been active on 21.365 or 28.535 at 2200Z and 14.247at 1030Z.
He has a good station on Sable Island. 100W and a Vertical and DP ant for 160m-6m.
Please call us anytime you want. Always, welcome !
CY0/VE1AWW Al at his Radio shack. TS690 100W.
ANT. HY-GAIN VERTICAL and 40m DP.
His ride on the Island.
His beautiful QSL CARD.
Al is working DX.
Now, My station JE1LET.
Big hill top l

O

cation. HF Stack side by side double Yagi.

MASA's Radios. Two HF sets. .

QRZ DX ?
JE1LET's info as follows. Usually operating on 21.365(DX net)21.412(marine net) . 28.555(Caribbean net)and 14.247 at 2200Z-2300Z  and Hunting real DX!! Having a good location at the little mountain top shack. HF radio sets IC756PRO3+FINE AUDIOhttp://chugoku.me/fine-audio/ FAM-13 5band EQ+W2IHY 8band EQ+EQ Plus +Shure SM58 Mic,TS870+8band EQ+EQ Plus by W2IHY+SM58 Mic,TS570S+FAM-13 5band EQ,All 1KW operation with YAESU VL1000 or Tokyo HY-POWER HL3K-DX and Dual 6ele triband Yagis(parallel Stack 4 by 4 for 20m and 5 by 5 for 15 and 10m band)at 15mh on two separate tower. a GP ant for 75 ,80 and 40m,a DP for 160m. QSL direct only. 2GS  NO BUREAU. NO E-QSL. All cards received direct without SASE,(Sufficient Green Stamp)for return postage, will be returned via the Bureau system.When I am in DX shack , you can send me quick e-mail toJE1LET@hotmail.com
Good DX !!! 73 and 88 from MASA JE1LET