Hello !
Thank you for always (CW) communicating. I was born in 1964 in Nagoya.
It was begun to hear overseas shortwave broadcasting from 1977.
The license of ham radio was obtained in 1984.
Then,QRT from 1990 to 2010.
Ham radio was again begun from 2010.
In addition, radio meteor observation 、weather survey(Reception of a radiosonde )and fishing are enjoyed.
---
QTH : Toon-City (JCC♯3815)
RIG : FT-950(100W) + DMU-2000  &  IC-7200(100W)
ANT:CREATE 730V-1(7/14/21/28MHz) & 830V-1(10/18/24MHz) 11mH
  & Inverted V(1.8 MHz Full Size / 3.5MHz Full Size)  18mH
& 2ele HB9CV(50MHz) 8mH
TELEGRAPH KEY (Only Straight key):HIMOND HK-808 & HK-704
FTDX-950 ??

FT-950 which gave dress-up remodeling
http://www.youtube.com/watch?v=-yKngTSozlk
http://www2s.biglobe.ne.jp/~jr5hkm/subFT950.htm
---
TV & FM  DX  SYSTEM
I have received the Television and FM broadcast of Southeast Asia.
(Taiwan, Philippines, China, Korea, Russia)
==== Receiver ====
・ Anritsu ML512A(25~500MHz)
・ Anritsu ML64A (300~1700MHz)
==== Freq Counter & SSG ====
・ Anritsu MG524B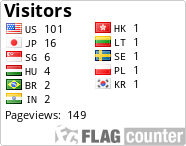 Large Visitor Map