Licensed extra class in 1991 in Washington State, hence the 7 land call. 
Currently living in the frozen tundra known as northern Maine.
Grid FN56.  Currently focusing on  FT-8,  I will upload them to
QRZ/LOTW/EQSL. FT8 has been getting very crowded lately
and people are very impatient. Often I will get called before 73's are exchanged. 
I will log every QSO as long as I recieve a signal report from you regardless of a RRR or 73 so please dont send it 8 times.
I log every contact immediatly to QRZ/LOTW/EQSL and occasionally to clublog.
If you don't use LOTW or QRZ then please don't call me on 6 meters.
If you need Maine for WAS, feel free to email me and ill do what I can to help you out.
7th Area QSL Bureau
Currently operating in grid FN56.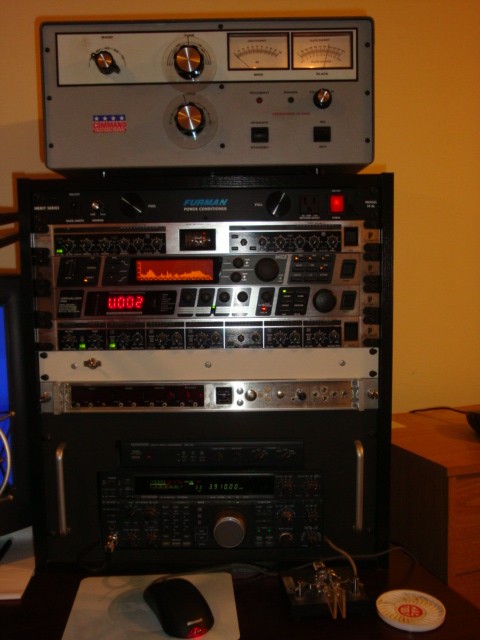 75 meter only station
Class 3 toys
Above was my station in 1991 while in high school.
Barrett 50 BMG
Every Galaxy made in the 90's
C4FM repeater
Current equipment in the shack.

HF

Command Tech HF-2500 (Pair of 3cx800a7's)
Kenwood TS-850 W/DSP-100/Several pieces of Behringer audio processing gear and PR-40
Kenwood TS-850 Backup
Kenwood TS-950SDX With Ameritron AL-80B (living room radio)
Yaesu FT-991
Yaesu FT-1200DX (CW and Digital mode radio) With Acom A600S
Icom IC-735 W/SM8
Pair of Yaesu FT-891 mobile radios for travelling.

VHF/UHF
3X Yaesu FTM-400
Yaesu FT-1, 2X FT-2, 2 FTM-100's, 2X DR-1X repeaters, FTM-3200
Kenwood TH-78
Yaesu FT-221 all mode base (1st all mode base1994)
Kenwood TR-7950 (1st 2 meter mobile in 1991)
Radio Shack HTX-242
Kenwood TM-241A (Second 2 meter mobile in 1992)
Alinco DR-150T (3rd 2 meter mobile in 1994)
Alinco DJ-180T
Alinco DJ-582T
Alinco DJ-560T (1st walkie in 1991)
Motorola Maxtrac VHF X 2
Motorola Saber III VHF X 2.


CB's

Galaxy Saturn Base
Galaxy 2100,Galaxy Pluto, Galaxy Saturn, Galaxy Uranus, Super Galaxy, Galaxy II.
Galaxy DX-88HL X 2
Uniden HR-2510 X 5
Ranger RCI-2950
Radio Shack TRC-449
Motorola Mocat T4002A
Yosan JC-2204 Export
Johnson Viking Messenger
Cobra 19 plus New in Box
Cobra 40 plus
Radio Shack TRC-219 (Pair) in Box (my first radio in 1987+-)
Radio Shack TRC-475 New in Box (Second radio 1989+-)
Magnum 2000 Amplifier x 3
Redco Digiscan
Uniden Washington base station
Cobra 142 base station
Motorola Systems 500 CB
Ranger AR-3300
PACE 2300C
Courier Sparten PLL 40 ch.
Hooker 100 Amplifier

MICS
Heil PR-40
D-104 Silver Eagle
D-104 Gold Eagle
D-104 Diamond Eagle
D-104 Night Eagle
D-104 Silver K
D-104 Final Edition
8 Additional misc D-104s
Galaxy Echo Talk
W2ENY
D-104M6
D-104M6B X 2

I have now completed my quest of re-collecting every radio I have owned in the past 20+ years of radio.

.

3.910 or BUST!!!