This is a picture of my shack.  Rigs include:  Yaesu FT-950 (160m thru 6m),  Uniden HR-2510 (10m),  Yaesu FT-847 (all-mode HF/6m/2m/70cm), Yaesu FTM-100D (2m/70cm Fusion rig), and an Icom IC-38A (1.25m).  Also pictured:  Icom IC-R75 receiver,  Radio Shack Pro-2006 & Pro-197 scanners.  I also have a number of hand-held rigs:  Icom IC-Q7A (2m/70cm),  Yaesu FT-530 (2m/70cm), Yaesu VX-5R (2m/1.25m/70cm), Yaesu FT-270 (2m), Yaesu FT1XD (2m/70cm Fusion rig), TYT MD-390GPS (70cm DMR rig), TYT MD-2017 (2m/70cm DMR rig), and an Anytone AT-D868UV (2m/70cm DMR rig).
The main antenna I use for HF is the Buckmaster 7-band (75/80, 40, 20, 17, 12, 10, 6) OCF dipole.  It is 135' long with the apex at about 32 feet.  With my wide-range tuner (LDG AT-1000 Pro II), I can also use this antenna on 15 meters.  Works great!  I also have a Sirio Gain-Master vertical antenna that I can use on 10 and 12 meters.  It's a toss-up between the Sirio and the Buckmaster on 10 and 12.  Most of the time the Sirio is better... but not always.  I also have a SGC-230 antenna coupler with about 65' of wire in an inverted "L" configuration with a fairly good ground radial system.  This was my first HF antenna.  I still use it for 160 meters.
In my truck I have a Yaesu FTM-400XDR (2m/70cm Fusion rig).  I hope to get a picture of my truck/rig up here soon.  You can usually find me on 147.500 simplex (great group of guys) in the south metro area.  When I travel, I usually will monitor 146.520 or be scanning the repeaters.  I also run APRS from this rig.  Find me on APRS http://www.aprs.fi/?call=kb0mdq-9&timerange=86400
Usually I operate from home, (Lakeville, MN) grid square EN34.  However, during the weekend summer months, if I operate from our cabin on North Long lake, it will be from grid square EN26.  The rig at the cabin is a Yaesu FT-857 running 100w into a G5RV antenna.
The picture below was taken one evening while I was out fishing on the lake.  North Long lake is located between Brainerd and Nisswa, MN.
                       Awards received during the 2014 ARRL Centennial QSO Party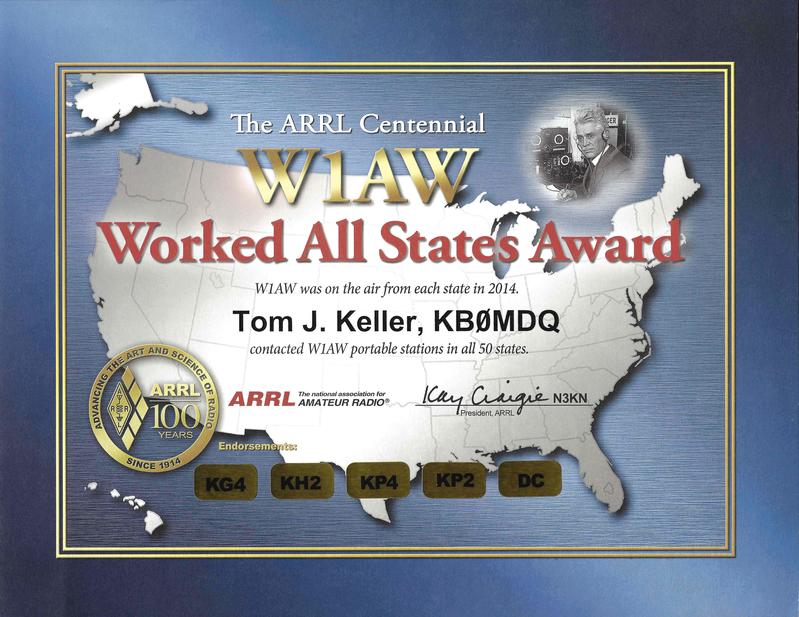 Flag Counter below: