Welcome to my homepage!
Field Day June 27, 2015
Portable on generator near Rangeley, ME @ 2100' elevation
                                                                                                                                                                                                                             The 2015 Rookie Roundup was April 19th, and I took first place once again in Call Area 1.  I had a 6 hour pileup that was so much fun to work.  I had fun talking to each and every one of you.  Thank you so much for helping me and supporting me.  I hope to have a longer QSO with you soon!
Video of KC1ANA calling CQ early in the contest.
  I competed in the Rookie Roundup 2014 and had a really great time.  Mind you - I don't have a contesting station - and I used a paper log...  I came in first in my region and second nationally!  Thank you so much for all of those who helped me out.  Watch out - next year I will still be considered a "rookie" and will be more prepared.  Here is a video of me working the pileup!
I am a new Ham and am really enjoying the hobby. When my husband, Jim, W1CSI, introduced me to Ham Radio, I thought he was nuts and I had no interest. Then, the more I learned, the more interest I had - and here I am.
I passed my General Class License on October 12, 2013 when the US Government was in shutdown and had to wait (not so patiently) for a call sign. I have it now and am up and running. I have QSL cards now and would be glad to send one to you.
I am a stay-at-home mom of 2 beautiful children, Adam - 7, and Lyla - 5.
I love to send and receive QSL cards.  If you would like one, please include postage only.  I will use my own envelope because my cards are on the large size and often the envelopes sent to me are too small.  If you send me a postcard, I will return one in the same manner.  Thanks for the QSL!
Talk to you soon! 73, Anne
When working portable in Rangeley, Maine, this is our QTH.
Recreation of Norman Rockwell's The Runaway with my Husband W1CSI (Massachusetts State Trooper) and my beautiful children.
Lyla has no shyness on the radio!
Another hobby of mine is snowmobiling!
My view in Rangeley, ME.
My birthday present - a Hex Beam!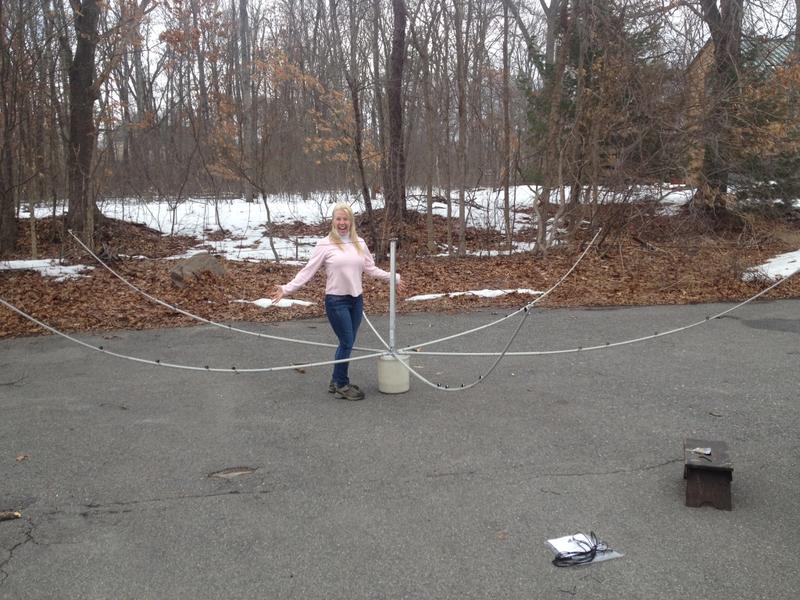 Moose in Rangeley, ME.
Jim and I having fun.
73!
�