KD4EAQ/VA
GOT BEHIND ON QRZ CONFIRMS DUE TO COMPUTER ISSUES; WILL BE CATCHING UP THIS WEEK AS I CAN; APPOLOGIZE FOR INCONVENIENCE, BUT WAS UNAVOIDABLE. 73.
  Enjoying NTS nets / passing traffic / on 4th Region, EAN, CAN, and other NTS nets. Will check into WAS nets and work DX on weekends. Low on funds for QSL supplies, i.e envelopes and cards. I'm on very limited income and rent takes 75% of monthly income. Replenish QSL supplies only when able. Have 100 buro envelopes avail.; will be sent out when stamps available.
  Have PK232 MBX and working to get it operational. Look foward to doing digital modes again.
            CCN contacts: Using index cards; out of QSL cards. I May be GIB at times. Please note on cards / QRZ log requests when I'm QRP 10W.  ALL QRZ /QRP contacts to KD4EAQ/QRP log (NOW ACTIVATED). Catching up sending them out when I can.                    
PICS below of my HF Radio / antenna located inside bedroom. *****Outside Chameleon CHA HYBRID 30' sloper in use now replacing 60' EMCOMM II. *****Will still use indoor antenna for further experimenting.
HHH#890 (WAS); OMISS # 5998; YLSSB #16244  TFO #548
         Anyone receiving emails from kd4eaq@yahoo.com or my name@anywhere.com, please DELETE immediately. I do not have any accts with my name on it and yahoo acct has been inactive for a long time now. My contact list was hacked early last year and has been erased from Yahoo. Appologize for any inconveniences.
              ATTENTION DX:
    PLEASE POST OR CONFIRM DX CONTACTS ON MY QRZ LOGBOOK, IF POSSIBLE. INCLUDE GRID SQUARE IN COMMENTS OR EMAIL IT TO ME, IF NOT INDICATED ON YOUR QRZ PAGE. THANKS FOR CONTACTS & CONFIRMATIONS.  As of  05/04/2016, I have 131 countries on QRZ log, but NEED CONFIRMATIONS; ONLY 55 CONFIRMED. Trying to catch up on local net QRZ logbook confirmations; some are not matching up with my Netlogger listings. ALL NATA contacts: PLEASE send me email with contact info so I can recheck my log sheets if confirmations rejected. Netlogger contacts much easier to verify, although a few of those have incorrect DATE/TIMES or BAND info on your end, not mine. ALL OMISS, YLSYSTEM, and HHH contacts logged with NETLOGGER program. DX, NATA, & CCN done on my ACLOG 5.0 and now NL. I monitor DXSPOTS.com from my ACLOG software and post most DX contacts.
ALL QSL related requests should be sent to kd4eaq.m@gmail.com.
SASE NOT REQUIRED FOR DX QSL; EMAIL ME WITH QSL INFO IF NOT CURRENT ON QRZ.COM or HAMCALL. My info now current on HAMCALL as well.  
 No computer from Aug 26, 2013 - Jan 16, 2014.  I May be GIB for OMISS and CCN. Send SASE or stamp if you need a card direct from me. I DO NOT NEED STATESIDE QSL CARDS, but will send cards when requested to OMISS or other buro's for net contacts when I have envelopes and stamps. Working 20M OMISS contacts for #'s and counties ONLY (exc 2nd DE for 2nd WAS); cards not needed. I have stack of cards to be mailed (NO SASE's were rx'd) and NO STAMPS.  Can only afford limited stamps / envelopes to send to bureaus each month.  Buro envelopes will be mailed first as soon as stamp orders are received. I have Dementia and no short term memory so I do misplace incoming mail and SASE's on occasion; DON'T get mad at me, doing the best I can with what I have. HAM radio a hobby, doesn't pay my bills.
   Operating on YLSYSTEM 20M nets (14332 KHz) Mon-Fri as Co-Control / Logger / 3rd Period Coordinator, esp 1500-1700 EST/EDT (3 pm-5PM ET) on 3rd Period. Will work 40/80/160M OMISS nets weekends.
 Working DX in General portion on 6-160M. Working CCN 40, 75, & 160M nets occasionally.  If you would like to monitor the OMISS, YL System, CCN, NATA, and HHH nets, try Netlogger software  ver. 3.1.5 from Netlogger site.                                                                                            
       See www.ylsystem.org for YLSYSTEM net info, www.omiss.net for OMISS, www.3905ccn.com for CCN.
ATTN DX: I QSL most DX when I can verify mailing address (QRZ.Com or E-mail). Return SAE's will include your country's postage, if available from my supplier. Have limited finances, but will send monthly when possible. IRC's and Greenstamps will no longer be mailed when stamps available or QSL mgrs used. **E-mail if needed sooner**. Please email me your GRID Sq. if not listed on QRZ.com. I use European Nesting Envelopes for all DX mailings.
I have enjoyed making contacts and meeting new hams around the world on HF and will continue to work DX as much as possible; love the challenge of making it through a pile up with 100W & limited antenna set up. Hope to start working HF from mobile again in future. Chameleon HYBRID installed as 30' sloper facing North and working FANTASTIC; much better than expected. Will be working 160M now too and 6M.
********I lost the majority of logging info prior to 2012 and my DX QSL card albums when I lost my storage unit where all boxes were stored. If you need cards for my mobile OPs during that time, Email COMPLETE info to me.********
Equipment displayed below: Yaesu FT-857D, LDG AT-100 Pro auto tuner (older model), Wouxun UV-950 Quad Bander (remote mount) HAS BEEN SOLD, Wouxun UV-8D dual band HT, Uniden Bearcat 996XT / 996T / BCD-15 trunking scanners, MFJ & Dayton Audio speakers, & Wilson 4' Flex whip with modified 24 or 36" tunable tip. HDTV antenna (LAVA HD 600A) on wall used for scanners (have 3). Not pictured: Comet SBB7 dual band VHF/UHF antenna on chest of drawers in room hooked to my YAESU FT-857D too. The Yaesu, tuner, & 3 scanners were in my van for the years I was /M at work every night; used Hustler resonators on 40/75M & antenna below on 10-20M. The 2 Wouxuns were obtained earlier the year. Still making adjustments / modifications on station & antennas. Have been unable to get PICs of new Chameleon sloper; difficult to see (blends in well with surroundings), much less show up on camera; perfect STEALTH antenna. Hope to post NEW PICs when finish new Comm desk,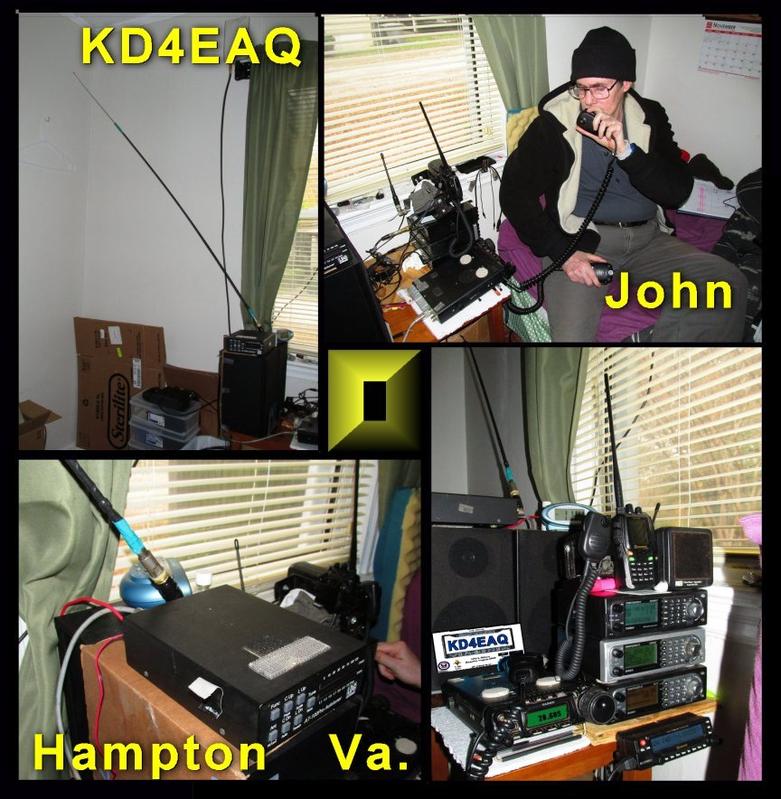 You REALLY don't need a KW to work anywhere, including DX. I have 131+ countries (as of 05/04/2016) from working 100W in mobile plus using above since Oct '2014 and now using a sloper; over 300 DX contacts outside NA on indoor setup alone. HAM radio is about building and testing new ideas. Save your dough and experiment a little. When working DX pile ups, please give your call ONCE, so others can try too. LISTEN and stop stepping on the DX station giving your call 2, 3, 4 times continuously. The DX stations have a code of conduct and some have it posted on their web pages; read it and abide by it, so all can enjoy working DX. 73's and good DX.  NEED QRZ LOG Confirmations for DX.