KD5KC

USA




Login is required for additional detail.

QSL: BUREAU-LOTW-DIRECT, NO STAMPS OR $ , SAE APPRECIATED.

Email: Login required to view

XML Subscriber Lookups: 28064



ABOUT KD5KC
All QSOs uploaded to LoTW. QSL direct or Bureau OK, no $$$ or stamps needed. A self-addressed envelope is much appreciated - it keeps me from making errors and speeds my reply. QSL cards for KD9KC, DL/KD9KC and OK/KD9KC are still available if needed. E-mail me for details on claiming contacts for the older QSL cards.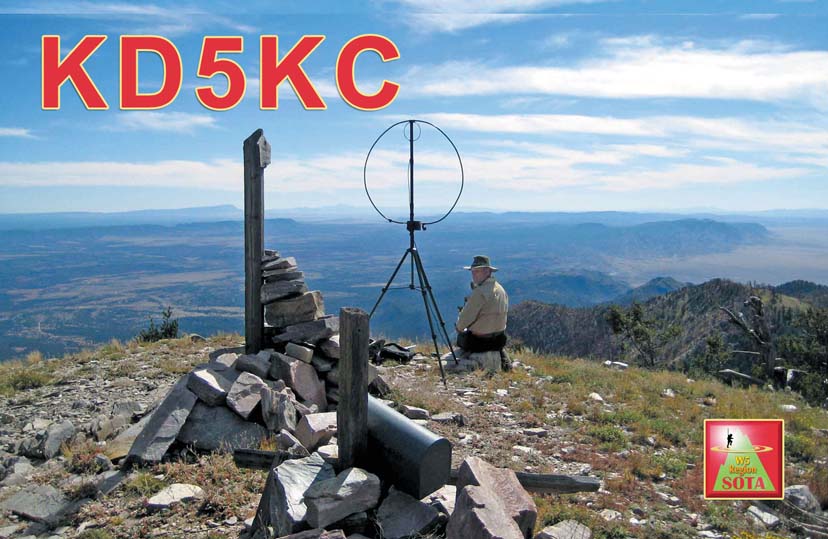 Photo above: Much of my operating is done as a portable station, mostly SOTA oriented. This photo, which became my QSL card was taken at Manzano Mountain, 10,098 feet ASL near Los Lunas in Central New Mexico.
Our home remodeling project is completed, and as empty more boxes and re-assemble my station, I am making some improvements, doing it the way I wish I had the first time.  Here is the current configuration.
Photo above: This is the main station. A Yaesu FTdx5000MP at 200 watts. The microphone has been converted to a modern unit compatible with the Yaesu. This radio is the finest receiver I have ever used or owned.
Photo above: K4KIO 6-band Hex-Beam at 30 feet for 20m through 6m, 6m vert, 2m-70cm Yagis, 23cm and 13cm satellite antennas. Also used, a T2FD at 50 feet for 160m-80m-60m-40m-30m, and for SWL.
Photos above: This is KD5KC/pm - (pm = Pedestrian Mobile). I have worked hundreds of contacts and some great DX on this /pm rig (DJ, HA, OE, G4, KH6, JA, VK, HK, PY, including HK0NA and TO3x). In 2012 I entered Field Day as KD9KC 1C-WTX. I was the #9 1C in the USA running 10 watts. I averaged 20 MPG, that is... I walked 20 miles and drank a gallon of Iced Tea. Operating and construction details upon request to my E-mail.
Above - 1976 A. M. General DJ-5D jeep.  It wasn't a 4X4, but it was light-weight and powewrful.  The wide tires floated on the sand just fine and it worked out well in West Texas and the Desert South West.
This is the "NEW" JEEP, a 2015 Wrangler Unlimited Rubicon Hard Rock.  If you want something more capable than this one, it will not come from the showroom floor.  It will be an after-market purchase or a build-it-yourself deal.  V-6 power, 5-speed Automatic, 4:1 transfer case, 4.10:1 Dana-44 axles F and R, with a 60:1 crawl ratio.  It was worth waiting for.  Antennas from left to right, AM/FM/CB antenna, 70cm antenna on windshield,

2m antenna on windshield, 

APRS 1/4-wave antenna on center tail light stalk in the rear.
Radios.  Top-left, ICOM IC-2730 dual-band 144/440 FM V/UHF (main chassis under seat), to the right is a Stratus-7 Sirius Satellite Radio Receiver.  Below that is an Insane Audio JK1001 Android computer, it does everything an android Smart phone can do and more, (except make calls).  It has true 3D off-road navigation, Wi-Fi and Bluetooth, and interfaces with the APRS transceiver via Bluetooth for on-screen APRS mesaging.  Not shown are the Byonics MTT4B APRS radio (mounted in the rear) and the Cobra 75WXST (not connected except on club trail rides).
Above is a short video of a JEEP expedition to Aden Crater, an extinct volcano in the Southern New Mexico Desert.
Dakota was entered at the Great Dane Nationals.  Over 600 of the top Great Danes attended the event.  Our first event was in Rally Novice.  I got us DQed.  My Bad!  The second event was Novice Obedience.  That earned us a blue and a green ribbon for first place, and the wood-block trophy.  The next day was again Rally Novice.  That earned us a red and a green ribbon for second place, and the coffee cup with the red inside.  That afternoon was Novice Obedience again.  And again we got first place with a blue and a green ribbon and the coffee cup with the blue inside.  Two days later was our last event, and a new discipline for me - Conformation (I call it the beauty contest).  Dakota earned third place, we were soundly trounced by two professional dog handlers.  That earned us the yellow ribbon and the medallion with the yellow ribbon on the desk.  I am certainly proud of my 22 month old pup, all 135 pounds of her!
A work in progress.
LINK: SOTA activation of Pikes Peak. (CLICK).
8435222 Last modified: 2017-11-06 02:18:45, 10377 bytes
Login Required

Login is required for additional detail.
You must be logged in to file a report on this page
| | |
| --- | --- |
| | Latest Contacts for KD5KC at QRZ.com |
| de | date | band | mode | grid | | Country | op | |
| --- | --- | --- | --- | --- | --- | --- | --- | --- |
| K4PDS | 2017-09-15 | 20m | FT8 | EM75xq | | United States | David S Parker | |
| K5BIS | 2014-12-08 | 80M | SSB | DM65rc | | United States | Don | |
| KE5VJB | 2014-12-08 | 80M | SSB | DM73hl | | United States | Jerry | |
| W2BFI | 2014-12-08 | 2M | FM | DM61rt | | United States | Manny | |
| WB5LJO | 2014-12-08 | 2M | SSB | DM61su | | United States | Martin | |
| EI2KA | 2014-12-07 | 12M | SSB | IO51hl | | Ireland | Kim | |
| WA5ROE | 2014-12-07 | 80M | SSB | DM80ei | | United States | Bobby | |
| K5PPP | 2014-12-07 | 80M | SSB | DM52us | | United States | Bob | |
| W0JCN | 2014-12-07 | 80M | SSB | DM67bg | | United States | Curtis | |
| WD5FLU | 2014-12-07 | 80M | SSB | EL07gn | | United States | John | |
| N5DLO | 2014-12-04 | 80M | SSB | DM63ib | | United States | Mark | |
| KE5VJB | 2014-12-03 | 80M | SSB | DM73fl | | United States | Jerry | |
| K5BIS | 2014-12-01 | 80M | SSB | DM65rc | | United States | Don | |
| WA5ROE | 2014-11-30 | 80M | SSB | DM80ei | | United States | Bobby | |
| K5PPP | 2014-11-30 | 80M | SSB | DM52us | | United States | Bob | |
Book Totals: 2415 qso's 179 confirmed
Get a free logbook at QRZ.COM
c