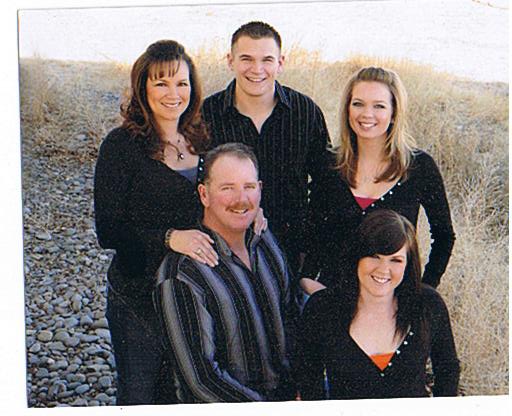 Let's see.........
I became interested in ham radio around 1973 after meeting my next door neighbor Jim (wa6vpl) in Lompoc , California. Before that I did what I could to get the most out of walkie talkies and my glow in the dark Hallicrafters c.b. radio. I also was interested in short wave and a.m. broadcast radio back in those days and had to disect everything electronic. I ended up taking electronic courses in high school and at our community college.
As far as my professional life goes I've been a carpenter most of my adult life. I'm a sworn reserve Deputy sherifffor a local agency and was also a rescue diver for another near by agency. I've been an electrical lineman, heavy equipment operator, garbage man (sanitation engineer), truck driver and other odd jobs.
I've been married 25 years to a girl I started dating in high school 31 years ago. We have three kids. The oldest is 24 and a decorated Marine with two trips to Iraq behind him. He is currently going to school and works as a Deputy for our Sherrifs Department. Our middle daughter is twenty one. She is also attending college and working two jobs in the beauty industry, sings and acts. Both of the older children live near by. The youngest is nineteen also loves singing and is an airman in the U.S. Airforce stationed in England.
I have several hobbies. I've been a scuba diver since 1976. I like camping, hiking, shooting,boating, watersking, martial arts, play some guitar and I do a lot of exploring with my klr 650 enduro type motorcycle and ride with my wife on are old 1200 Aspencade.
I first became licensed around 1993 as a technician. In the late '90's I went to test for technician plus figuing my code was too slow for general, I tried the 13 wpm test anyway, passed and walked away with a general license. My station is a Icom 706 mk2g, Versa tuner 5, clearspeech, 80 meter inverted v @35' fed with 300 ohm,and 80 meter capacitive coaxial dipole (inv. v) also up 35' and a coaxial fed parallel dipole (inv.v,) @35' for 20 and 40 meters. I also have an Atlas 210, 210x and a sr160 Hallicrafters along with various hand held and mobile vhf and uhf stations. I operate ssb, cw, psk 31, and some rtty and olivia. I use Digipan and Ham Radio Deluxe with a homemade interface for the digital modes. I have also monitored sstv and satellites but to date have made no contacts on those modes.
At this time I'm vice president of the "western country cousins" net. If your interested in stopping by we meet on 3970 khz at 9 pm pacific (would give utc but we switch w/daylight savings) 365 nights out of the year.
73's all,
Rick