Pat is:
A husband to Virginia, wife of 42 years, 
A father to 4 grown children,
A grandfather to 10 grandchildren, spread throughout the United States,
A retired Information Technology professional leader,
Grew up in Michigan with Virginia and our first 3 children, but moved to Arkansas in 1983.  Given the choice between 90+ degree gulf humid heat and dirty snow and cold of the winters...heat won!  Arkansas is a wonderful place to raise a family.
A long course triathlete (look up Ironman 140.6 and 70.3, and you'll get the picture) and marathon runner, 
and a brand new ham operator in 2017 passing his Technician in September and the General and Extra in October
My family (Thanksgiving 2016)...
Sunset and Mt. Nebo from Petit Jean State Park in Arkansas, through the 90+ degree humidity.  In 2017 we purchased a fifth wheel, and this was taken on an extended weekend trip in 2017.
The obligatory "shack" photo.  I'm blessed with a very nice room in the front of our home as an office, so keeping it neat is a must.  (Just installed a switch for a new hexbeam...time to hide cables again.  RG8 is a little tougher to hide).  Currently I talk to you via an Icom 7300, an Acom 600S amplifier and either through a dipole for 40 and 80 meters, or with a hexbeam for 20 through 6 meters.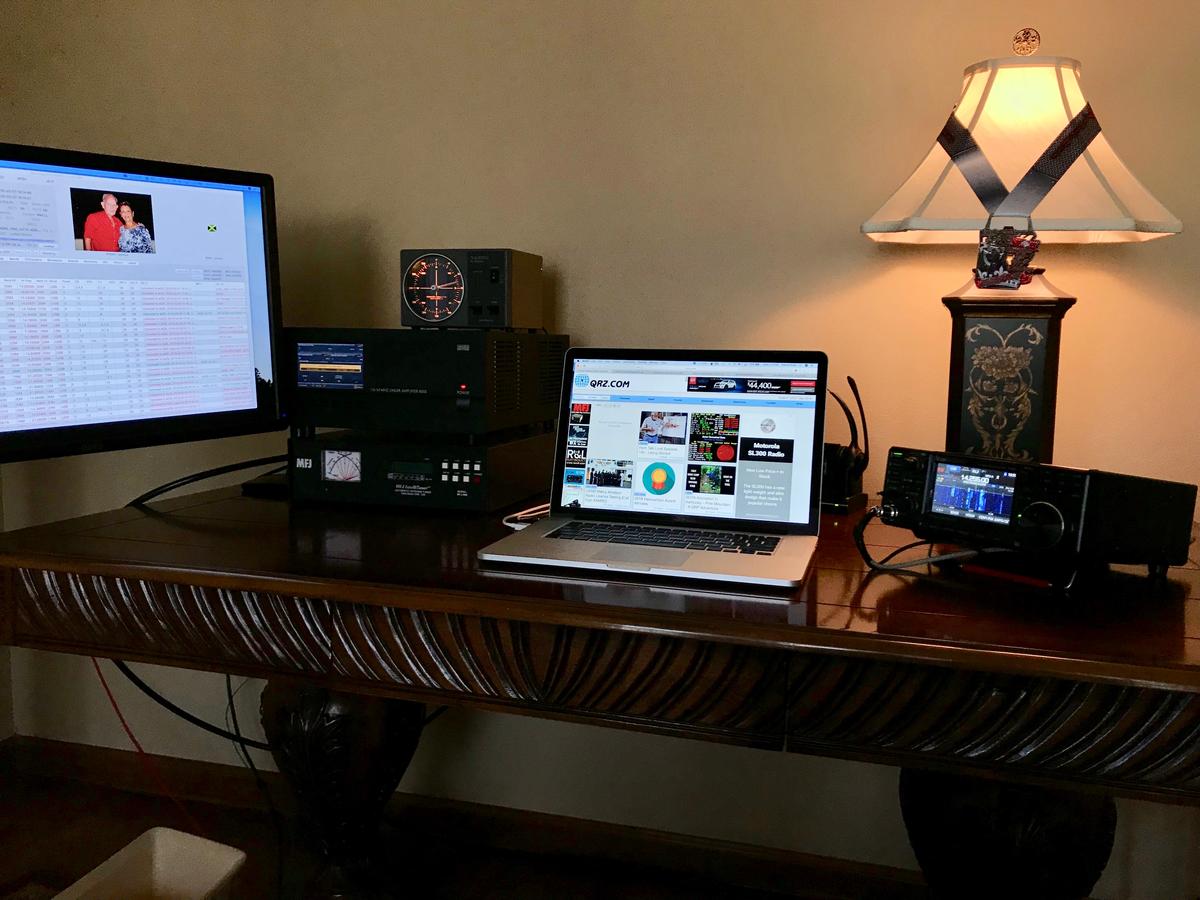 Can you see the hexbeam on top of the house at about 30 - 35 feet?  No?  Good!  Also an 40/80 meter offcenter fed dipole (you can see the feedpoint mast of 20' of fence top rail).  The dipole takes a less than desirable 90 degree bend in the backyard.  The trees are very close to the house.
Finally a shot of me (holding a trophy for 4th place at Ironman 70.3 Austin October 2017).  I was never an athlete until I turned 50, when I took up running.  in 2007 I ran my first marathon and from there it was very addictive.  I have run many marathons and trail runs.  Early in my athletic career I broke my foot and found I could ride a bike while I could not run during the healing process.  With the encouragement of a couple of good friends I taught myself to swim well enough to run my first sprint triathlon...and I was hooked.  The triathlons continued and became longer and longer, until in September 2011 I ran my first full Ironman distance triathlon in Madison, Wisconsin (2.4 mile swim, 112 mile bike ride, and a marathon).  Since then I have started five Ironman 144.6 mile races and finished 4.  At nearly 63 years of age, the addiction continues...