NOTE: As of 7/10/2017, I only accept eQSL. No LoTW. No QRZ logbook. No paper cards.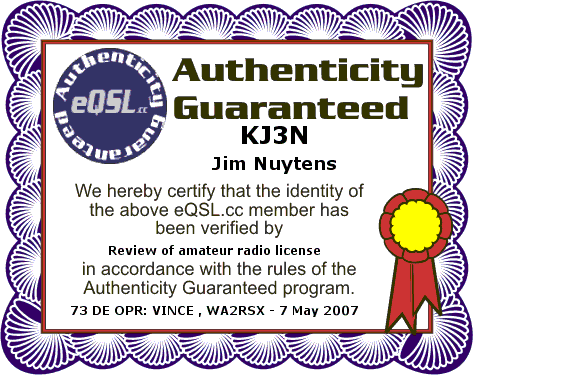 Licensed since 1991. Upgraded to General in 2001. Upgraded to Extra in 2006.
Operation over the last couple of years has been primarily on JT65/9. Phone activity is pretty much down to DX-peditions and some light contesting (as KS3D).
I currently have HF mobile capability from 80m to 10m using an Icom IC-7000 and a High Seirra 1800 screwdriver mounted on the rear of a 2007 Toyota Corolla. I also have the traditional dual band antenna for 2M and 70cm FM operation.
At home, the main station is an Elecraft K3 and a 134 foot doublet strung between 2 trees at a height of about 63 feet, fed with 450-ohm ladder line to 4:1 remote balun, then to a Palstar AT-1500DT tuner. A Dentron DTR-2000L and Ameritron AL-80B complete the shack setup, but they are rarely used outside of 75M or 160M.
Other radios include an IC-746Pro, IC-703, IC-910H with 1.2Ghz module, and another Icom IC-7000.
Other antennas include a 40M horizontal loop @ 35 feet, 40M/75M wire vertical, 51 foot doublet, and a top-loaded 68 foot vertical for 160M. For 160m RX, I use a standard 20 foot coax loop.
For VHF/UHF SSB I use a Cushcraft A-505S for 6m, a Cushcraft 215-WB beam for 2m, a Cushcraft 719 beam for 70cm, and an old KLM 44-element 1.2Ghz antenna for 23cm. The VHF/UHF setup is a work in progress. I still need to add preamps for 432 and 1296, but at least I'm on the high bands.
My preferred method of QSLing is via eQSL .
73 de Jim