M0GXN
I hold 3 English calls, M6AEI (Foundation) 19/7/2010, 2E0SPW (Intermediate) 14/12/2010, M0GXN (Advanced CEPT Class 1) 28/4/2011, I have also used the call signs MW6AEI, 2R0SPW, EI/M0GXN, M0GXN/MM, F/M0GXN G4HRC, & ON/M0GXN.
I live in Chislehurst, Kent, which is a little village just within the Greater London boundary, which is really good because I can state that my QTH is either London, Chislehurst or Kent.
A short history of my journey to full licence
I first became interested in radio in the late 1970's, I saw the movie "Convoy" and CB fascinated me, at this time it was illegal in the UK, but that didn't stop me from getting "on the air", I played around with it for a year or so but quickly became very bored with it and decided if I was going to use radio then I wanted to do it properly and legally as a licensed amateur, I started an R.A.E. course in 1980 and if I had completed it I would been licensed way back then.
Sadly, life, the universe and everything else got in the way and after 9 months I had to drop out and concentrate on other things.
For the next 30 years my time was spent with family and work, being a "Ham" was always at the back of my mind and every now and again I half heartedly looked into becoming licensed, again, life just got in the way and I never followed it up.
Along rolled 2010 and I found myself with more time on my hands, my kids were all grown up, I was no longer commuting all over the place from early morning till late at night and decided to have another go at getting into this hobby.
I went from unlicenced to a full licence in just under 9 months, which is apparently quite a short time to do all 3 exams, I must admit I could have done it much quicker but I decided to take my time between my M6 and 2E0 exams because electronics isn't my strong point and I wanted to study and make sure I had some real knowledge of the subject as opposed to learning just enough to pass the 2E0 exam.
Once I passed the 2E0 exam in Dec 2010 I straight away applied for the full licence exam and would have sat it in Feb 2011, once again in a cruel twist of deja vue work got in the the way and less than a week before the exam I had to rush off to the other side of the world.
So I cancelled that one and applied for the next one which was April 2011, finally I sat it, and of course passed it.
So here I am, it's been a long journey, over 30 years from beginning to end, but it's been worth it, I love the hobby.
I could have stayed at foundation class (M6) I very quickly discovered it's true what they say, you really can work the world on 10 watts, many people do in fact not go any further than this, they don't see the need to, me, well as I said my job involves travelling, sometimes all over the world and I wanted to be able to use my radios in other countries and to do this you need a class 1 CEPT licence which is the UK full licence.
As the rules currently stand I am allowed to keep and use all 3 of my UK call signs, all I have to do is to renew them every 5 years and stick to the licence conditions for each class of licence that I am using at the time, so until the rules change, that's exactly what I am going to do, keep them all current.
My shack
TX/RX Yaesu FT897D, LDG AT897+ ATU, Icom IC-7400, Zetagi TM535 ATU, Yaesu FT-7800R, Philips FM-1000 (4m) Yaesu VX2, Wouxon KG-UVD1P
Antennae Moonraker GP2500A Vertical 160-6m, Western HF10 80-10m, Moonraker SQL150 Colinear, Moonraker SQL500 Colinear.

Horizontal VS Vertical
This is my HF vertical antenna, it's a Moonraker GP2500A, without an ATU it's resonant from 80-6m, with an ATU it will also TX on top band (160m).
One thing you very quickly learn about Ham radio is that opinions are like rectums, everyone has one.
If you put 20 Hams in a room and asked them "Which is best for HF, vertical or Horizontal?" the following would happen
10 of them would start a fight
2 of them would tell you how it was different in the "old days" when radio really was radio
3 of them would bore you to tears with diagrams, complicated maths and a powerpoint presentation
3 of them would sulk, tear up their licences and flounce out of the room stating they will never tx again
2 of them would look puzzled and ask "What's an antenna?"
NONE of them will actually answer the question!.
Guess what?, nor will I.
The Holy Grail of Ham radio is a one size fits all antenna, well, sorry, that doesn't exist, your antenna choice is as personal as you are, my advice, if it works for you, then it works for you.
I have 2 HF antennae, the GP2500 and a G5RV, one horizontal, one vertical.
My solution to this age old argument is very simple, I listen on the vertical and TX on the Horizontal.
Other Antennae
In some ways CB and Ham radio share some things in common, mainly other people are always wanting to know what your aerials are, well here are the rest of mine.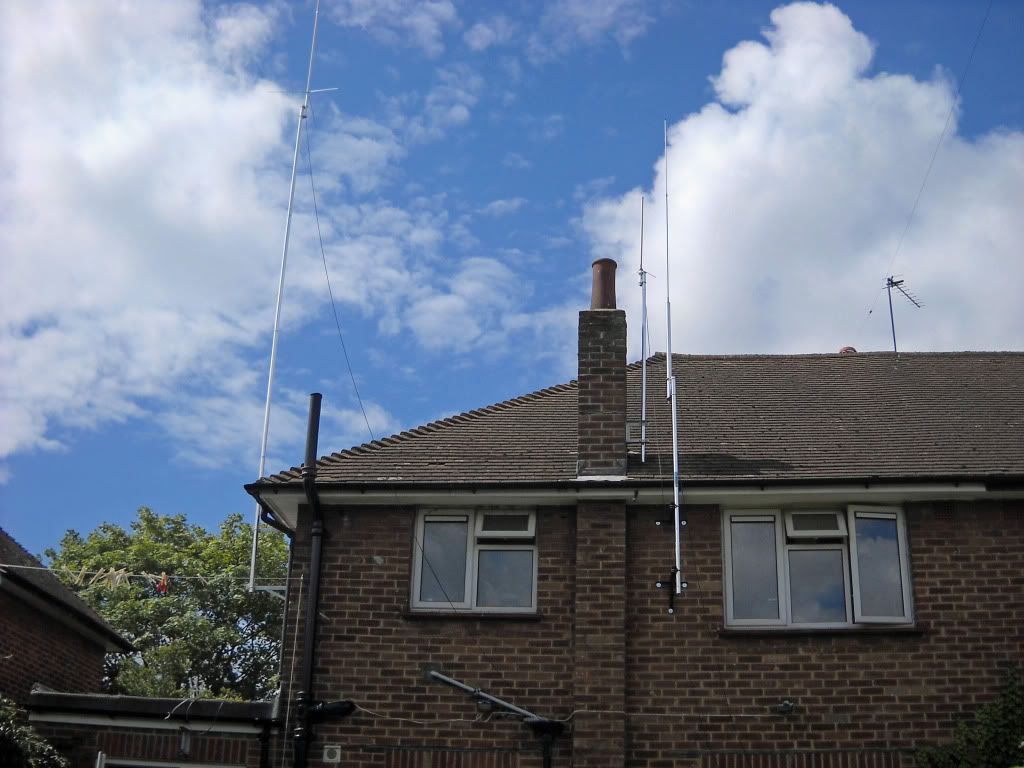 The one on the left is a 2m/70cm Colinear and is connected to the FT-897D, the one attached to the chimney is another 2m/70cm colinear and is connected to the FT-7800R, the one to the right of that is for 4m and is connceted to the Philips FM-1000 4m rig, I also have a G5RV running from the roof down to the bottom of the garden, but that's difficult to take a picture of, a thin copper wire against the sky isn't very photogenic, but here it is anyway, if you can see it.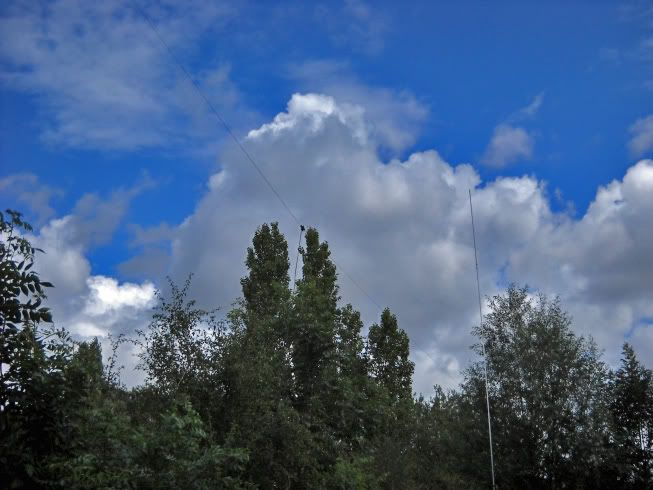 GB3OK
This is my local 70cm repeater, it covers London, South Essex and North Kent.
I tend to lurk on it a lot, I don't always chat, but it's usually on one of my rigs when I am around.
GB3OK is also on echolink, so if you fancy a QSO why not log on via echolink and give me a call?
Below is a live feed to what's happening on it.
Clubs and Societies
I am a member of the R.S.G.B. A.R.R.L. eQSL.cc & hrdlog.net
I'm also a member of the Havering and District Amateur Radio Club (G4HRC)
http://www.haveringradioclub.co.uk/
The club isn't a "local" club to me, in fact it's on the other side of London to me, how I came to be a member is a bit of story.
Prior to being licenced I used to a SWL (Short Wave Listener) and used to listen to the guys from this club when they had a net, which was really handy because I discovered they meet at the club every Wednesday evening, and at the time that was the only weeknight I had free to be able to take the exams.
When I decided to get licenced they were my logical choice, and a great bunch of guys they are, I really couldn't have done the exams without their help and support.
The club nets are
Monday Natter Net
145.525 MHz* FM

Havering Radio Club Net
145.525 MHz* FM

Friday Natter Net
145.525 MHz* FM

Top Band Afternoon Net
160 Metres (1910kHz)
LSB
*or nearby frequencies if the main frequencies are already in use.
Please by all means feel free to call in if you are in range, we enjoy talking to all, club member or not.
I also put out a CQ call on 145.500MHz at about 20:00 on Tues & Weds (If I am not at the club on a weds) for an informal net.
Work
I run my own business part of which has an ebay shop selling batteries
http://stores.ebay.co.uk/householdsuperstore?_rdc=1
Because the vast majority of my work is interent based it means I can work from home, which is really handy because the only commute I have to do is from the bedroom downstairs and into the office, which also doubles as my radio shack.
QSL
My current (M0GXN) QSL card is shown top right of this page, I send my QSL cards out via the bureau and only send them if the contact is a bit more than a 59 rubber stamp, if anyone sends me one via the bureau I will always return one for them.
My contact log gets uploded tohttp://www.eqsl.cc & https://www.hrdlog.net in real time and will automatically generate an eQSL for anyone I have entered into my logs.


^^^^^PSK propogation map, stations that have heard me in the last hour