First licensed in June 15, 1979 as a Novice, KA3DOO. I worked my way up the ladder from Novice to Technician (April 1980), Technician to General (August 1981) and General to Advanced Class (September 1982) then requested a call sign change and received N3COB. Finally to Extra Class in May of 2000.
SinceI received my Novice ticket in 1979, I was very active on HF. At that time I lived in a townhouse, operating with indoor dipoles on 10,15 and 20 meters along with a 40 meter inverted vee drapped over the roof of my home. Using a Drake TR-4C, RV-4C, MS-4 and the AC-4 as my first HF Station.
During this time I certainly worked well over 100 countries but never had the qsl's to back it up. I did however work, confirm and receive the WAS award (all CW) prior to upgrading to General Class. In 1985 I moved to Brookeville, Maryland. Which for you trivia buffs was the Nations Capital for ONE DAY; August 14, 1814. Within the first year, I put up 48 feet of Rohn 25 and a Mosley CL-33 Tribander. My country totals seemed to skyrocket over night. Within the first year in our new home, with the assistance of the Tribander, I easily had my first 100 qsl cards checked and received my DXCC mixed award. Currently I have over300 countries worked and over 280 confirmed. This includes DXCC on Ten Meters, WAS, WACand WAZ. I have also been active on RTTY for over 12 years and currenty active with the newer PSK31 and JT9 and JT65 modes using a variety of software including Mmtty and Digipan. RTTY is my most enjoyable mode of operating. I started with a Microlog AIR-1 and the Commodore C-64. I then graduated to a Microlog ATR6800 Terminal with a DT-600 TU. I'm currently using the RIGblaster Plus for the digital modes.
Current station equipment consists of an ICOM IC7600, Heathkit SB220 Amp and a Pulstar ATK2 Tuner. I use a Audio Technica Studio Microphone AT2020 to aPersonus V2 Preamp. The antenna here are a 80 Meter Carolina Windom at just over 95 feet (30 meters).
I've been enjoying QRPing with a great little rig. The HB-1B QRP Transceiver from YOUKITS. Purchased from TenTec, it is an unbelievable piece of gear. My current goal is to complete W.A.S. via QRP. If you hear me on please give me a call. If your into QRP you owe it to yourself to check out this little little sleeper. It has a footprint smaller than a standard QSL card and about an inch thick. Depending on the input voltage power it can pack a full 5 watts output on 4 bands (80, 40, 30 and 20 meters). Check out all the features on the TENTEC website.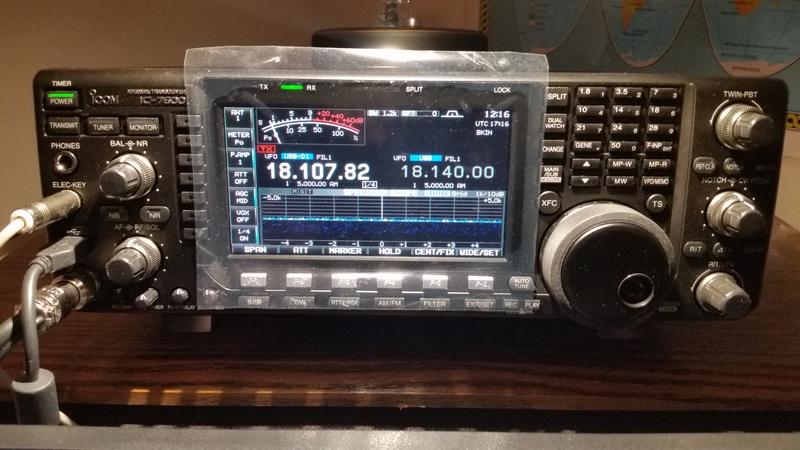 I've renewed my interest with amateur satelllites. I was very active working the birds back in 1989 - 1991 .Currently active on,AO-27 and SO-50 using a Yaesu VX-7R HT to a 30 watt (2 mtr) amp and out to an ARROW II antenna mounted on a camera tripod. Hope to work you on an upcoming pass.
I've been working with my close friend KP4N who has designed and built a great proto type antenna similar to the Arrow II antenna. This antenna incorporates one more element for each band on about the same size boom. This extra element will boost the ERP. You can see this antenna on KP4N's QRZ site.
One of my other hobbies, is fishing. Especially Kayak Fishing! I fish out of a 12 foot Wilderness Tarpon. It's loads of fun as it allows me to access shallows, flats and other areas just not accessable from the side of a lake, stream or estuary area. I find researching the areas I fish with Google Earth. Then overlay that information with my Humminbird fishfinder/gps.
NO, that's not me in the picture above, but I bet it caught your attention!!!
I QSL via the bureau and LoTW, will return all qsl's sent direct. SASE's would be appreciated. The picture on the front of my new qsl card is one that I personnally shot while vacationing at Key West, Florida. This iquana fell out of a tree near where we were sitting next to the pool. Ironically, when it fell from the tree,the ladies all started screaming and ran in the opposite direction. The guys went over and tryed to pick it up and thats when I shot this picturejust before it decided to take a swim.
My 2014/2015 winter project.  This was to upgrade my Heathkit SB220 Amplifier.  I owe the inspiration to undertake this task to my close friend Rafael Centeno KP4N.  I also owe a debt of graditude to another long time close friend Andy Mitz WB3LTJ for his technical expertise and guidance throughout this project.   Without the input from both of these close friends I confess this amplifier might not have survived this transformation.
I had this amplifier for about 2 years.  It came into me with three of the major Harbach modifications; the FB220 Capacitor Bank the RM220 Rectifier Board and the SK220 Soft Key.  The 3-500's appeared to be the original EIMAC's.  As their output was a bit soft.  The max output I realized from this pair was on 40 meters at about 850 Watts with about 65 watts drive.  The rest was down hill from there.  Eventually I'll replace the finals but first wanted to complete the update process.  So I decided to install the W7RY QSK Board upgrade along with a pair of Jennings RJ1A-26A Vacuum Relays to replace the old mechanical relay.  The W7RY QSK Board is a fantastic upgrade and I applaud Jim/W7RY for this design.  It replaces the old Bias Power Supply with better filtering.  Full wave rectification vs. a single diode plus heavier capacitor filtering as well.   This board also provides for an adjustment to the Bias voltage (which the original Bias Supply did not) so the idle current can be properly set(between 150 and 180ma of idle current)   It also has a built in Soft Key and finally, it provides the voltage and resistor string to fire the coils on the Vacuum Relays.   I must add Jim was great answering all of my questions and kept us going in the right direction.
Part of the fun with upgrades is you have to dismantel the old to make way for the new.   So first thing I did was make my own drawing of the entire under carrige chassis and label every wire with numbers.  Then took a few pictures in case we got into a situation down the road.   The first item to be removed was the Bias power supply, then the SK220 Soft Key, followed by the disconnect and removal of the mechanical relay.   I then removed the RF Input and RF Output coax runs that had hardened over the past few decades.  
I completed what tasks I felt comfortable with and Andy/WA3LTJ was very instrumental with areas that I lacked expertise.   This tag team effort was very successful although it just ment we'd be moving slower as we needed to adjust for our personal schedules to meet and work together.   With this project ongoing durning the busiest holiday season of the year, followed by both of us taking vacations out of the country; things were put on hold for a while.  But once we both returned the project came to life once again and we managed to finish it up. 
So below are pictures of the finish product.  I'm sorry I didn't have the forthought to have taken before pictures.   The RF Input and RF Output coax used was RG174 as recommended by W7RY.   It's not only great to use with the teflon dielectric but gives the finished product a very clean look. 
My next and final step is to replace these original 3-500's with a new match pair.  Then we can sit back and enjoy chasing DX and many of you as possible.  If you hear me on, give me a shout.  
So a big thank you once again to my two friends, Rafael/KP4N and Andy/WA3LTJ for a job well done.
A good place to look for me on the air would be on the SKCC/K3UK SKED PAGE.  If you see me listed "PM" me and be glad to engage with an old fashion CW qso.   
From left to right, Bencher Iambic Paddle, Nye Straight Key (I've had since my Novice days), Navy Flame Proof Key, Lionel J-38 Key and in the rear is my 1945 Vibroplex Bug with a W7IS trombone.
Most recently, I've gotten into Kit Building.   I've just completed an Arduino/QRP 40 Meter Transceiver that was found in a fantastic article in the March 2016 issue of QST.   Most of the parts were purchased on EBay and come from China.   So you need a little planning and patience as you will wait a few weeks before some of these parts arrive.     The documentation I thought was well thought out, planned and fairly straight forward to follow.   It's been quite some time since I last built a kit.     So this was a great project.  From start to finish it took me about 5 weeks putting an hour here, 30 minutes there.   I didn't work on it everyday.   But enjoyed every bit of time spent piecing it together and watching all these parts, turn into a viable piece of communications equipment.
I'll be the first to confess,  I had key assistance from two very good friends that I'd like to acknowledge. Without their assistance, the parts would still be unopened sitting on my work bench.   So a hugh shout out and THANK YOU to WB3LTJ/ Andy and N4DR/Marc for their encouragement and assistance.  Great effort and great job.
So here are pictures of the progress of this project to its current finished state:
I added a larger heat sink to the final transistor and a cooling fan to the outside with some sexy blue LED's.  The fan is activated by a microswitch only went the top cover is on.    As you can see from the opposite side of the enclosure, I've drill several holes to promote air flow when the fan is on.   
The bottom pictures show the hardware all connected, powered up and taped down on a small piece of cardboard.  Almost left it that way.   And was planning to put it into a picture fame and hang it on the wall of my  shack.   The next picture is Marc/N4DR in the Blue shirt and myself N3COB.
The radio boasts a wapping 1.7 watts output to a 50 ohm load.     I have since purchased, built and currently using a Audio Amplifier and Adjustable Filter from QRPKITS-Pacific Antenna. The filter works beautifully with this little rig and really enhances the audio quality.   
Hope to work you QRP with this mighty QSO Chow Hound of a radio.
Here is my latest kit build.   It's the PARASET80.  An 80 meter QRP Transceiver.  The transmitter is crystal controlled and has two switchable crystals.   One on 3.560Mhz the other is 3.5795Mhz.  The receiver is a Regentivie Receiver with a digital display for the receive only frequency.  This little gem has an RF output of about 3+ watts to a 50 ohm load.  Fun to play with but find the receiver is a bit challanging to keep the other station on freq.
Once again here is another completed project.   A vintage Novice Station from the 1960's.   Comprised of a Collins 75S-1 Receiver and a Heathkit DX60 Transmitter.  The transmitter uses a single 6146 for the final amplifier and puts out about 60 watts.  Plenty of power for most CW QSO's.
My profession is a Biomedical Engineer. I've worked in the research field as a product specialist for over 30 years. I now work for the National Institutes of Health in Bethesda, Maryland in the Division of Scientific Equipment and Instrumentation Services for the Office of Research Services.
Best 73's and hope to catch up with you on the air.
Glenn/N3COB
10X10#32166
NAQCC#5770 SKCC#8592 QRP-ARCI#15271
-------------------------------------------------------------------------------------------------------------------------

Large Visitor Globe