HF:
LOTW:  I have been operating using FT8 a whole bunch since it went "live".  I upload typically about three times a month, on average that is about every 10 days.
The shack as it appeared in early November 2017.
The station is made up of an Elecraft K3, P3+SVGA, KAT500 autotuner, KPA500, Palstar PM2000A true PEP Watt meter, a Balun Designs dual-core current balun attached to about 24.4-m (80-feet) of 450-Ohm window line to an "80-m horizontal loop" (actually about 305 feet or 93-m of wire) up an average of 14-m (46-feet). Power comes from an Astron RS-35M with the olde Astron SS-30M in backup. The phone interface is a Yamaha CM500.  The Heil Pro-Set Quiet Phone is currently retired as the phone jack connector has failed and I haven't fixed it yet. The paddle is a W5JH "black widdow" #1028 that I built from a kit during 2012 January. On 6m I use the 93-m loop.
I now have an Elecraft KX3 with the internal tuner, internal 8 NiMH batteries to run the real time clock, and the internal battery charger. Very nice!  It is field-portable with all carried in a small daypack.  I use an end-fed 41 foot "random" wire and have band specific counterpoises.  I also use the Chameleon mag-loop antenna and I built two copper tubing loops, one turn 1/2-inch OD and a two-turn of 3/8-inch OD soft copper.  I have a full Buddipole system for backup, emergency, and portable use. I also have a 4S2P 5-Ah LiFePO4 battery, Buddipole built from A123 cells, which are an amazing power techology that is super light-weight providing lots of power at a decent voltage.
I added the K3EXREF module to my K3 on 2013 November 6. I have a G3RUH OCXO/GPSDO to generate the 10-MHz input frequency.
I have added a Bodnar GPSDO which has two outputs.  The frequencies are fully slewable so as to generate known test signals at any reasonable frequency for test and calibration.   It will run on either USB 5 VDC or 12 VDC power.
I have built the Elecraft AT1 41-dB step attenuator which is a very nice piece of test equipment to have in the shack. I also have soldered up a hybrid splitter/combiner kit.  I also have an Elecraft XG3 signal source as well as the XG-50 which is used as a reference source for the KX3 calibration method.
VHF+:
ICOM 910H (2m, 70cm and 23cm). I have a K5GNA modified AIDC 3731 down-converter for the 13cm satellite downlink band to 2m.  I also have an unmodified Gardiner LO2398 MMDS down-converted that is used as a 2.398 GHz test signal source.
Motorola GTX LTR 900 (33cm), Alinco DJ-296 (1.25m), Kenwood TH-D7 (2m & 70cm) and Yaesu VX-5R (6m, 2m & 70cm).
I have built 222-MHz, 900-MHz, and 1.2-GHz "cheap-yagi" antennas.
From FM18lu:
VUCC 6-meters #1456 (KG4QWC)
VUCC Satellite #216 (N8OQ)
From FM07uv:
WAS Phone #57862 (N8OQ)
2014 ARRL November Sweepstakes Roanoke Division Plaque Winner - Single Operator, Low Power Phone 
2016 ARRL November Sweepstakes Roanoke Division Plaque Winner - Single Operator, QRP phone, #7 national.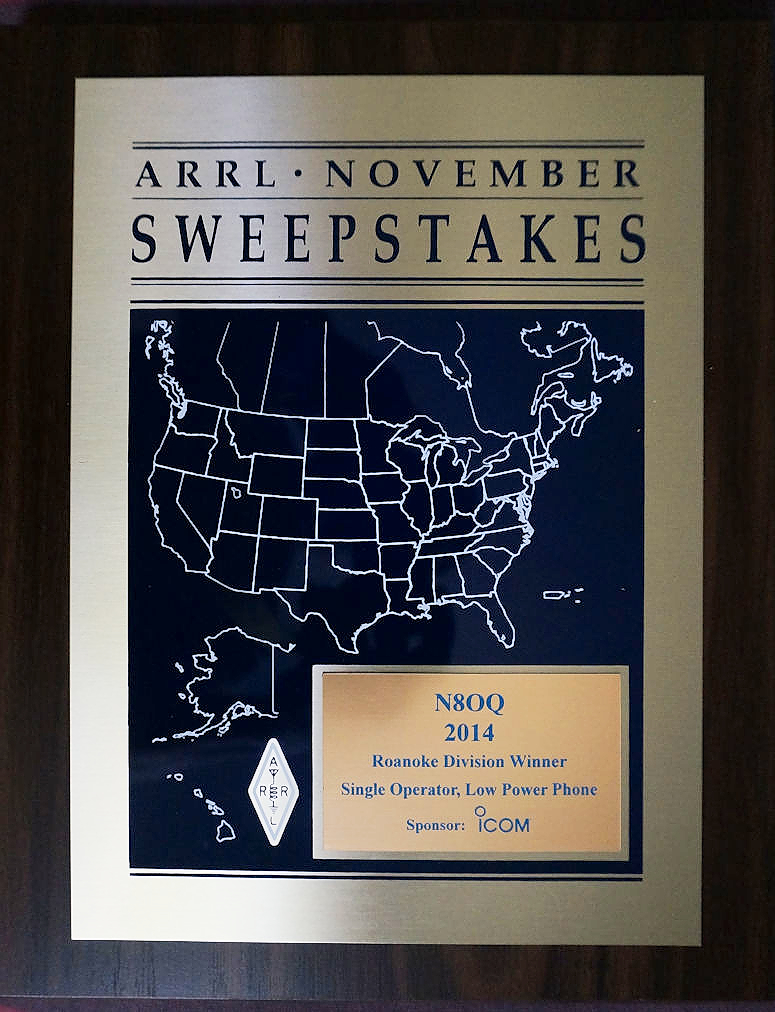 My page image is a picture of my rescue cat Nikita (Nik'). She has little use for HAM radio since her main hobbies are sleeping and listening to Elton John music.  Nik' passed away in January 2017 but she still likes everyone to see her beauty.
73.