Dear fellow ham radio operator!
Please find here some information on OH2BR ham career.
I started my active ham career in early December 1960 at the age of 15. Before that, I had been an active SWL over a year listening to the ham bands and studying Morse code. My first station consisted of a TRIO 9R-4J communications receiver and a homebrew 15W XTAL transmitter and PSU. My novice license gave me the right to use maximum 15W output power and a crystal controlled transmitter ONLY on CW so I studied further to upgrade to General class (the highest class in Finland equivalent to Extra class in the USA). Also I had to make at least 300 CW QSOs before appearing before the examenation board and show my log to the examiners. It had to look neat and orderly. Happily, I passed that exam after 10 months of hard studies.
In October 1961 I upgraded to Extra class and here is my station after that. The receiver is a Finnish-made RP-65A and the 50W AM/CW transmitter was built for me by Reijo R Laine, OH2EW (SK).
Since then I have had many US made and Yaesu radios. I was a Yaesu distributor in St. Petersburg between 1992-1998 so I had full range of Yaesu radios available to me. Later, I have added also such radios as Alinco DX-70 and Finnish-made Juma TRX2A+PA100-D to my station.
Antennas are my special interest. I first used several home-made and commercial verticals and then upgraded to cubical quad and yagi beams, first a HB9CV bamboo beam. I have always preferred monoband yagi antennas. No tuners needed! 
Here are some pictures of my 30,5 m high tower for 80/160 m bands. The tower was built by Pekka OH7RM.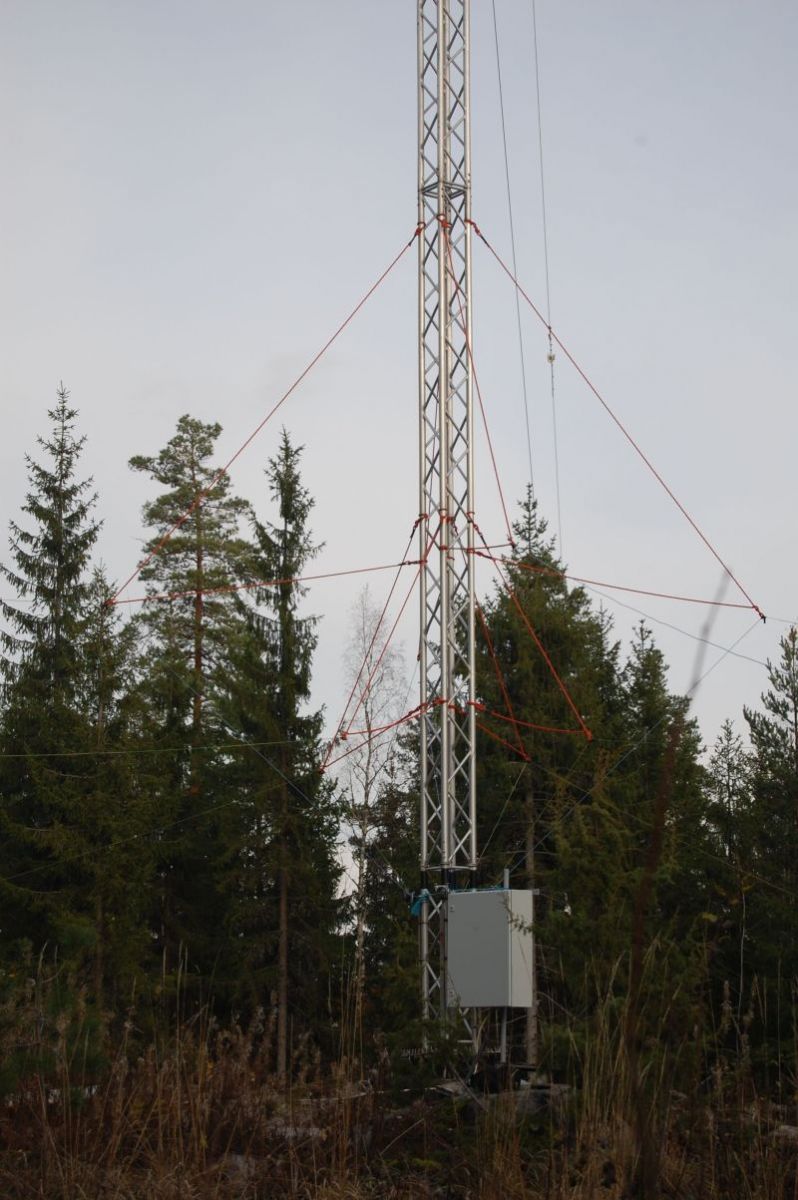 Arska OH2EC is standing beside the matching unit he designed for the low-band tower:
Here you can see all of my three towers that I had many years between 2006-2015. The 12m high tower has antennas for 6m, 2m and 70 cm. The second tower is a rotatable 36m high hot dip galvanized steel tower with monoband yagis for all bands from 40 to 10 m, all made by The Steel Tower man Jaska, OH8QD.
In 2000 I visited Pitcairn Island during the peak of sunspot maximum. In three months of operation I made 56 239 QSOs as VP6BR.
You will find much information about Pitcairn history and ham activities etc. at  http://www.qsl.net/oh2br/
Another story is also at  https://asiakas.kotisivukone.com/files/ohdxf.kotisivukone.com/vp6br_story.pdf
If you are interested in details of VP6BR activities please visit the VP6BR page on qrz.com or go directly to these sites:
www.qsl.net/oh2br/
www.clublog.org/charts/?c=VP6BR#r
www.uksmg.org/content/vp6br.htm
www.gdxf.de/megadxpeditions/singleop.php
At this moment, in December 2016, there are no big towers any more in this QTH. They have been disassembled because I have moved to Turku, ex-capital of Finland. Please also visit my other pages C6ABR, OH0BR, R1MV and VP6BR. I add new photos and information there from time to time.
I just returned from Tbilisi, Georgia, from a 16-day journey with by XYL Loretta, OH2BG, to see the city we were married in 1979. During this journey I had a chance to operate radio as 4L/OH2BR. See the QSL below. The card has been printed at UX5UO and I am currently busy writing QSL cards for all QSOs I made from Tbilisi.
If you need any one of my QSL cards please send a request by SASE or SAE+1 IRC or GS to my home address: Kannuskatu 8 F 72, 20880 Turku, Finland. Of course, before doing that you may send me an email asking if you are in the log. My email address consists of my first call sign (see below) plus the separator as always in an email address and the abbreviation of Finnish Amateur League (SRAL) followed by .fi country code. The complete address is also shown on the 4L/OH2BR QSL card above. Just check!
Thank you for visiting my OH2BR page. CU soon on the ham bands, 73!