| | | | | |
| --- | --- | --- | --- | --- |
| | | | | |
|   |   | CTC: #1337 | PB: #338 | SKCC: #16544 |
July 22nd 2017, today I put a delta loop antenna up between two trees at 11m height. The horizontal part spans over 9m, the two legs are over 6m long (I didn't really measure) and are connected to a run of 450Ohm twin lead. The results are as expected, up to 3 S-points broadside compared to my vertical doublet on 20m for short range signals. I still need to check with long haul DX. The loop is quieter than the vertical on the noise side, but I need to switch on the preamp to find that out.
I simulated the antenna with MMANA and what stroke me, was the loss in signal strength, up to 2dB, caused by Fe wire instead of copper!
------------------
March 6th 2016, I made my very first QSO on the recently acquired 60m band. ON, PA and OY were logged using my 80m vertical and 5:1 SWR, oups...
------------------
February 28th 2016, me at the station (picture by ON4LY), yes that's the complete HF station.
------------------
February 21st 2016, if you hide your antenna in trees and hedges there is a moment when one of your machines will discover it and cut right through it. Let's call this a redesign opportunity.
I wanted a more DX-friendly antenna for the 40 and 80 meter bands and a vertical seemed a good solution, but ground radials were not an option, so I went for a hybrid design.
After some thoughts I finally bought a commercial Kelemen trap dipole. The vertical part, which carries the biggest current is 8 meter long and 2 meter above the ground, hanging in a tree. The rest of the antenna is stretched horizontally towards a second tree, fitting in the available space. Results are great and I can trim the grass without removing anything.
MMANA simulation of a 40m dipole as pictured above
------------------
September 5th 2015, operating our club station ON6LL/p during the SSB field day (ON4ZD alias OS0S right in the picture). Trying other antenna types is an interesting challenge, we went for a KISS solution, a 3-band inverted-Vee trap dipole for 40-80-160m.
------------------
April 5th 2015, the UBA 6m contest this morning allowed me to test different antenna configurations. The best results were obtained with a simple Zeppelin, hanging on a rope slightly sloping down from the window to a garden tree. Too bad the activity was restrained, not so many participants.
------------------
June 2014, my new low band antenna is operational. I went for a 2*20m doublet, with the two legs at right angle and sloping from 10 down to 2m. (September 2015: an antenna leg lying on the ground didn't resist the grass mower and is to be change soon)
------------------
April 7th 2014, in the meantime the 'eastern' antenna has been deployed as a 2*6m center-fed vertical doublet, so doing I get a much better, read lower, radiation pattern for the higher bands. The second antenna remained as a L-shaped doublet and is still waiting on some goodwill to add an extra twinlead run to connect it to the shack.
Why this antenna choice? The street goes slightly uphill facing North and surrounding houses are screening some directions (see picture one), so either I elevate one antenna above the roof at more than 15 meter (not feasible), or I place two in a 'workaround' solution. The radiation pattern of the last L-shaped dipole should look like follows, the diagonal grey line being the house axis acting as a screen towards East.
Vertical doublet 'screened' areas and L-shaped (decommissioned) antenna heading USA as a workaround.
In the late afternoon, I went for a garden qso-party and quickly deployed an EFHWD and the Weber tri-bander to operate on 30m. No great dx, but great qso!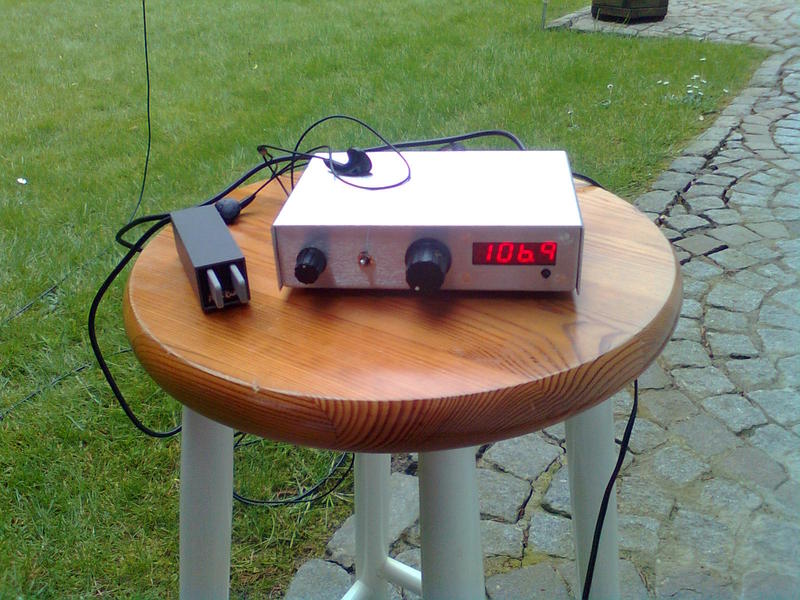 EFHWD going up in the tree with a KI6J tuner & Weber tri-bander qrp transceiver (80 - 30 - 20m)
------------------
February 8th 2014, we just moved to a new home and I rapidly used trees to put 2 verticals up. I went for L-shaped doublets, fed by twin-lead at 2m above the ground, offering multiband operations. Both wires are 6 meter long. The first antenna's main lobe is heading @ 70 degrees, the second one @310 degrees. The first qso are delivering good results as I could log a JA on 30m (about 10,000 km). = Decommissioned =
------------------
2007, operating mobile on 20m near Antwerp during the 2007 JA CW contest, using an IC706MKII and a vertical EFHWD on a Spiderbeam mast
------------------
Licensed as ON1KNP in December 1985, I've been active on VHF & UHF from my former QTH until 2000. Beside TROPO, I experienced AURORA, ES and MS propagation modes. Russian satellites also kept my attention (RS5-7, RS10-11, RS15), operating mostly on the eastern paths in A-mode (VHF in, 10m out). I took part to many contests operating ON7WR and built and maintained the very first ON0WTO UHF repeater.
------------------
Some vintage pictures
 With Roger ON4TX maintaining ON7WR V/U/SHF antennas and mounting the 13cm transverter on the back of the dish @18m. No room for the feet and certainly not for errors!
Ready to run, the 4*19el for 432MHz are ok and the telescopic mast can be extended to 12m.
------------------
UHF ATV contest @ ON7WR/A with ON4EI alias EI1A / EI8GQB. We struggled a lot and didn't receive any signals at the start. We found two issues in the converter which we could repair. At least that's what we thought, we ran the entire contest with a defect mixer. Signals were received from distances over 300-400km, radio magic?
------------------
Operating portable in Haversin during the August 1990 VHF Alps and Adria Contest with ON4EI alias EI1A / EI8GQB at the mike. Picture taken by our supporters ON6LR and family visiting us.
------------------
2m VHF antenna installation on the roof of the QRL building in Brussels, too bad we had to move and stop the activity.
------------------
I also operate portable from time to time, with 5W and different antennas, depending on the band, though I like EFHWD very much.
I answer paper QSL-cards sent directly to me or via the bureau and LoTW and no longer use my e-QSL account which has been cancelled.
See you on the air and best 73's,
Patrick