QSL via Bureau, or direct. I will reply to all QSL's (direct or Bureau). SWL reports are welcome via Bureau.
My QSL's are printed in Belgium by ON5UR (www.on5ur.be)
Although I really like paper QSL's (I am a collector) the most important thing is to have the contact in real time so it is not a problem at all if you do not QSL (either paper or electronic).  
I am active on 80 to 10 metre (SSB and FT8 - CW soon again after being QRT for 12 years). 
While I was in USA for business in January 2000 I passed my exams in Atlanta GA (operator class : General). My callsign was KG4HWW. Six months later I was in Montreal (Canada) and passed the Morse test at 12 WPM. Begin 2001 the US licence was converted by the IBPT (Belgian ministry of communications) and I got the current callsign ON9COP. The suffix COP is a part of my life since I have been police officer for more than 40 years in Brussels.
Other hobbies are gardens, astronomy and astrophotography, restoring oldtimers including engine rebuild (see pictures further), aviation.
Rigs :
Yaesu FT-DX 3000
Yaesu FT 991 A
Yaesu FT 817 ND
Amplifier :
Ameritron ALS - 600     600 watts Solid State FET amplifier. I usually set the power at 300 watts. It seems to be sufficient with my 4 elements Mosley. 
backup : Ameritron AL-811 (600 watts with tubes)
Antenna's :
I just purchased an Optibeam OB11-5. I am waiting for a new De Kerf 3 x 7 meter tower. Hopefully all will be installed mid December. For 40 meter I will use another Optibeam, the OB40-1 (rotating dipole).
On 80 and 30 meter I use the Cirro Mazzoni Midi Loop. It is an excellent magnetic loop antenna for 80 to 20 meter (only at 3 meter - 9 feet - above the ground)
4 elements Yagi Antenna  : Mosley MP-33-N- WARC (20, 17, 15, 12 and 10 meter) at 12 meter - 36 feet above the ground. I added the Mosley TA-40 KR (40 meter kit working as a rotating dipole). The telescopic tower is made in Germany by Wimo. 100% German quality ! I also have a Wonder Wand Widebander mkII portable antenna (160 metre to 70 cm - works with the Yaesu FT 817 ND). 
Here is the shack. As you can see I like gardens.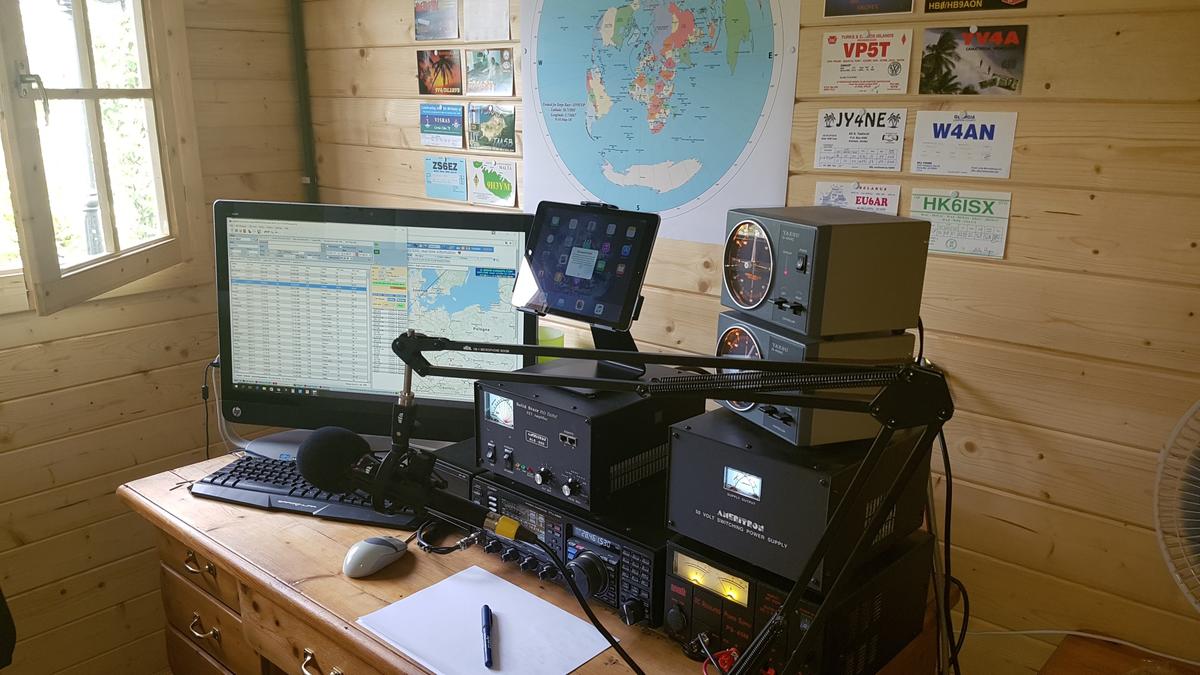 Oldtimers :
I like restoring classic cars. Here is a picture of my 1959 Rolls-Royce Silver Cloud. Any HAM coming to Belgium is welcome for a ride in this wonderful car. Next image shows a 1965 Bentley V8 engine that I fully rebuild, now ready for 100,000 miles trouble free. 
Astronomy and astrophotography :
When skies are clear I have a look at the universe and I take some photographs of deep sky objects. Here is a galaxy located at 11 million light years (Sculptor galaxy). What a journey ! Light is travelling at 300,000 km per second. How many seconds are there in 11 million years ?  In fact, before reaching the lens of my camera light left the galaxy 11 million years ago.   
Another deep sky object : The Trifid Nebulae. Distance is "only" 5220 light years.
And here is the well known Orion Nebulae