My previous call sign was PD3TRU

# ARRL membership: 3100128051
# VERON membership: 034419
# Station Licensecode: 6629107  CW included
# SKCC number: 8075
HERE you can find my experiences with my radio hobby. Select the HAM RADIO button.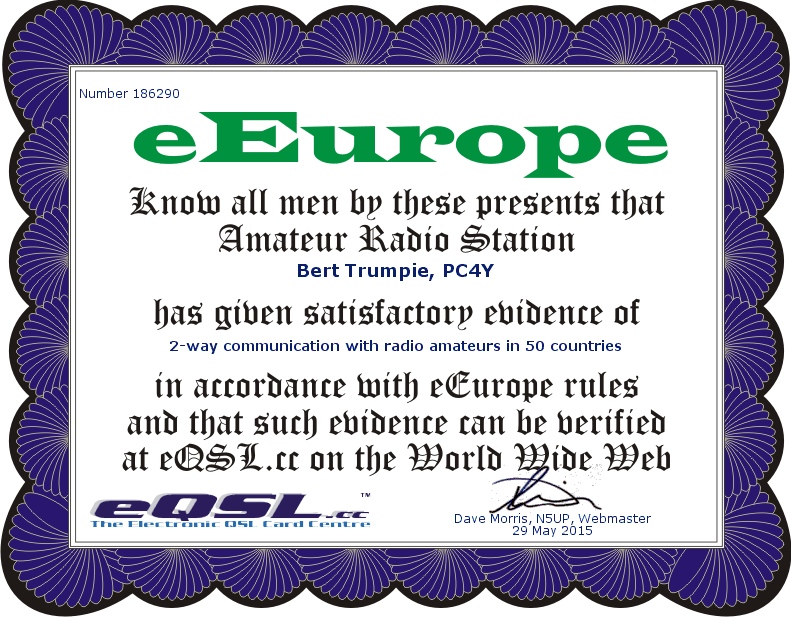 Much to my surprise I received this 'worked 100 grid squares' award on my old call sign PD3TRU that I haven't used since March 2014. The big black dot in the lower left corner is in fact a golden shiny 'Certified QRZ authentic' stamp that my scanner couldn't handle 

Well never mind and all OM's and YL's are thanked for uploading their logs :) 
Better late then never.
Equipment:
YAESU FT-450; YAESU FT-7900; YAESU FT-7; YAESU FT-60E hand held
Baofeng dual band VHF/UHF, including maritime bands.

G5RV junior dipole; 

Diamond V2000 triband.

HAM Gadgets Master Keyer MK-1; 

Junker Morse key; 

KENT Morse key
Begali single lever paddle.

MFJ-925 auto-tuner; MFJ-914 autotuner extender;

Siltronix SWR meter; 

Ridge dummy antenna

SignaLink USB for most Digi Modes (e.g. PSK, RTTY)
On most Wednesdays  or Thursdays I operate the shack on board the steamship Rotterdam, which is now a hotelship in the Rotterdam harbour. The call sign of the ham station is PI4HAL. Click on the link and you will find more details of the shack and the ship. The shack is operated by a number of hams.
I used to be a wireless operator on board the s/s Nieuw Amsterdam/PGGF in the late sixties and early seventies of the previous century and then often shared pier 90 in New York with the s/s Rotterdam/PHEG. During the annual Maritime Radio Day (MRD) in April I have a lot of fun with many 'old' R/O's who used to work on ships and/or coastal radio stations.