( But remember......, we are only humans!!!! )                                                                         
******************************************************************************************************************************************************************************
Hi all!  Thank you very much for visiting my QRZ.com-page!
PLEASE NO QSL NOW.... I HAVE MY LOGBOOK UP TO DATE. IF I DECIDE TO START SEND OUT QSL-Cards, EITHER VIA A MANAGER OR
DIRECT,  I WILL ANNOUNCE IT HERE!!!
********************************************************************
I can be active from 10m. to 80m. now with my modified 40m.  1/4 wave 

groundplane.
A 10.3 meter long aluminium pole with 9 wire radials 

elevated

over

the ground. 
It is now fed through 2 coaxcables. One of the inner conductors is 

connected 

to the vertical pole, the other to the counter poise.
The coax-shields are connected together on both ends. On the shack side, I grounded the shields to the housing of the S-match. The other end, near the antenna, is not grounded.   
I use my home-brew balanced antennatuner, the famous *S-Match*, which is being invented by OM Frits, PA0FRI.  
See his website and be inspired!:   WWW.PA0FRI.COM 
*******************************************************************************
Photos left; old situation 40m. Groundplane.        Photos right; multiband Groundplane fed symmetrical. 
​  
Here are some pictures of the S-match. It's a little un-conventional. The inductor is made from a coil with an old beercan to vary the induction.
I push and pull the can in and out to get less and more *L*.  A few other coils can be switched in series. Extra capacity can be added by switching some 
capacitors in parallel to the variable capacitor. The big advantedge is that all connections are soldered. No rolling wheels or othermovable parts that can fail
on their contact. I can easily tune with full legal output.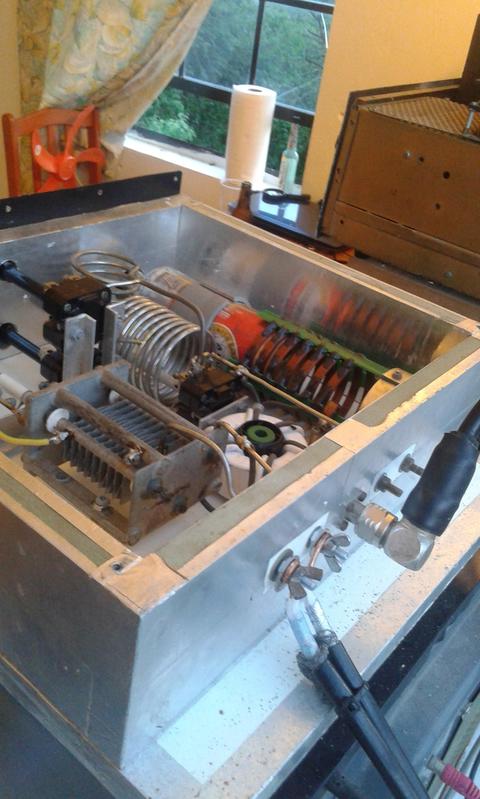 Below you can see a few pictures of an old refurbished FL2100B amplifier.  I took the amplifier apart and made a new powersupply, and replaced the old
572B's with GI23B's, ceramic tubes made in Russia.
I renamed the old lady to *FL2100/2B*. The output is around 800- to 900Watts, limited by the powersupply.
This amplifier is used mostly on 10 to 20 meters including the WARC-bands. 
The linear amplifier you see below is also homebrew and is build in an old microwave-oven-cabinet. Those boxes are very suitable for
building HF apparature in. This amp. gives 1200W. and has an external transformer 230VAC to 400 VAC.
I quadrupple this to 2100 volts DC to the plates.
I use this amplifier mostly on 40M. so it stays tuned for easy bandswitching.
For more information about homebrew projects like this and many more, see OM Frits, PA0FRI's website.....
73 de Bart