Hello, and thanks for visiting my page. Perhaps you heard me on the band. My name is Alex, born 1951 in Sakhalin island and licenser since 1974.
I am mostly active using FT8,JT9 and JT65 on the HF bands but con sometime de found using PSK31, or other data modes.
 My sincere apologies to those who are still waiting for my QSLs. I use only   - HRDlog.net, LoTW , Eqsl.cc (AG)  Do not send QSL card via the Bureau, please.
Final courtesy of a QSO is a QSL.                                             Good luck, 73!  
Since - 1974.  EX  - RB5ADF, RB5AX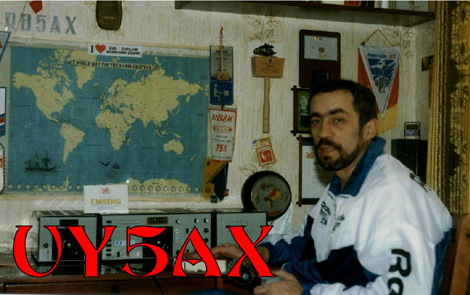 Site administrator 
Pleas visit my web site    for complete infomation.

                         Award manadger - Sumy 362.            
        More info
                        Award manadger - DIG Ukraine.          
                    More info ...
   - # 0750      
   Members:   DIG - #  4511, HHC- # 1446   (Germani ).
     EPC # 00327.       
 LoTW - user  
 eQSL.cc user   
   Log upload since Nov, 1976.
  Оформление Вашей странички на QRZ.COM     Making your page on QRZ.COM​
If you have any question please contact me on my
   alex.uy5ax@gmail.com
See you on the air, guys!
73!
Yours faithfully,
Alex Uskov, UY5AX