Thanks for looking me up on my QRZ page and please sign my web


Membership:
I am a retired machinist/industrial mechanic and have been a volunteer firefighter for 46 years, having served a number of years as captain of the rescue unit as well as other positions.  Currently I am a fire scene photographer and assist with fire ground investigation.
I obtained my Ham license in December of 1998 and got my Basic 5 wpm in April of  2000 and at that time I used the call VE1ASK but shortly after that changed my call to VE1ART.  In May of  2010 I received my second call VE1GG.  I am the treasurer of our local Kings County Amateur Radio Club VE1LD and chair of our local VHF repeater VE1AEH.
My wife and I also do Campground Hosting with our Provincial Parks and Kejimkujik National Park here in Nova Scotia. We are members of  the Friends of Keji Cooperation Association and volunteer with the Blanding's Turtle Monitoring program (an endangered species) where we protect nests at nesting time in the Spring. Once they are finished laying their eggs we protect the nest with enclosures to keep predators out. In September and October we check the nests to release hatching emergence  and radio track some of the young turtles.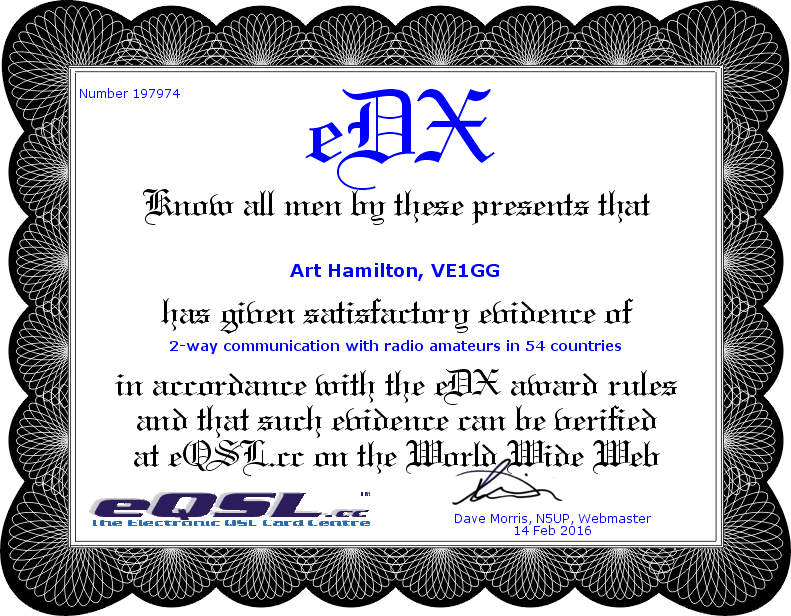 8517385 Last modified: 2017-12-17 00:02:59, 3458 bytes
Login Required

Login is required for additional detail.
You must be logged in to file a report on this page
Public Logbook data is temporarily not available for this user
United States Award

#3840


Granted: 2017-12-15 20:50:02 (VE1GG)



World Continents Award

#16352


Granted: 2017-01-12 11:40:02 (VE1GG)



United States Counties Award

#4308


Granted: 2016-08-27 17:20:02 (VE1GG)



Endorsements:

250 Counties Digital

500 Counties Digital

100 Counties Digital

100 Counties Mixed

250 Counties Mixed

500 Counties Mixed

Grid Squared Award

#11865


Granted: 2016-05-18 09:00:05 (VE1GG)



Endorsements:

15 Meters Mixed

17 Meters Mixed

20 Meters Mixed

40 Meters Mixed