Thank you for visiting my page here.
Activated summit Mount LeConte W4T/SU-003 on March 27, 2016
| | | | | |
| --- | --- | --- | --- | --- |
| W4HIL | 146.52 | FM | 59 | 59 |
| KI4KGK | 7.046 | CW | 539 | 599 |
| K2JB | 7.057 | CW | 579 | 599 |
| KG3W | 7.057 | CW | 539 | 559 |
| NE4TN | 7.057 | CW | 579 | 599 |
| N8BB | 7.057 | CW | 339 | 559 |
| N4EX | 7.057 | CW | 559 | 559 |
| KR4AE | 7.057 | CW | 579 | 599 |
| N1AW | 14.056 | CW | 539 | 559 |
| W0MNA | 14.056 | CW | 599 | 599 |
| W0ERI | 14.056 | CW | 599 | 599 |
| KX0R | 14.056 | CW | 539 | 579 |
| WA7JTM | 14.056 | CW | 549 | 599 |
| W5ODS | 14.056 | CW | 559 | 559 |
| KB7HH | 14.056 | CW | 559 | 539 |
| ND0C | 14.056 | CW | 229 | 559 |
| EA2LU | 14.056 | CW | 529 | 579 |
| KC1NN | 14.056 | CW | 559 | 559 |
| K6HPX | 14.056 | CW | 529 | 559 |
| KI4KCI | 146.52 | FM | 59 | 59 |
| KA4ZQA | 146.52 | FM | 59 | 59 |
| N4JTD | 146.52 | FM | 59 | 59 |

Previous calls:
WN4NAT - novice class - Feb 1975
WA4NAT - general class - April 1976
WA4NAT - advanced class - June 1976
WN4AT - extra class - July 1981
Active with Shelby County Amateur Radio Club, SCARC - W4SHL.
Operate Field Day with SCARC each year.
We have been operating from Columbiana, AL at the Shelby County EMA office for the past few years.
In 2013 and again in 2014, we worked all 50 states in 19 hours during Field Day.
www.w4shl.com
Here is a diagram of the cw station used for Field Day.
We use N1MM logging software with a custom modified version of MASTERSS.DTA which includes all FD callsigns for the last 3 years.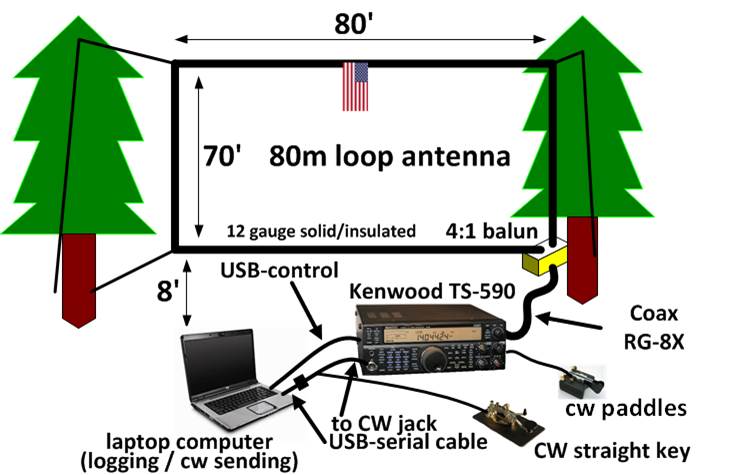 Also active with Straight Key Century Club, SKCC.
www.skccgroup.com
I like to operate as K3Y/4 in January each year for the SKCC anniversary event.
I try to participate in the monthly Weekend Sprints (WES) and the monthly Sprints (SKS).
I can often be found on the K3UK sked page for SKCC.
http://www.obriensweb.com/sked/
SKCC 8745S
Also very active in Orienteering here in Alabama and in Georgia.
Vulcan Orienteering Club and Georgia Orienteering Club which are part of Orienteering USA.
Hope to be active with World Games in 2021 in Birmingham, AL which have orienteering as one of the events.
 
LOTW
If you don't find a QSO with me in the logbook below, drop me an e-mail and I will be glad to look into it to see if there is an error on my end.
WN4AT at ARRL dot NET
�