DXpedition Ascension island, Guaitecas Archipelago, January 10 to 17, 2017
I send the QSLS of paper to all the contacts, and it would estimate it if you send a Qsl of paper.
I am Member of Chilean Pacific DX Group CPDXG (sponsored by CE5PHI).
                www.cpdxg.cl                                        
Actual QSL:
DXpeditions: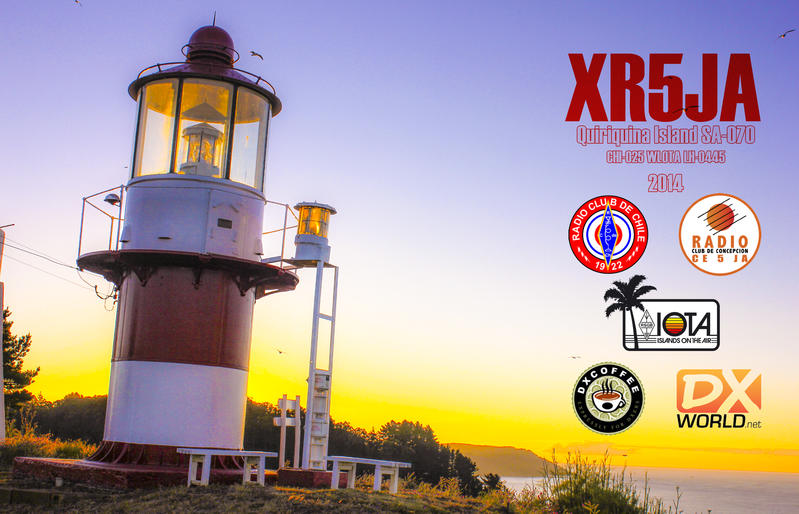 QSl of Activation in September 18th of each year:
QSL of Activation May 21st of each year:
My current radio station:
Equipment: Kenwood ts-830-s with antenna tuner AT-230, Icom IC-706 MK2G with antenna tuner LDG IT-100 (to carry the antennas which were not configured, hahahahaha), kenwood TM-241 with SWR analyzer MFJ 842, plus handys as Motorola PRO-5150, PRO 7150 and Baofeng UV-5R, (handsome, but looked bad) , which gets me out of trouble.
Antenna systems: 4-element yagi 10 m, 40 m rigid dipole, 40 m double bazooka dipole, extended 80 m dipole, yagi 2 meter. All this antennas are homemade with very good yields.
HCS-100 Opek 10 mts vertical antenna, TS-10 for 70 cm, 2m and 6m Opek vertical antenna
Emergency Antennas OPEK UBS-300 for 2 mts, Collinear Antennas for 2 m and 70 cm.
HAM Antenna Rotor CDR-45 mounted on a 52 ft telescopic tower, homemade.
With much effort in the air and enjoying every qso, either in phone or digital, all of you are welcome to join the circle of friends of this humble operator.
I confirm my contacts via computer systems preferably: LoTW, eqsl.cc, qrz.com, hrdlog.net.
QSL's printed with Brother MFC-J825DW, maximum performance with little recourse printer.
73's and sorry for boredom
PS if you have not gotten my QSL is because you are not associated with the Bureau.. All are 100% my qsl's Buro or special requirements.
CA5GRF Cesar, from Concepción Chile, FF33LE.