QSL instructions at the end of this page
Next bigger activity: from March 12th to 26th, 2018 I will be active again from FY country.
I have scheduled a 2nd visit to FY in 2018, around the BARTG HF RTTY and WPX phone contest (tentative schedule March 12th to 26th, 2018), where I will operate in the contests under my special callsign TO2BC, before and after again using the CEPT call FY/DL7BC/p.
From November 26th to December 7th, 2017 I paid a visit to French Guyana. Besides visiting the country, of course some QSOs were made. I was using the Spiderbeam antenna of my friend Bruno FY4VA (DH1BL), which is designed for 10/12/15/17/20m and has got the new WRTC 40m extension, and for my 40m activities during my stay to FY I temporarily installed a monoband Triple Leg (wire GPA) on a combination of a 12m Spiderbeam and a 10m DX-Wire fibre glass poles (DX-Wire sticked onto Spiderbeam pole for extension) to achieve a max. height of around 19m, feeding point around 9m above ground.
OQRS for FY/DL7BC/p and TO2BC available via Clublog, upload to Clublog usually real-time (SSB) or one or two days after the QSOs (digimode, contests).
For log search and OQRS for FY/DL7BC/p QSOs please check here below, the log search for TO2BC QSOs is under TO2BC
In case you want to ask for a QSL for TO2BC and FY/DL7BC/p via OQRS, please use only one of the calls to pay for and send me an e-mail with the details of the other QSO(s), I will let you have the other QSL free of charge...
See you down the log...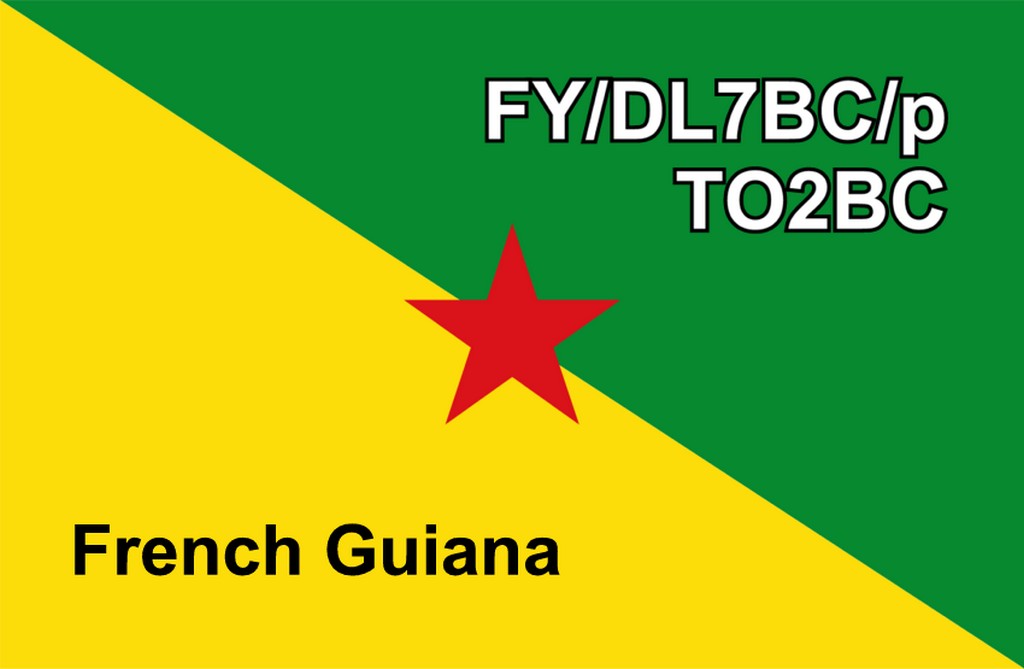 27.05.2017: DL7BC/p - operating from Keppenbach Ruin (Keppenburg) WCA DL-03981, COTA BBN-066
LoTW: all QSOs for the following calls have been uploaded to LoTW (and in case of new QSOs will be updated when time allows): DL4ZBC, DL7BC, CN2BC, TA1/DL7BC, TA2/DL7BC, TC2BC, V31HK, VU2HBC, 5B/DL7BC, TO7BC and FH/DL7BC. FY/DL7BC/p QSOs will be uploaded a few days after my return to DL.
DOK A05 (Freiburg)
QSL-Manager of DARC-chapter Freiburg (A05) and its clubstation DK0FR and special event station DR16BENE
I am collecting ham-radio related pins and would be happy to exchange some with you in case you have got new ones for my collection. Please check my website to find out more about this side of our hobby.
Licensed in 1985 for 6 months as DD2FM, then DL4ZBC, changed to DL7BC on July 23rd, 2004.
Portable operations from 3V, 5B, CN, F, FH, HB0, HB9, IK1/2/3/4/6, IN3, IX1, LX, OH4/8, OK, OZ, PA, S5, SV3, TA1/2, V3, VU, Y2.
CN2BC (03/2005, 04/2006, 10/2007, 03/2008, 03/2009, 03/2010, 03/2011),
TO7BC (FH island  03-04/2012 - 03-04/2013 - 03-04/2014)
TO2BC (FY - 03/2018 BARTG HF RTTY and WPX SSB Contest)
Guest-op at 3V8CB, 3V8ST, CN8MC, VU2WAP, VU2YK - BUT NOT MANAGER FOR THOSE CALLS....
If you wish to QSL direct:
Direct QSLs with less than above required will be answered via bureau.