Thanks for looking me up. My QRZ page reads like a blog in decending order with the newest activity at the top. 
I like to chase DX and have lots to learn about the hobby. I got into contesting and HF mobile as well as APRS. My favorite part of the hobby is antenna modeling and building. Life is too short for QRP.
Please QSL using LOTW.
April 30-May 1, 2016 my first time ever participating in the Florida or "Flaridah" QSO Party.
I operated 14 hours from my QTH taking various breaks and managed to collect 611 QSO's making it all theway to top 3 in my division in the state and number 1 single operator for Broward County.
SOABSSB HP
Call
CW Qs
Ph Qs
CW Mults
Ph Mults
Op Time
Score
Club
WV4R
0
1442
0
82
16
118,224
FCG
K4SBZ
0
783
0
82
17
64,206
FCG
KK4LGC
0
611
0
72
14
43,776
FCG
NJ2F
0
500
0
81
6
40,500
FCG
All this on a simple wire OCF dipole for 7 MHZ using 23feet of 14awg stranded copper, a 4:1 Balun, and another 45' of wire for the antenna fed at 32' with RG8.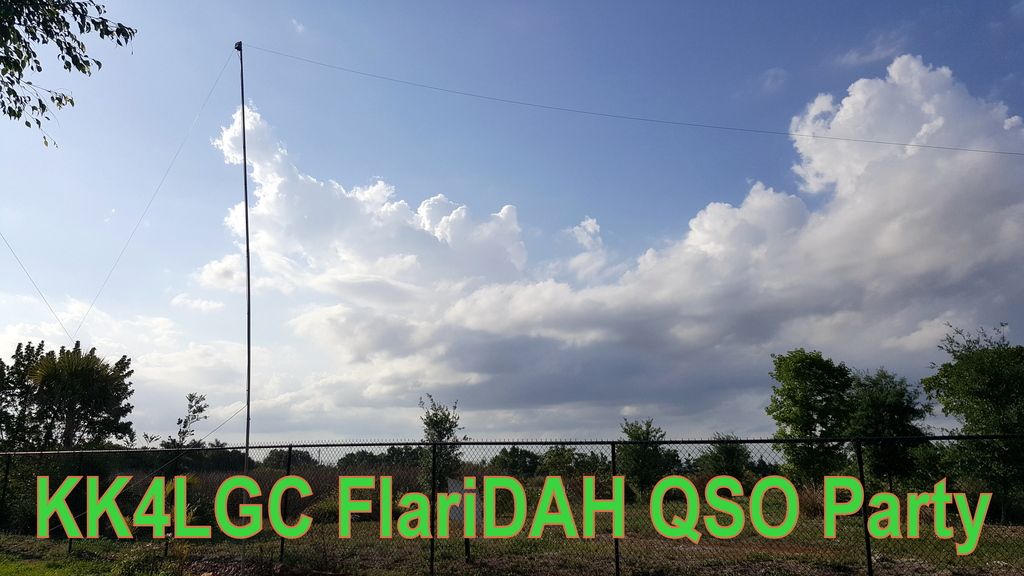 We have done a few DXpedition style activations and they are a rush to operate the receiving end of the pileup. Our most successful activation has been NP05 from Elliot Key in Biscayne National Park. This is due to the OCF antenna we used in combination with the ICOM 706MK2G and the N1MM logging program. We really enjoyed activatinng and had a great time promoting 100 years of National Parks throug HAM Radio. Thanks for all of the wonderful people who came together and made this activation a success: KK4YPD Noel, AF4RK John, KK4SCS Captain Raul. Thanks to my YL for putting up with our madness.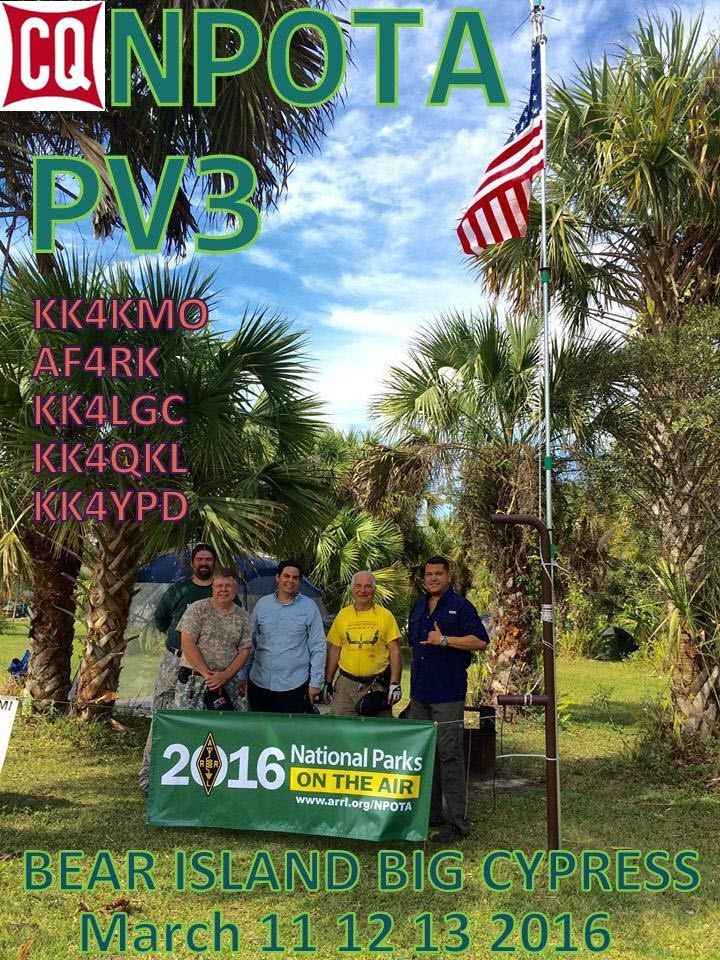 March 11,12,13 we activated Bear Island PV03 at BIG CYPRESS Good Times for "South Florida Outdoor HAMS group"  Thanks to all who came together and made this adventure possible: KK4KMO Julio Herrera our firestarting Camp Chef and his Mom for the food, AF4RK John for all the antenna theory and application of thet theory on the field, KK4QKL John our camping shelter expert, KK4YPD Raul our field medic first responder.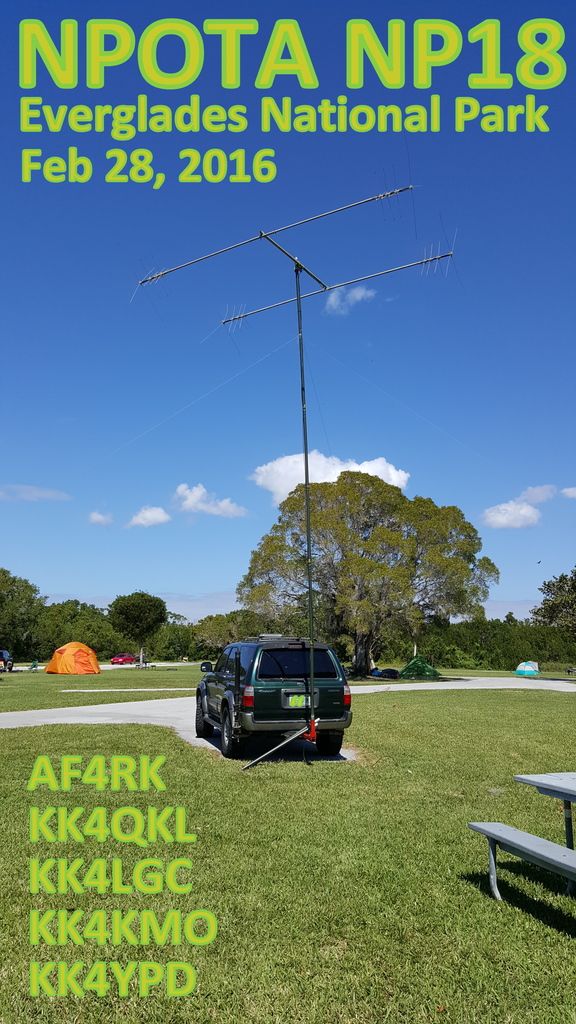 Feb 28, 2016 we activated the Everglages National Park NP18 and had a blast camping and hamming it up. Thanks to everyone involved for your effort in making it a success.
Dec 15 2015 The 10 Meter contest is now over and the propagation is still the same for me. North South and West have good propagation while sun is still out. The East is noisy and difficult to listen to.
Dec,12 2015: I am getting ready for the December 2015 ARRL 10 Meter contest which for my location it starts Friday the 11th at 19:00 EST and lasts all the way thruough Saturday 18:59 EST. I am hoping for is good propagation and to surpass my score from last year. Myabe I will hear you on the air. 
73 De KK4LGC
2015 ARRL June VHF Contest 
Operating Conditions Icom 706MKIIG set at 100 watts feeding a homebrew 6Meter Moxon at 35 feet.
Hope to hear you on the air. Good Luck in the contest!
This Moxon antenna was planned built and assembled all in one day thanks to WC4H. Thanks Carl!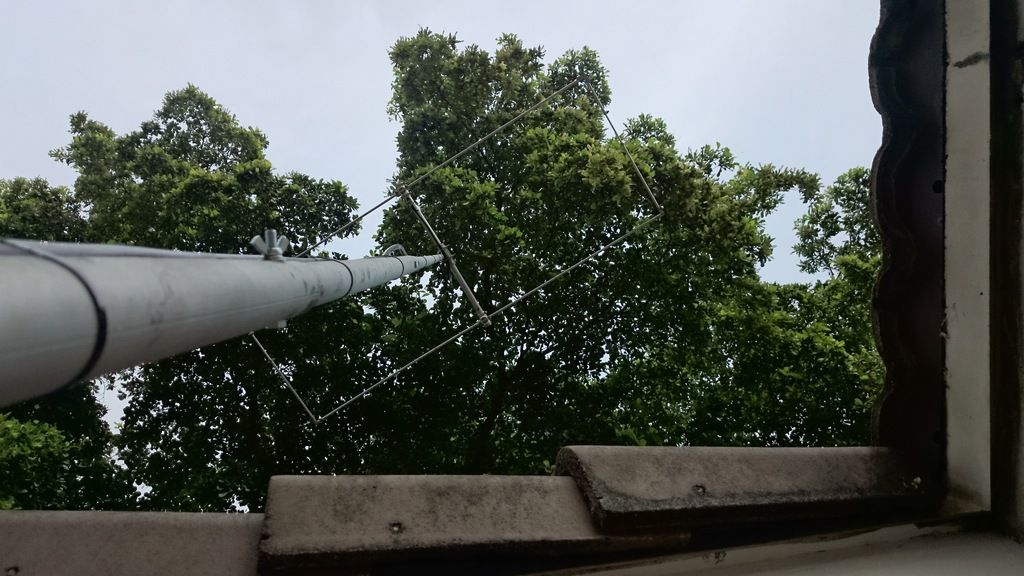 CQ Worldwide contest Oct 25-26, 2014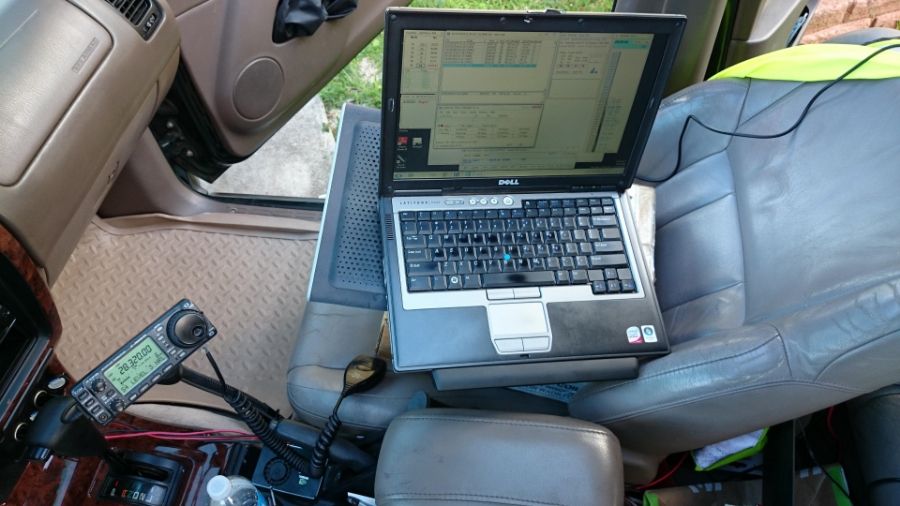 I currently operate HF mobile mostly during my daily work commute since other life activities take up most of my time. 
Pictured above is my contesting setup which consists of my ICOM HF rig driving a small 150Watt PA all attached via CI-V interface to a Laptop running NIMM for easy logging.
The image below shows my mobile parked in my front lawn for the CQ Worldwide contest Oct 25-26, 2014 of which I worked about two hours each day.
At approximately 30 feet off the ground the antenna used for this contest is a Maco 10 Meter 3 element beam which is attached to seven sections of the quick deploy 4 foot aluminum poles joined to my hitch receiver via an articulating square tube steel adapter.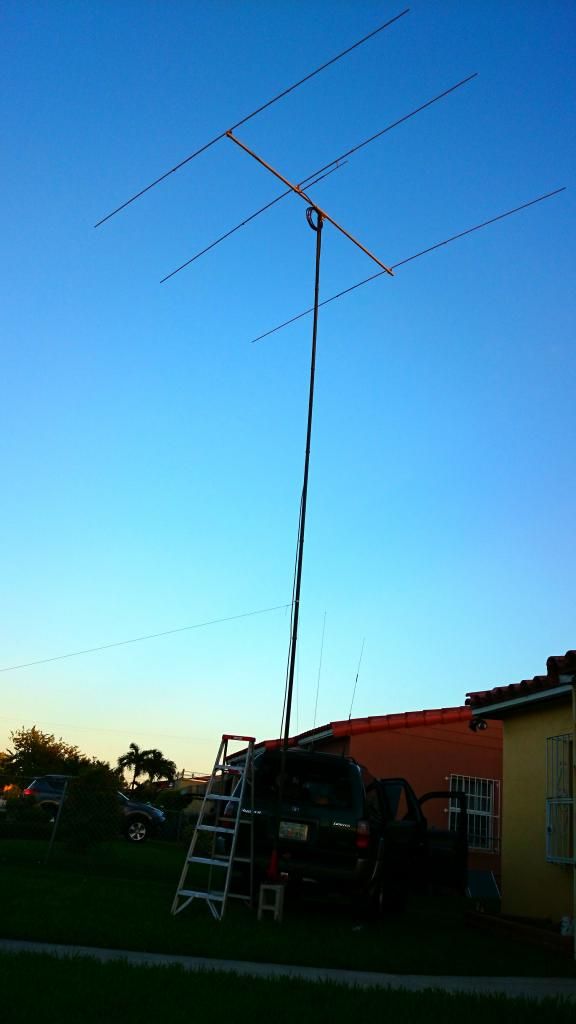 The transmission line is a 50 foot run of RG 213 with a whopping 8 turn air balun at the antenna connection which made the setup heavy and difficult to turn the antenna specially with a crosswind. This is part I'm definitively changing for next time.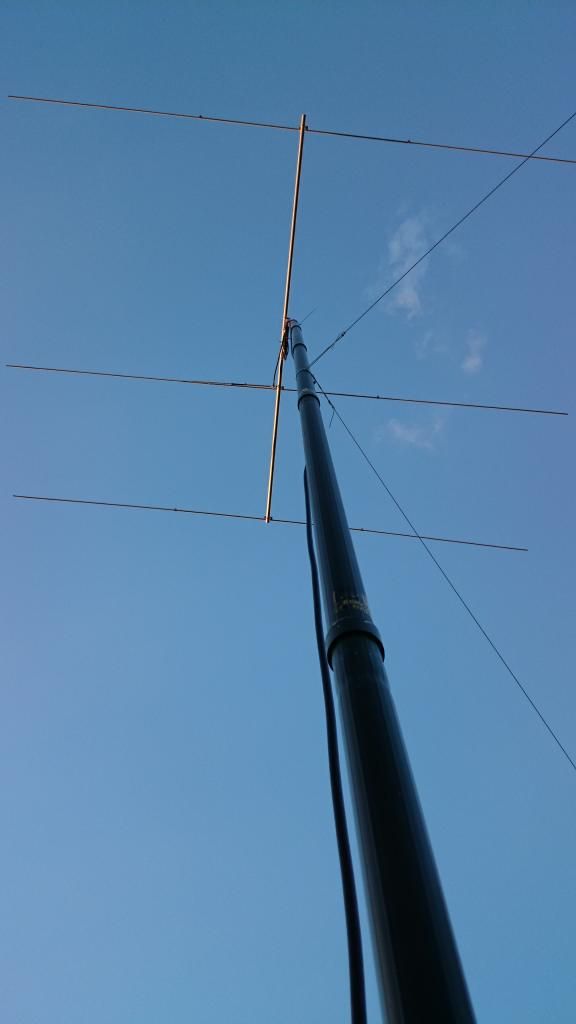 Now the reason for all this preparation and insanity contraption was to get on the air and chase DX; Right?            I scanned the band up and down and made 85 contacts in roughly four hours. At the peak of band activity there where some popular stations I could not get to because there where huge pile ups and most stations using QRO blew me out of the air. I knew I had spoken to just about everyone on the air in Brazil, Chile, and Venezuela when the N1MM was starting to show dupes so I turned the beam over to the NW and got Alaska, Japan, and Australia just before the band conditions closed. This means my signal circumvented half the globe from south Florida to Australia at the speed of light using my own equipment without depending on any long distance carrier. How's that for a highlight. Thanks to Carl WC4H for his guidance on contesting Jose W4LXE for teaching me about most things HF and thanks most of all to my XYL for being so supportive of my hobby.  
 Normal Operating conditions are:
Icom 706 MKII G 
Palomar Linear 2X MRF 455 Clean 150W 
Tarheel 100 Screwdriver on a tarheel hitch mount (MT1\MT3)
73 de KK4LGC mobile!
Update for December 2014 after the CQ 10 Meter Contest after 314 QSO's and  a handfull of new countries and a score of 8,320 points.  
Contesting station preparation the morning of 12/13/2014 serves as Field Day practice

This time I did not use the balun and was able to turn the beam by hand a height of 33 Feet (10 Meters )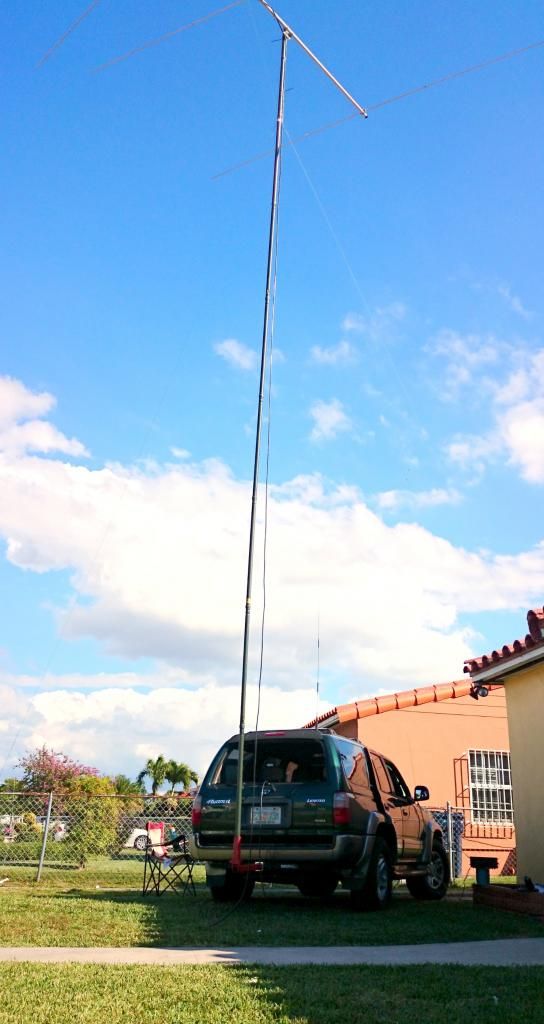 I operated stationary using a 20A power supply (under the window) which allowed my Icom to transmit  the full 100 watts good enough for 5-9 reports all over the US and most of Europe.
Results? How about placing top 10 and being published by the ARRL. Look me up on QST: http://www.arrl.org/files/file/ContestResults/2014/201410MeterQST.pdf  
Single Operator Unlimited Phone Only, Low Power
W9XG (K2DRH @K2DRH) 333,760
N9TGR 235,470
WBØTEV 132,912
KE2OI 84,836
KC6R 82,838
KD4SN 82,536
W1AIR 58,200
KK4LGC 53,728
KG5ANP 52,052
KL1JP 50,752
Thanks for visiting my page and I hope to hear you on the air soon 73 De KK4LGC