HI,
my name is Sasha, I'm professor of mathematics, I work asIT technician for Superbet, beting and gaming company.
My qth is city of Timisoara you can see some pictures and a short video down.
qsl info scroll down
please visit my home page
I`m member of QSO BANAT TIMISOARA radio club - YO2KQT.
In 2013 we celebrate 10 years of YO2KQT, the QSO BANAT TIMISOARA radio club.
73' hope to hear you soon
pentru mai multe informatii vizitati pagina web aici
in this picture is one stone from the pavement of "Piata Unirii" square and it is a representation of the city wall of old Timisoara fortress
Dear ham friends
Doe to a computer crash I lost all data about sent paper qsl cards until 01 jan 2012, I manage to recover log ( thanks to lotw and eqsl), so if you need my paper qsl card please email me and I will send qsl card
Thank you
73'
YO2MKL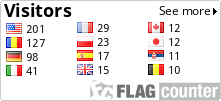 6346324 Last modified: 2015-07-16 00:31:26, 3512 bytes
Login Required

Login is required for additional detail.
You must be logged in to file a report on this page
Public Logbook data is temporarily not available for this user
Grid Squared Award

#6123


Granted: 2015-03-22 09:35:04 (YO2MKL)



Endorsements:

World Continents Award

#7324


Granted: 2015-03-22 09:35:04 (YO2MKL)



Endorsements:

10 Meters Mixed

15 Meters Mixed

17 Meters Mixed

20 Meters Mixed

DX World Award

#1522


Granted: 2015-03-22 09:35:03 (YO2MKL)