My name is Stephen Moreno, I am 53 years old. I am from Gibraltar, which is a British Colony in the Southern tip of Spain. I have been married now for 30 years, and have two children. My son who is 29 years old, and a daughter of 24.
I used to work on the 27MHZ 27years back, but . I have recently pass my Intermediate Licence and I hope to upgrade to the full class in the near future.
So at the moment I can only work using a maximum of no more than 50 watts output power, It's what my licensing conditions allows me to use.
Apart from this hobby, I am also a Canary breeder, and participate in Bird Shows in nearby Spain and Internationally. I breed. ( fife fancy & Borders. Canary .
My radio station consist of:
YAESU FT-950 HF Transceiver.
ICOM IC-718 HF Transceiver.
LDG AT-200Pro ATU.
YAESU FT-7800E FM dual band Transceiver for VHF / UHF.
MY Antennas are as follows:
Cushcraft MA5B mini beam for 20,17,15,12,10 mtrs.
DIAMOND CP-6 Vetical 80-40-20-15-10-6M
ALFA DELTA DX-EE DIPOLE ON INVETTED VEE 10-15-12-17
AGC OCF WINDOM 40 mtrs to 10 mtrs.
Sommerkamp X/61N VHF/UHF dual band vertical antenna.
For portable operations I use the following:
YAESU FT-897D.
Long wire antenna= 10 mtrs long, & Snowdonia magnetic balun.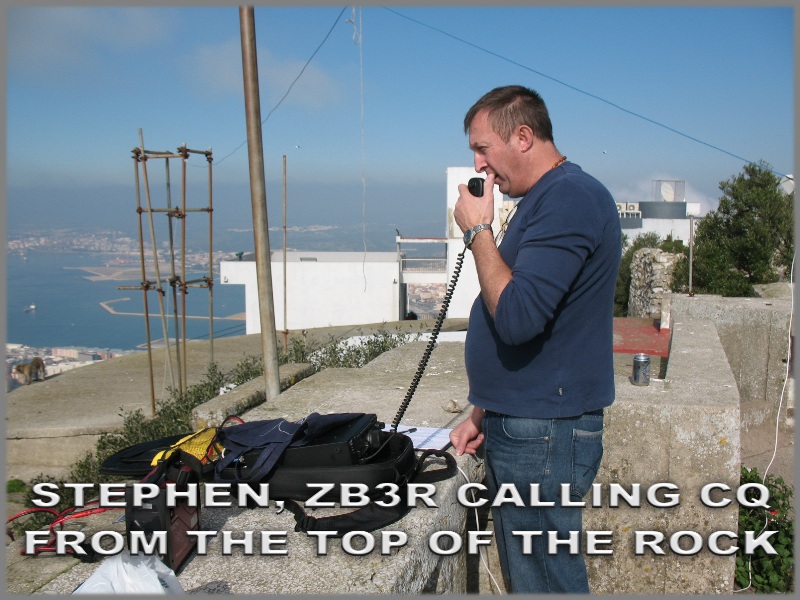 I am also a member of the Gibraltar Amateur Radio Society (G.A.R.S.)
*** I would also like to add, that I do not accept, or will reply to any electronic Qsls, *** so I'm sorry to disappoint all those who have sent me any EQSLs, as I will not be replying to any sent via the web. I prefer the old traditional way.( via post ).
!!! PLEASE NOTE !!!
Please note that as from the 1st of March 2011, I will no longer be sending nor receiving Qsl via the bureau nor eqsl.

I will only work direct as from the above mentioned date.

Please remember to include your self addressed envelope, & enough contribution to cover postage costs. !!!PLEASE NOTE!!! For Europe it ($2 US) OUTSIDE EUROPE ($3 US) OR
(IRC)
*** QSLs will be returned 100% once received with SASE, & correct amount, or equivalent to cover for postage. ***
I Am not a QSL Collector i just Reply 100% to all my Cards to help others with their DXCC or Awards
73's, & best regards from Stephen ZB3R..
73's, & C.U. on the bands...
http://www.myspace.com/stephenaviary